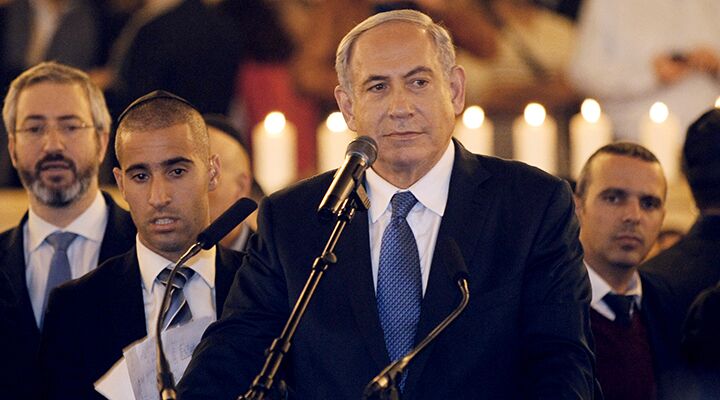 Netanyahu Requests Europe's Help to Fight Terrorists
Israel knows it cannot rely on America.
"Israel is being attacked by the very same forces that attack Europe. Israel stands with Europe. Europe must stand with Israel," Israeli Prime Minister Benjamin Netanyahu stated on January 8, one day after the bloody terrorist attacks in France that left 17 people dead over the three-day period. Al Qaeda in Yemen has claimed partial responsibility for the attacks.
On Sunday, Netanyahu participated in the biggest march in French history to honor the victims of the attacks. He joined about 40 world leaders and over 1 million people in the streets of Paris. Across France, around 4 million people took to the streets to show support. Netanyahu marched in the first line of leaders alongside German Chancellor Angela Merkel and French President François Hollande in a show of defiance and unity after the terrorist attacks.
The following day, while touring the kosher supermarket where four Jews were murdered on January 9, Netanyahu encouraged his European counterparts to support Israel's fight against terrorism. "A direct line leads between the attacks of extremist Islam around the world to the attack that took place here at a kosher supermarket in the heart of Paris," he said. "I expect all of the leaders, with whom we marched in the streets of Paris yesterday, to fight terrorism wherever it is, also when it is directed against Israel and Jews."
The Israeli prime minister has a lot of experience with terrorist attacks; his country regularly witnesses their devastation. Netanyahu is concerned terrorist activity in Europe will continue to grow, reaching levels people cannot comprehend. He called on European leaders to wake up and unite against radical Islam before it is too late. Netanyahu guaranteed Israel's support of Europe, but has asked Europe to support Israel in its battle against terrorists. "Israel supports Europe in its fight against terrorism, and it's time Europe supported Israel in the same fight," he said.
As Israel's relationship with the United States grows cold, Netanyahu is looking to Europe for support. U.S. President Barack Obama's decision not to attend the Paris rally or even to send any high level official in his place reinforces the prime minister's decision to look elsewhere.
This call to Europe for help could lead to the fulfillment of Hosea 5:13, which prophesies of an alliance between Israel and Germany, the leader of Europe. Germany is a big provider of military hardware to Israel. These trade transactions could lead to a more comprehensive alliance between these two nations, founded on Israel's need for security from surrounding hostile nations.
But students of Bible prophecy know this alliance will have a negative outcome. Read Trumpet editor in chief Gerald Flurry's article "The Whirlwind Prophecy" to further understand Germany's current and future involvement in the Middle East.