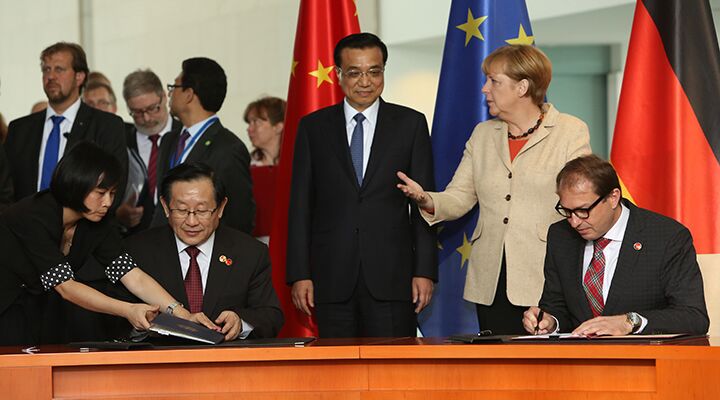 Chinese Cabinet Receives Full Military Honors in Berlin
Chinese Premier Li Keqiang, 14 members of his cabinet and 130 business leaders were received in Berlin with full military honors on October 10. The two cabinets met and, along with the business leaders, signed agreements and contracts worth over $2.5 billion.
German Chancellor Angela Merkel praised the "very intensive cooperation" that exists between the two nations, while Premier Li called Germany the "locomotive for cooperation between China and Europe."
Not everything smelled of roses, however. At the time, protests in Hong Kong had raised tensions between the West and China. Germany also worried that the Chinese government was unfairly punishing foreign companies operating in China. However, none of these concerns were large enough to derail the meeting. The two nations are committed to working through these difficulties.
German exports to the eurozone have slumped, thanks to Europe's economic problems. Trade with China—Germany's most important trading partner outside the European Union—could be one way to pick up the slack. Last year, trade between the two nations was worth around $175 billion. In comparison, in 1993, it was only $15 billion.
The two nations signed deals involving some major German and European businesses. China Aviation Supplies Holding Company signed a deal to buy 70 A320 Airbus passenger jets. The value wasn't revealed, but at list price, this deal would be worth $6.6 billion. Volkswagen extended its partnership with China faw Group Corp so it will last until 2041 and Deutsche Telekom unveiled a joint venture with China Mobile.
Meanwhile the two cabinets discussed cooperation in agriculture, green technology and other issues.
"Merkel has sought to strengthen economic ties with China since first being elected in 2005," Deutsche Welle wrote. "During her nearly 10-year tenure, she has met with the Beijing leadership seven times. Friday's meeting was the third time this year that the administrations of the two countries met."
Germany and China have emerged as leaders of their respective regions, and the close trade relationship between the two is an important trend—one that will lead to the creation of an economic system that is not centered on America. For more information on this trend, read Brad Macdonald's article "The Significance of Improving German-Chinese Relations."