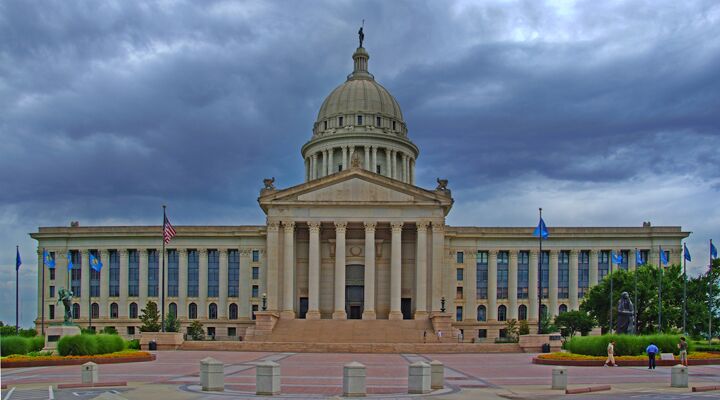 Car Intentionally Smashes Ten Commandments Monument Outside Oklahoma City Capitol
A driver intentionally drove a vehicle onto the lawn of Oklahoma's capitol building Thursday night and rammed it into a granite Ten Commandments monument, smashing the stone into several pieces.
John Estus, spokesman for the Oklahoma Office of Management and Enterprise Services, said this was not an instance of a driver making a wrong turn, but an intentional act. It was evident the perpetrator repositioned ramp equipment that was outside the building at the time, and used it to get the vehicle up to the area where the monument is located.
Estus said it is not yet clear whether or not the monument can be repaired.
The individual who drove the car fled the scene of the crime, but on Friday afternoon, officials said they have one suspect in custody.
The monument has been a source of nationwide controversy. Opponents say the monument violates Oklahoma's constitutional ban on using public property to support religion. In September, an Oklahoma County judge threw out a lawsuit that called for the monument's removal.
Oklahoma Gov. Mary Fallin condemned the violence against the monument, and vowed to rebuild it. "Our monument will be rebuilt and restored," she said. "The people of Oklahoma will not stand for acts of violence against the capitol or its monuments. This monument was built to memorialize the historical significance of the Ten Commandments in guiding our own laws and lives."
Oklahoma native and student at Herbert W. Armstrong College Grant Turgeon told the Trumpet that he was "appalled" by the news of the vandalism. "So many people today fail to realize that this nation's Founding Fathers relied on the Bible and the Ten Commandments in writing the U.S. Constitution," he said. "Whoever did this is completely ungrateful for the blessings brought about by this grand American experiment—the forming of a nation of miracles. Those blessings are slipping away today because Americans have forgotten the history of their God-fearing ancestors."
Can adhering to these ancient laws really bring blessings and happiness into a person's life? Are the Ten Commandments still relevant in this Internet age? Why are they capable of stirring up such violent opposition, such as the act of vandalism committed Thursday night?
These are incredibly important questions, and you can know their answers! To learn them, order a copy of our free booklet The Ten Commandments.