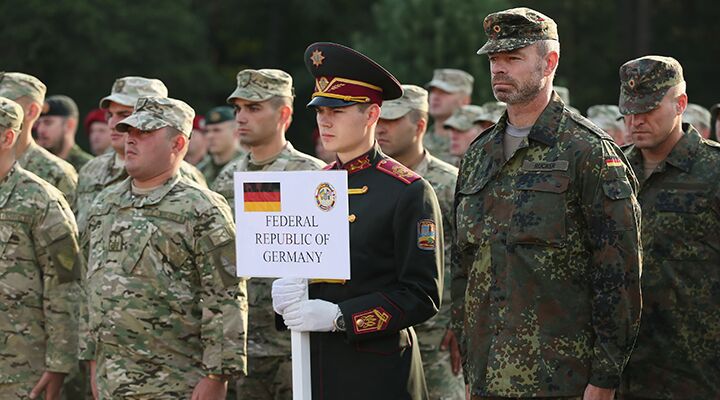 German Troops to Deploy to Ukraine
Germany is considering its first deployment of troops to Ukraine in 73 years. German troops last deployed to the Soviet territory in 1941, an invasion that led to millions of deaths.
Germany's role in the Second World War has made the country reluctant to send troops to any conflict zone in the world, especially Ukraine. German Chancellor Angela Merkel has spearheaded Europe's moves for peace in Ukraine, but until October 3 German troops were not in the plans.
A crumbling ceasefire between Ukrainian troops and pro-Russia rebels has Germany considering deploying 200 troops to east Ukraine. The troops will protect Organization for Security Cooperation in Europe (osce) monitors in the event of a return to full scale fighting in east Ukraine.
The Ukrainian conflict has killed more than 3,600 people. Over 300 people have been killed since the fragile ceasefire was signed September 5.
German mass-circulation newspaper Bild reported that of the German troops deployed, 50 would be paratroopers from Lower Saxony while the other 150 troops would monitor the buffer zone with drones.
Reports have also emerged that France and Germany plan to work together to send military surveillance drones to Ukraine. They eventually plan to send 10 drones each. Neither nation wants to send their drones without troops to protect the drone operators. It is still unclear whether this drone plan or the deployment of the German troops will actually proceed, as it will likely meet with objections from Moscow and legislative problems in Keiv.
German Foreign Minister Frank-Walter Steinmeier said, "I don't want to hide the fact that political and legal questions must still be resolved."
Deploying troops and drones to Ukraine is sure to face internal opposition in Germany. The German public's opposition to foreign military engagements runs deep. Despite public resistance, Germany's leaders have begun to embrace the country's potential as a military power in recent months.
At the start of October, Germany provided military training to 32 Kurdish fighters and even sent weaponry to the Kurds fighting Islamic State in northern Iraq. German troops were also sent to Senegal recently to combat Ebola.
The deployment of German troops to West Africa and the proposal to deploy 200 soldiers to Ukraine is all part of a trend to persuade the German public to support the military.
President Joachim Gauck wants the country to play a more active military role. Through these small and peaceful deployments, Germany's leaders are slowly turning public opinion to view such deployments as a positive.
Read Trumpet columnist Brad Macdonald's article "Germany's Identity Crisis" to see where this trend will lead and its eventual consequences.