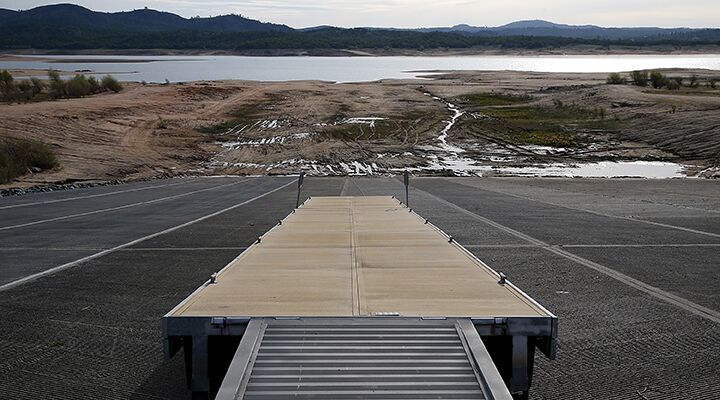 What Is the Scariest Thing About California's Record Drought?
Want to know the scariest thing about California's historic drought? It is not that last year was the state's driest since the start of record keeping in 1895. Or that this year is set to be even dryer. Nor is it the fact that the drought is so bad that cities are imposing $500 per day fines for violating water restrictions. It isn't that thousands of acres of tinder dry forests have gone up in flames, that fish and wildlife communities are being devastated. Or that orchards and vineyards are being bulldozed, fields are lying fallow, rivers are drying up, thousands of workers are losing their livelihoods, or that food prices are rising as a result.
There is a far scarier aspect to California's drought.
"We are facing the worst drought impact that we or our grandparents have ever seen," State Water Board Chair Felicia Marcus said on July 15. "And, more important, we have no idea when it will end. This drought's impacts are being felt by communities all over California."
Yes, the Golden state suffers from a three-year drought that shows no sign of ending.
The state's major reservoirs are nearing crisis proportions. Lake Shasta, the state's largest reservoir, is at 32 percent capacity—and that's the good news. New Melones is at 24 percent; San Luis is at 20 percent; Exchequer is 18 percent; Pine Flat is at 12 percent. There isn't a single major reservoir within the entire state of California at or above its historical average.
Lake Shasta is at 32% capacity; New Melones is at 24%; San Luis is at 20%; Exchequer is 18%; Pine Flat is at 12%.
Back in June, United States Department of Agriculture (
usda
) meteorologist Brad Rippey told 24/7 Wall St., "At [the current] usage rate, California has
less than two years of water remaining
."
The state's snowpack, the source of roughly one third of the state's drinking and agricultural water, is only at about 20 percent of its normal water content. Earlier this year, the state announced that 17 small communities were within 100 days of running out of drinking water.
All these things point to the severity of California's drought. They tell where the state is today.
What they don't tell is where it is going to be tomorrow. That is the scariest thing about California's drought. So far it is a walk in the park.
The archaeological record points to far worse droughts in the past, including some that lasted more than 50 years. California's current problems are only three years old.
What would the state that produces so much of the nation's food, and is home to 38 million people, look like after a half-century of drought? This is what Californians should ask themselves. It has happened before. Actually, paleoclimatic data indicate that during the last 400 years, the U.S. has probably received some of the best weather North America has had to offer over the past 2,000—even considering the Dust Bowl of the 1930s.
More importantly, it is what the Bible prophesies will happen again. Read "Is a 'Mega-Drought' on the Way?" to find out the paleoclimatic and, more importantly, the biblical reasons California should expect more years of drought in its near future.