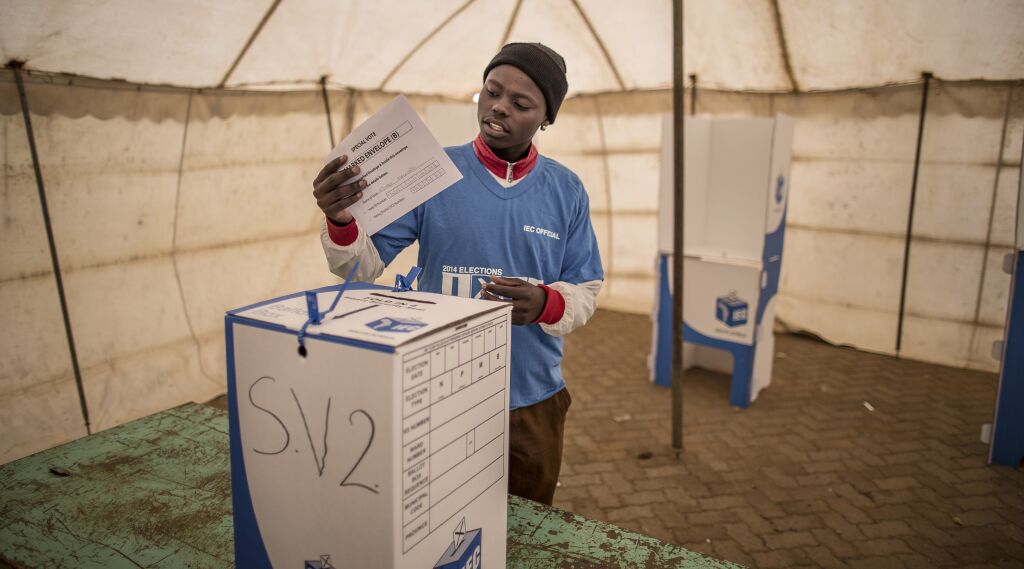 Why General Elections Will Not Fix South Africa
South Africans head to the polls Wednesday to elect new provincial legislators and National Assembly parliamentarians. The new National Assembly will thereafter exercise its vested power to select the South African president of its choice.
According to an Ipsos survey, President Jacob Zuma's African National Congress (anc) will garner 63.9 percent of the vote. The rest of the vote is expected to be shared between a divided opposition, consisting mostly of Helen Zille's Democratic Alliance (DA) and Julius Malema's Economic Freedom Fighters (eff), which the opinion polls predict will earn 23.7 percent and 4.7 percent of the votes, respectively.
The anc is poised to win this election as it has in the past four general elections. It's tipped to emerge victorious even though the same Ipsos poll showed that Zuma's personal ratings had taken a significant nosedive. That's all because, as the Guardian noted, the anc brand is bigger than any mortal man.
The Zuma administration has been criticized for corruption and for not doing enough to stem the corruption tide. Zuma himself is no stranger to corruption allegations and scandals. Lately, he has been accused of misappropriating state funds for a $23 million security upgrade at his private homestead. Zuma defended the expenses as legitimate by hearkening back over a decade, recounting a criminal incident in which that property was ransacked and his wife raped.
Zuma has also been censured by retired Archbishop Desmond Tutu. A staunch supporter of Mandela and his cause, Tutu said, "I'm glad that [Mandela] is dead. I'm glad that most of these people [people akin to Mandela] are no longer alive to see this," referring to Zuma and the anc's misrule. He said this on this year's Freedom Day—South Africa's 20th anniversary of its first multi-racial elections.
Back in December, at former President Nelson Mandela's memorial service at the fnb stadium in Johannesburg, bereaved crowds booed and jeered at President Zuma. This Sunday, however, the same 94,000 capacity stadium was filled with cheering anc supporters during the party's last major pre-election rally. The masses of anc supporters joined Zuma when he characteristically concluded with song, singing "Inde lendlela esiyihambayo" ("This road we're traveling is long").
https://www.youtube.com/watch?v=NW4RzdhePxc&feature=youtu.be
South African President Jacob Zuma hosts a campaign rally at fnb Stadium in Johannesburg on May 4.
Some people dislike Zuma, but they will remain loyal to the anc brand. It is credited as the party that liberated the black majority from the apartheid regime—the redeemer that alone can guarantee and safeguard those freedoms. Contrarily, the DA is considered somewhat sympathetic to some apartheid principles. Malema's eff is seen as the anc on steroids—an extreme version of the anc.
At the Sunday rally, Jacob Zuma said that "successful implementation [of anc policies] will open more opportunities for African, Indian and colored people as well as women, the youth and persons with disability, as we reverse the apartheid legacy"—a full 20 years after apartheid supposedly ended in 1994.
President Zuma also said that "economic transformation would be a key priority." He promised 6 million "work opportunities" and assured, "Together, we are building a South Africa that is without poverty, inequality and unemployment. The anc has the history, experience, political will, capacity and the determination to meet all these goals, and take South Africa forward."
The reality: Unemployment in South Africa is currently at 31 percent. The South African economy has recently been surpassed by that of Nigeria. According to an International Monetary Fund report on April 24, "growth [in South Africa in 2013] continued to decelerate, owing to sluggish private investment, weak consumer and investor confidence, tense mining sector relations, and tight electricity supply."
Also on April 24, the South African Reserve Bank warned that the economy risked significant capital flight from investors. These problems have been compounded by crippling labor strikes particularly in the mining industry.
South Africa's woes needn't be so complicated. It is the world's largest producer of platinum and chromium. It is potentially one of the wealthiest nations on the planet, but a likely anc victory in its upcoming general elections almost guarantees it will not be. Read our article "South Africa: Where Corruption, Rape and Murder Are Normal" to understand why South Africa is in a tough predicament today. Hint: It's not just the anc.