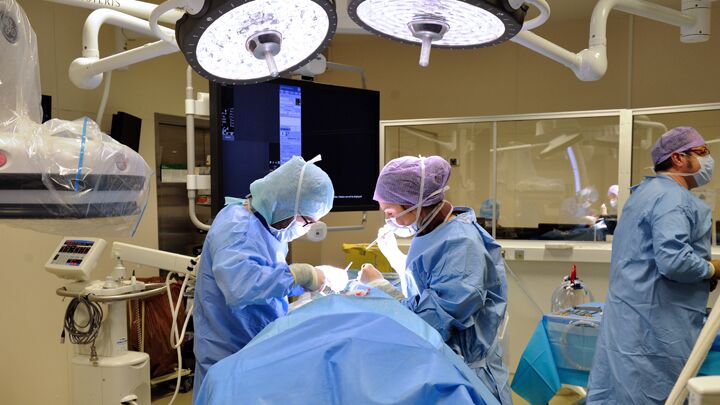 Why Shouldn't Hospitals Use Aborted Babies for Furnace Fuel?
Some British government-run hospitals have been incinerating aborted and miscarried babies to generate heat. A recent report shows that this practice has been part of the National Health Service's "waste to energy" policy for the past couple of years. The service considered these 15,500 dead babies "clinical waste" and burned their bodies.
Citizens and politicians have reacted to the news with outrage, prompting the Department of Health to quickly ban the practice on March 23. People are calling it abhorrent, deplorable, disgusting, loathsome, nauseating, obscene, repugnant, repulsive, revolting, sickening, abominable, evil, foul, heinous, odious and vile. Health Minister Dr. Dan Poulter called it "totally unacceptable."
That is all true.
It's also incredibly hypocritical—the outrage, that is.
It isn't as if these are bodies of real human babies being burned as fuel, right? Britain's elected representatives and appointed judges have declared that an unborn baby less than 24 weeks old (or 40 weeks, if it is disabled) isn't a human being. In their view, it has no more right to life than an appendix. It isn't a real person. Its potential is irrelevant. It is just a mass of parasitical cells. Therefore, it can easily be stabbed and cut and dismembered and crushed and sucked up and blended in a vacuum device. When that's done, it can just be disposed of in whatever cost-effective manner is convenient.
If that means throwing this mass in a furnace, so be it. Why shouldn't clumps of declared "clinical waste" be combusted to keep real people warm?
Apparently, many a mother who miscarried was told that her baby was cremated. These mothers are upset. But it's not like the bodies of babies who died naturally were casually tossed into a hospital furnace—right?
And it's not like doctors went into mothers' bodies and murdered helpless, dependent babies, then threw them in the fire—right?
Right?
Our society is to the point that we are less outraged about doctors going into the bodies of mothers and killing their living babies than we are about hospital workers taking those tiny victims and burning their lifeless bodies. Politicians are less outraged about killing 200,000 living babies every year in the UK than they are about the fate of these 15,500 little bodies.
Either a fetus is a human baby or it is not. Which is it? Our "progressive" society has enshrined in law that babies that young are just clinical waste, if that's what their mothers want them to be. If that is true, why now the complaints?
Don't be outraged if you approve of this practice: "abortion," to be politically correct; "killing unborn babies" to be correct. Don't be outraged unless you want to be a hypocrite.
But if an unborn baby is a BABY, then this abhorrent, deplorable, disgusting, loathsome, nauseating, obscene, repugnant, repulsive, revolting, sickening, abominable, evil, foul, heinous, odious and vile debasement of tender human life is not even a needle compared to the chainsaw forceps of our abortion culture.
God prophesied about us. He said our notionally "advanced," "progressive," "liberated," "free" society would become this way: people so selfish they will murder their own flesh and blood. "[I]n the last days perilous times shall come. For men shall be lovers of their own selves, covetous, boasters, proud, blasphemers, disobedient to parents, unthankful, unholy, without natural affection …" (2 Timothy 3:1-3).
There could hardly be a truer description of our calloused culture.