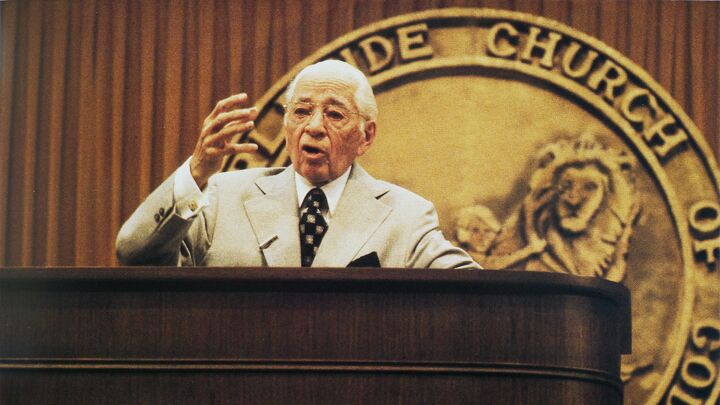 Finland Received Good News From Herbert W. Armstrong
History of the gospel reaching the edge of the Nordic countries.
One evening in 1976 was historic in the fulfillment of Christ's gospel message reaching Finland. Herbert W. Armstrong delivered that good news prophesied by Jesus in Matthew 24:14.
"The February 3 testimonial dinner in Israel was very successful with 170 top people of Israel present including high judges, lawyers, members of the Knesset, ministers of government, educators and ambassadors from 17 countries. The 17 countries represented were England, Chile, Bolivia, Colombia, Holland, Finland, the United States, Ecuador, Uruguay, Guatemala, Mexico, Romania, Japan, Greece, Turkey, Haiti and Burma. Also present were outstanding Arabs from the West Bank, including the mayor of Bethlehem" (Worldwide News, Feb. 16, 1976).
As with other testimonial dinner events, Mr. Armstrong ensured the distinguished assembly received a detailed description of the Ambassador International Cultural Foundation and its activities; he also distributed 200 copies of its Human Potential magazine.
The Plain Truth's November 1939 edition documented his early warning to Finland of Russian intentions to use it in underwriting sea dominance of the North Baltic in an effort to encircle Germany.
A few years later, he again warned, "In March Stalin began to move! His coup in Czechoslovakia, his sudden demands upon Finland, his threat in Italy, France and Norway reveals that the spirit of Hitler still rides!" (Plain Truth, June 1948).
His voice began to be heard via the World Tomorrow broadcast in 1953 on Radio Luxembourg in English, then Russian on Radio Monte Carlo in 1959. During that time he wrote that "even more satellite nations are in process of being gobbled up by Russia," naming Asian countries and "even Finland" as minions (co-worker letter, Dec. 20, 1954).
The Plain Truth stunned Fins in October 1954, when its founder informed them some of their population were descended from the lost 10 tribes of ancient Israel! "The political boundaries of Europe, as they exist today, do not necessarily show lines of division between descendants of these original tribes of Israel," he wrote.
During the 1960s, Finland was included in Ambassador College Bible Correspondence Course Test 13 in reference to questions and answers of church history, and Plain Truth articles about communism and marriage.
By the early 1970s, circulation to the flagship publication he founded in 1934 had doubled in Scandinavia. "Take the case of Finland. On two previous occasions the major distributing company flatly refused to handle the Plain Truth for various reasons ranging from fear of political involvement and 'company policy.' The third attempt met with considerable success. This time all of the precious negotiators were out, and only the company president was available. He was very receptive to the idea of distributing the Plain Truth. We finalized arrangements for the June issue" (Worldwide News, June 11, 1973).
By mid-decade, momentum had built and ministerial visits flowed to the region resulting in baptisms and establishment of a festival site. At that time, Finnish members would travel to Oslo, Norway, to receive live spiritual instruction sent from the British regional office.
The following decade saw rising interest from its citizens to the gospel witness from the Plain Truth, reporting "an English language ad in Finland pulled remarkably well, once again confirming the excellent response figures we have experienced before in this country" (Pastor General's Report, Nov. 26, 1982).
Up to that time isolated members living close to Russia's border would travel to Stockholm, Sweden, to attend church services. However, in 1983 the first Passover and holy day services were conducted at the Aurora Hotel in Helsinki.
At the time of the 1984 Summer Olympic Games hosted in Los Angeles, California, Finland sent reporters to Ambassador College. The country had hosted the 1952 Games and wanted to interview the Director of Executive Fitness who reportedly "helped train several Olympic athletes from the United States and other countries. The presence of Olympic athletes on the campus attracted attention from print and electronic media in the United States, Australia, China, Finland and West Germany.
"The athletes that came here to train feel that much of their Olympic accomplishment wouldn't have been possible without Mr. Armstrong allowing them to train here. They feel a debt of gratitude to Mr. Armstrong" (Worldwide News, Aug. 27, 1984).
By the year of his death in 1986, over 3,000 subscribers received the Plain Truth, with one writing in the May issue, "[A]s a musician … I often travel around the country as much as twice a month. I intend to make your magazine my constant companion."
Those in Finland who choose to make the Trumpet and Key of David their "constant companions" can be inspired by the past two decades of reporting and analysis featuring the unquenchable light of Bible prophecy. Founder Gerald Flurry continues in the restoration of the publishing, broadcast and humanitarian legacy of Mr. Armstrong. As he declared in his inaugural book Malachi's Message to God's Church Today, "[B]e assured the work of Mr. Armstrong will never die. God's end-time message from Malachi will go out. The Work will continue."