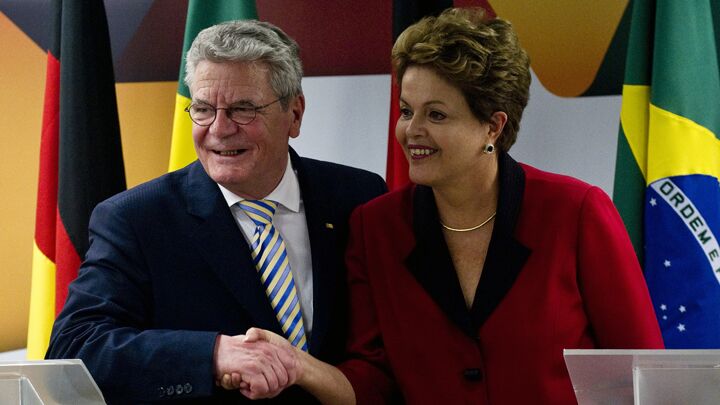 Germany Woos Brazil
A trade partnership shaping the future
"Brazil is the most important South American business partner for Germany" claims Germany's national trade and investment authority. It also emphasized that "[a]ll major German players are represented in Brazil, including Volkswagen, Siemens and basf."
In May of last year, from the State Opera House in Sao Paulo, German President Joachim Gauck opened the Germany + Brazil 2013-2014 initiative with its motto, "Where ideas connect." It intends to further advance bilateral economic partnerships amid celebrating a "festival of ideas" focused on sharpening their trade alliance. The event claims that "these two countries will shape the future together."
In 2008, German Chancellor Angela Merkel and former Brazilian President Luiz Inácio Lula da Silva signed the Strategic Partnership Action Plan as well as a cooperative energy agreement. In 2009, da Silva added public safety, legal, social and economic sectors to the action plan. The two sides worked together within the German-Brazilian 2010-2011 Year of Science, Technology and Innovation. In 2012, Merkel and current Brazilian President Dilma Rousseff jointly opened the Cebit computer fair in the city of Hanover. Capitalizing on the coming global attention upon Brazil, Germany was afforded security agreements for the 2014 fifa World Cup, 2016 Olympic Games and Paralympics in Rio de Janeiro.
In 2011, Germany claimed 32 percent of all EU exports to Brazil at €5.4 billion (us$7.35 billion). In 2012, its exports to the country skyrocketed to €11.69 billion! Agreements already set in place establish a dominant role for Germany in shaping South America's largest country, fifth in the world in size and population. This exploitation contributed to Brazil's trade surplus of $2.65 billion in 2013, which was the lowest in a decade for Brazil.
The lop sided trade relationship has, is and will continue to profit Europe's largest and most prosperous economy.
German economic exploitation of Brazil is shaping the future of an Atlantic alliance buttressing a seventh and final biblically prophesied resurrection of the Holy Roman Empire. It's a message you must read, heed and act upon. Download He Was Right, free of charge, for insight into the shocking truth behind Germany's use of Europe and allies like Brazil toward its ongoing global ambitions.