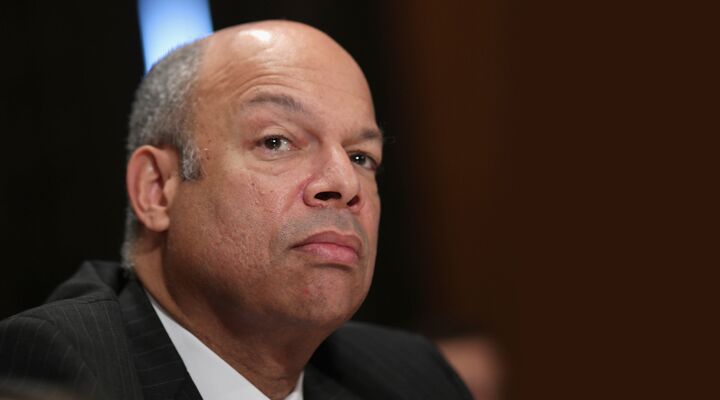 What You Need to Know About the New Head of Homeland Security
Does Jeh Johnson still support NSA surveillance and drone strikes against Americans?
The U.S. Senate confirmed a new Secretary of Homeland Security on Monday. Winning confirmation by an overwhelming vote of 78 to 16, Jeh Johnson is now the fourth person to lead the sprawling domestic security agency since its inception in the wake of the Sept. 11, 2001, terrorist attacks.
Unlike many of President Barack Obama's other Cabinet nominees, who encountered staunch Republican opposition, Johnson won the votes of 23 gop senators in addition to all 55 members of the Democratic caucus.
"As we all know, the president has asked Jeh Johnson to take on a difficult and demanding job," said Senator Thomas R. Carper (D-Del.), chairman of the Homeland Security and Governmental Affairs Committee. "Fortunately for our nation, he is a strong leader and well prepared to face the challenges that await him."
Johnson is one of three African Americans in President Obama's new Cabinet, and will take over a department overseeing 22 agencies with a far-flung jurisdiction that includes counterterrorism, fighting illegal immigration and responding to natural disasters.
But many civil rights advocates are deeply concerned about the direction Johnson is likely to move national law enforcement.
Although he has been an obscure figure thus far to both the general public and the law enforcement community, the American Civil Liberties Union has been voicing concerns about his human rights record.
As a heavyweight fundraiser, Johnson raised more than $200,000 for the Obama campaign and personally contributed over $100,000 to other Democratic candidates, including senators Chuck Schumer, Dick Durbin and James Clyburn. Though some Republicans have voiced concerns over political cronyism, and have called Johnson more a fundraiser than a security officer, the real reason for his appointment may be his unapologetic support of the Obama administration's drone warfare policies.
During his stint as a legal adviser for the Pentagon, Johnson provided legal rationale for military involvement in the drone program. To the shock of civil rights advocates, Johnson advocated targeting U.S. citizens in such drone strikes. "Belligerents who also happen to be U.S. citizens do not enjoy immunity where non-citizen belligerents are valid military objectives," he said in a speech at Yale Law School.
Now Johnson is head of Homeland Security. Has he changed his legal rationale, or will he beef up the department's domestic drone fleet?
Johnson has also defended the National Security Administration's massive and extremely unpopular program of spying on Americans. During a discussion at the 2013 Aspen Security Forum, Johnson said that when Americans make a phone call, they have "no legitimate expectation of privacy." Their metadata (including phone numbers, call duration and sometimes even gps location) belongs to the government.
All this represents a massive, unprecedented expansion of government power!
With support from the Pentagon, the federal Department of Homeland Security is working with local police departments to spy on American citizens without warrant and to conduct arrests with military hardware. What comes next?
To find out, request your own copy of our booklet America Under Attack. Also, please read an article from our upcoming February edition of the Philadelphia Trumpet, Why Does the Environmental Protection Agency Need Its Own SWAT Team?