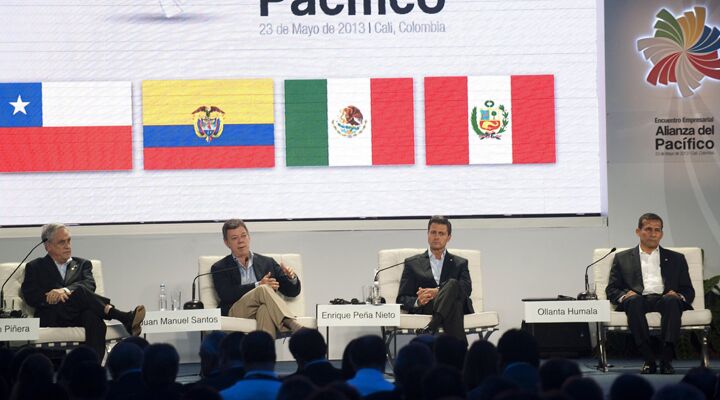 New Latin American Pacific Alliance Entices Germany
Europe's largest export country set to exploit South America
"Mexico, Colombia, Chile and Peru; These four Latin American countries want to work closer together in the future" reports Germany Trade and Invest (gtai).
In their recent Markets on Air online newscast, the German government body charged with cementing international partnerships highlighted the attractiveness of the new alliance for Europe's largest and most prosperous economy.
The four South American countries have confirmed they will eliminate tariffs and extend free trade across their respective borders. Panama and Costa Rica are slated to be the next members of the alliance.
The new free trade zone is expecting to draw international business. "What's interesting for investors is that they can now become active in four countries without facing trade barriers" said Ildefonso Guajardo Villareal, Mexico's secretary of economy.
The report added that "German businesses have expressed great interest in the newly formed Pacific Alliance. Germany Trade and Invest forecasts continued growth of around 5 percent on average this year in all four countries forming the alliance."
Growth for the quarter is projected to be 3.4 percent for Mexico, 4.1 percent for Colombia, 6.3 percent for Peru and 4.9 percent for Chile. The free trade partnerships of these nations open wider doors for Germany to extend its powerful exports and investment funds into South America.
gtai representative Susanne Scheer confirmed, "The new alliance combines previous bilateral agreements and provides a set of unified rules. And that creates opportunities for German companies, especially those who have located there and would like to serve the entire region."
In 2012, Germany and the European Union dominated global exports with combined totals above China and the United States. However, in October this year Germany received criticism from America that its powerhouse export-led economy is hurting the economies of Europe and the world.
Then in November, the EU announced it would investigate Germany's export reliant economic model amid claims its growth is hampering the fiscal return to health of other member nations.
Download He Was Right for biblical prophetic analysis and a reminder of German-Europe's economic assault on Latin America. In addition, watch Gerald Flurry's Key of David program "The Rise of Germany," which reveals how and why God is behind its present and future dominance.