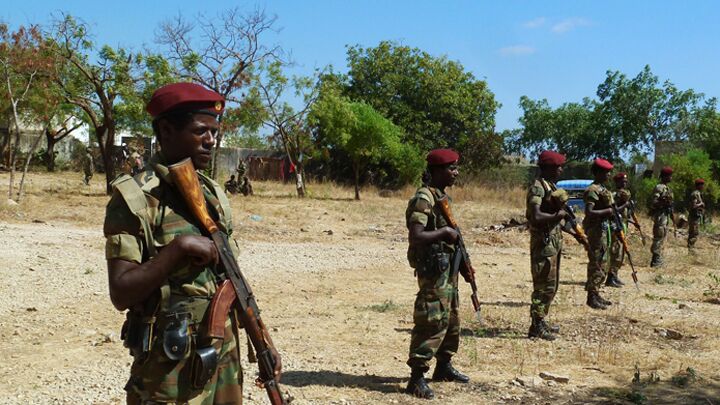 Ethiopia on High Alert
Ethiopia says more terrorist attacks may be imminent.
Ethiopia is under high alert after security officials pieced together intelligence suggesting imminent terrorist attacks.
The terror alarm bells sounded on November 5, three weeks after a failed suicide bomb plot by the radical Somali militants, al Shabaab. The failed plot prematurely killed two belt bombers who had been planning a televised explosion at a high profile, pre-World Cup soccer match in the capital Addis Ababa.
Al Shabaab was quick to claim responsibility and admit failure. In the lead up to the November 5 warning, intelligence officials claimed to have picked up chatter indicating that al Shabaab will attempt a "successful" strike.
Al Shabaab also published an online magazine in which it refuted claims that its "martyrdom-seeking" Westgate Mall militants had tried to escape or avoid death.
Officials from Ethiopia's National Intelligence and Security Service and Federal Police Joint Counter-terrorism Taskforce warned of the possible attacks from the al Qaeda-linked, Iranian-backed al Shabaab group, as well as from terror groups supported by the government of Eritrea. The officials, however, did not state where or when the terrorists would likely strike. They asked for the vigilance and cooperation of all Ethiopian security officials and the public at large.
As if on cue, just hours after the warning on November 5, a bomb exploded in a minibus in western Ethiopia, killing four people.
Now, authorities are reiterating the high terror alert. Spokesman for the foreign ministry, Dina Mufti, issued this dire warning a week later on November 12: "More activities of this nature are expected to happen in Ethiopia, and therefore the need for raising security levels is very, very important."
The security challenges that Ethiopia is facing may not yet be earthshaking in scope, but they are disrupting Ethiopian society. They are disrupting Ethiopian politics. We can expect tension to increase between Ethiopia and nations such as Iran and Eritrea that are accused of sponsoring the terrorist organizations.
A prophecy in Daniel 11:40-44 indicates that Islamists are going to take over Ethiopia and some of its surrounding nations. It mentions the nations of Libya, Egypt and Ethiopia. Trumpet editor in chief Gerald Flurry commented on this prophecy back in February 2011:
[W]hy does the Bible mention [these nations] and not many other nations in the Middle East? It's because they are significant to Bible prophecy and [because] they do relate to what's happening in the Middle East right now! God does not structure the Bible in a way that it's in vain. Every word is significant. Every country is really significant.
In an April 2011 article titled "Libya and Ethiopia Reveal Iran's Military Strategy," Mr. Flurry admonished us to watch Libya, Egypt, Ethiopia and Eritrea. "They are about to fall under the heavy influence or control of Iran, the king of the south," he warned.
Keep watching Ethiopia. For more, request our free booklet Libya and Ethiopia in Prophecy.