The Powerful Speech the World Ignored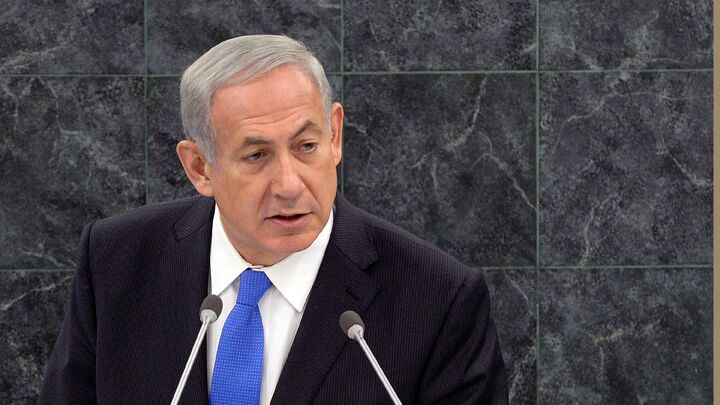 The Powerful Speech the World Ignored
On October 1, Israeli Prime Minister Benjamin Netanyahu delivered what was probably the most powerful speech ever heard in the United Nations. It was a dire warning of the clear and immediate dangers posed by Iran. He said Iran's new president, Hasan Rouhani, is fooling the world with soft words—while fanatically working behind the scenes to obtain the nuclear bomb.
This warning should have left the ears of the world burning. It should have pricked the conscience of the Israeli people, as well as the international community. Shamefully, it did not.
Iranian Double-Speak
Prime Minister Netanyahu urged the world to not be fooled by Rouhani. In his public addresses, Rouhani mentions the "human tragedy in Syria"—but, as Netanyahu pointed out, Iran is one of the biggest supporters of Syrian President Bashar Assad! Rouhani condemned the "violent scourge of terrorism"—yet Iran is the world's chief sponsor of terrorism! Rouhani criticized "attempts to change the regional balance through proxies"—but Iran itself uses proxies to stir up violence in Lebanon, Gaza, Yemen, Bahrain and several other places.
This is the leader of a country that is about to get nuclear bombs! How can the world afford to believe him when he says Iran doesn't want nuclear weapons?
Netanyahu put forward some tough questions for those who believe that Iran only wants to build nuclear power plants (emphasis mine throughout): "Why would a country that claims to only want peaceful nuclear energy … build hidden underground enrichment facilities? Why would a country with vast natural energy reserves invest billions in developing nuclear energy? Why would a country intent on merely civilian nuclear programs continue to defy multiple Security Council resolutions and incur the tremendous cost of crippling sanctions on its economy? And why would a country with a peaceful nuclear program develop intercontinental ballistic missiles, whose sole purpose is to deliver nuclear warheads?"
The facts are clear, and the truth is obvious. The Iranians have lied in the past, and they continue to lie. Yet, incredibly, Western leaders and many of our people simply believe the lies.
Those icbms Iran is working on are only to deliver nukes! Look what Iran is doing without nukes and try to imagine what it would do with nukes. Can you imagine a Middle East with Rouhani in charge? Netanyahu tried to explain it, and a lot of UN representatives walked out!
Mr. Netanyahu warned that Iran obtaining the nuclear bomb "would trigger nuclear proliferation throughout the Middle East, turning the most unstable part of the planet into a nuclear tinderbox." Imagine that: a nuclear tinderbox.
Netanyahu exposed Rouhani's strategy: Just smile, say soothing things about peace, democracy and tolerance, play the game of negotiating—and never stop pursuing nuclear weapons. "Why does Rouhani think he can get away with it?" Netanyahu asked. "Because he's gotten away with it before. Because his strategy of talking a lot and doing little has worked for him in the past."
America and the world went through this same charade with the North Koreans: We made a deal where North Korea promised to dismantle its nuclear program—and one year later, North Korea had nuclear weapons. We learned nothing from that.
Netanyahu knows this history. And so do the Iranians. They know that if North Korea can get away with it, so can they! That is what American weakness has taught the world!
A Warning for Israel
Judging from the tone of his speech, it appears the prime minister realizes he is losing international support. He said that if Israel had to, it would stand alone against Iran.
Netanyahu quoted parts of Amos 9:13-15. He said the prophecy in these verses about vineyards being planted in Judea, and God planting Israel "upon their soil, never to be uprooted again," is fulfilled today.
That prophecy is sure, but he is absolutely wrong about its timing. Amos is talking about a future time that is coming—after the worst time of suffering ever on Earth!
In his conclusion, Netanyahu stated, "Ladies and gentlemen, the people of Israel have come home …." Who of us would not like to believe that? But is that what biblical prophecy says? No—it says they are facing the most hideous holocaust mankind has ever seen!
Netanyahu didn't mention the preceding scriptures in Amos. He overlooked Amos 3:11-12, which mentions two legs and a piece of an ear being taken from the lion's mouth. That prophecy is not talking about sheep—but about the way that the modern nations descended from ancient Israel are going to look after a nuclear attack!
It is a grisly picture, but this is the reality of our world!
People read Amos and the prophecy that the Jews will never be uprooted—but that won't be fulfilled until after the captivity, which is mentioned in the same context!
Netanyahu certainly made a scathing attack against Rouhani—yet God has a scathing attack for the people of America, Britain and the Jewish nation. These three nations—which are the modern descendants of Israel (as explained in our free book The United States and Britain in Prophecy)—are hypocrites! They don't believe God. They'll quote one verse that has good news while ignoring the terrible warning in the surrounding scriptures.
Netanyahu noted that Israel is "from the ancient people Abraham, Isaac and Jacob." But how many Jews are trying to walk by the faith of Abraham today? How many policies of that small nation truly stem from the faith exemplified in their biblical forefather? And how many people emulate the obedience to God that Abraham is praised for? (Genesis 26:4-5).
Prime Minister Netanyahu even spoke of the Persian King Cyrus, and how the Persians were once good friends with the Jews. But he said nothing about why the Jews were in captivity to Cyrus! That is where there is a real lesson for America, Britain and the Jewish nation today!
At least Netanyahu can see that Iran is a danger to the world, and he is trying to do something about it. What a stark contrast to the U.S., which half-heartedly addresses the danger with meaningless statements that leave the U.S. frail and its enemies emboldened!
What will it take for people to give up their devotion to trivial pastimes, and focus on the Earth-shattering events around them? Open your eyes, and you know the world around you is falling apart. Time is short. However, there is still time for individuals to escape the coming nuclear destruction, when, as Amos says, there will only be "pieces" of the nations of Israel left.
Also, understand that there is incredible hopebeyond the coming horrors of nuclear darkness. Don't lose sight of the vision at the end of Amos. If you can grasp that vision, if you can avoid the distractions of our world and see beyond the terrible times to come. Then you can be sure to one day participate in the awesome world God has in store!