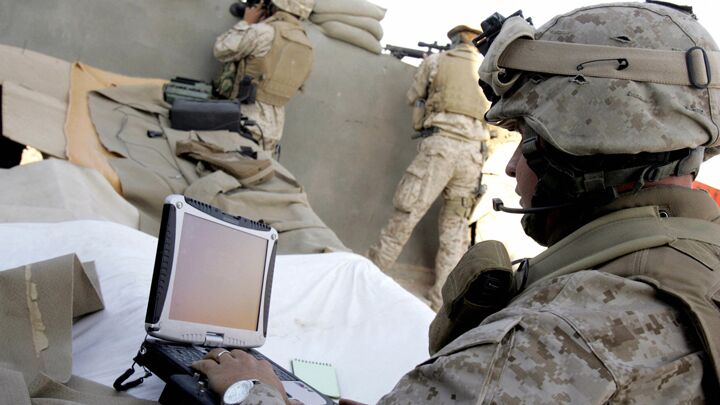 Germany Hosts World's Largest Cybercombat Training Mission
Operation Combined Endeavor prepares Europe for war.
The city of Grafenwoehr, Germany, hosted the world's largest cybercombat training exercise last month. The annual international military command, control, communications and computers (C4) training maneuver took place September 13 to 26. The exercise, known as Combined Endeavor, centered on constructing alliances, engaging in joint operations, and enhancing cyberdefense capabilities.
The Bundeswehr officiated as the lead force of the exercise. It trained its soldiers for cyberconflict and supplied cutting edge combat communication systems. The drill acted as a schematic for both current and future missions.
The event drew an estimated 1,400 computer specialists from 40 nato countries to the training base in Europe's most powerful country.
Under the supervision of U.S. European Command (eucom), the exercise claimed the war game "prepares nations to collaborate, plan and execute complex C4 systems in crisis response and combat operations; builds partnerships for regional and global operations between nations using communication and network systems; trains communication professionals at the largest international C4 exercise in the world to support operations; [and] uses nato and commercial standards to increase interoperability between nations."
Among the new technology tested was a mobile IT network that can link military bases of occupation forces in war zones to ensure battlefield "Coalition Information Dominance." Also tested was new software, allowing artillery units to share data.
Operation results of this year's Combined Endeavor were compiled into an ongoing updated "Interoperability Guide" and "Interactive Planner's Tool," which features 16,500 test results dating back to the program's inception in 1995.
The findings have been put to use in the international theaters of operation Enduring Freedom and International Security Assistance Forces in Afghanistan, Iraqi Freedom, nato Kosovo Force, UN Peacekeeping, as well as humanitarian missions.
From as far back as 1995, Trumpet editor in chief Gerald Flurry has been warning of the U.S. military establishment's dependence on computer technology as "America's Achilles' Heel." Germany is increasingly advancing its expertise in cyberwarfare in a manner that makes the U.S. especially vulnerable, and Combined Endeavor is just one example.
Quoting British analyst Joseph de Courcy, Mr. Flurry said:
One of the major concerns of Western security authorities is about a "network of young computer hackers in Germany." That the computer hackers are from Germany should also send a warning message—especially if you understand German history and Bible prophecy.Winston Churchill said Germany had a history of surprise attacks against enemies and nations who thought they were friends with Germany.Who has an unparalleled history of destroying many nations in warfare? Germany has a long history of such conquests. They tried hard to conquer and rule the whole world in World Wars I and II.
Bible prophecy reveals that God will use a a German-led Europe to punish America and Britain primarily. Read Mr. Flurry's article "America's Achilles Heel—and Germany," and request Herbert W. Armstrong's book The United States and Britain in Prophecy, at no cost and with no follow up. This literature will lay the revealed truth before you of the final rise and fall of the medieval war machine of the Holy Roman Empire.