Israel's Enduring Symbol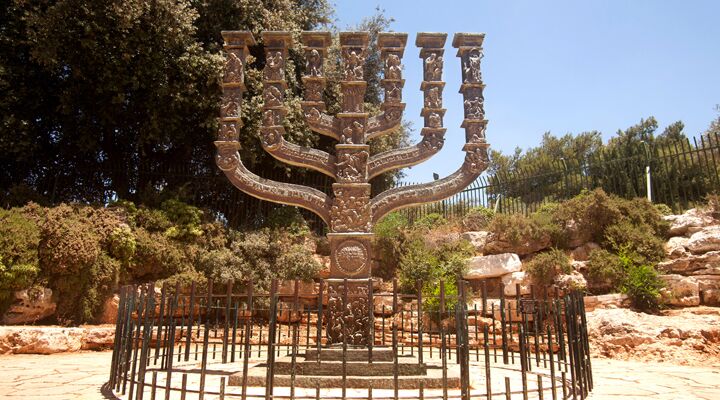 Israel's Enduring Symbol
On the 1,400-year-old golden medallion recently discovered in Jerusalem, the most prominent symbol is a familiar one to Jews: a menorah.
This seven-lamp candlestick has been a symbol of Israel for millennia. It has been used since the days of Moses, when God commanded him to make an ornamented "candlestick of pure gold" to place inside the portable sanctuary in the wilderness. This lampstand also appeared centuries later as one of the most important vessels in the magnificent temple of King Solomon.
This unique symbol began appearing on coins in the first century b.c. Numismatics expert Peretz Reuven says it was widely used by Jews in Israel and the Diaspora in the Late Roman and Byzantine periods, where it appeared in sculpture, fine metal work, paintings, engravings, impressions, mosaics and castings, and on architecture, ossuaries, sundials, oil lamps, bottles, bowls, gems and seals, as well as medallions.
The Babylonian army destroyed Jerusalem during the sixth century b.c. and transported all the temple vessels to Babylon. Seventy years after that, the Bible says the Jews returned to Jerusalem with "the vessels of the house of the Lord," perhaps including the menorah from Solomon's temple.
Centuries later, the seven-lamp candlestick was still used as a distinctive symbol of the Jewish religion. The first-century historian Josephus tells us that when Roman soldiers destroyed Jerusalem in a.d. 70, they captured the temple menorah and took it to Rome (illustration, page 16). The Roman Emperor Domitian even engraved on the Arch of Titus a triumphal procession of Roman soldiers carrying a giant menorah.
But though the temple was destroyed and its menorah removed, the deeply symbolic meaning of the seven-lamp candlestick has stood firm in the hearts and minds of Jews everywhere over the past 2,000 years.
Soon after it declared independence in May 1948, the State of Israel chose as its national emblem a seven-branched lampstand flanked by two olive branches—an image from a vision recorded in the book of Zechariah.
The most iconic image of the Menorah in Israel today stands proudly in a small plaza across the street from Israel's parliament building in Jerusalem. It's a 15-foot bronze sculpture known as the Knesset Menorah. This visual textbook, as some call it, includes engravings of more than two dozen important events described in the Bible and in Jewish history books. It depicts the many trials and travails of the Jewish people throughout history. Its most dramatic engraving is a biblical passage that runs across the bottom of its lower branches: "Not by strength and not by power, but by my Spirit, says the Lord who rules over all."
Today, just as more than a millennium ago, the menorah stamps the history of the Jews firmly on their homeland.