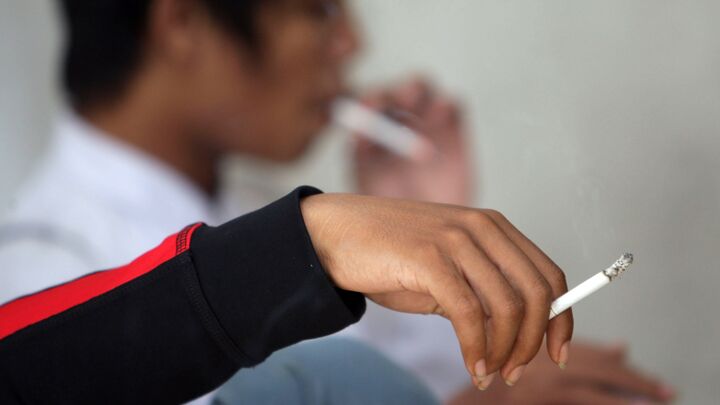 Sex, Smack and Sodomy
The volatile combination of free sex, drug addiction and sodomy have helped bring our society to the point of no return.
Why write on subjects akin to that which the Apostle Paul observed of the Church should "not be once named among you"?
I have to ask that question on the rare occasion that I step into the mire of murk that our society has descended into and write a commentary or analysis on its current moral condition.
My own view is that the mass media, the entertainment industry and our education system has so flooded the market in overdrive with the perverse that our subscribers need an uplift by pointing them to more inspirational areas of the news attached to Bible prophecy.
Yet, occasionally, a sensible comment from a clear-minded author will move me to in turn comment from a biblical perspective on the great social diseases that have seized our society in a death grip. Such was the case with a recent piece by Ben Stein in the American Spectator.
Stein wrote: "I read that heroin use is spreading like mad all around the upper-middle-class youth and maybe the rich youth, too. I guess that some fools will soon be saying we should legalize heroin use, just as we have marijuana abuse" (August 12).
What a disaster.
This is most deeply concerning, especially since our attorney general is now intent on not penalizing drug users who smoke, inject and inhale the stuff unless they perpetrate a felony. He's going to let them out of jail. So a whole pile of "upright" drug-using citizens of the country are about to be released from prison. What does that mean? It simply means that, among other negative impacts on our society, the peddlers and the pushers are going to have a field day making money hand over fist—illegally—supplying the demand from this revived clientele!
Talking about the unrighteous judges of Israel, this A.G. takes the cake!
Yet of most intense concern is the provable reality that, as Ben Stein notes, it is the youth of America that are being targeted with this fashion for "smack."
Fearing the worst in the wake of the current heroin epidemic, Stein observes of today's rampant marijuana use: "It isn't funny and it isn't cute and it's killing the youth of this country. Heroin use is even worse."
This is but one element of a barrage of a very perverse cocktail of habit-forming practices that our youth are being increasingly subjected to.
A second ingredient in this murky blend is the combined, continuing—and increasing—effort of the intelligentsia, educators, mass media, fashion gurus, advertising and the entertainment industry to sexualize everything from children's books and cartoons to "music," dress, films and video games.
Thus we see the traditionally underage child increasingly being tempted to engage in sexual activity.
This then leads to the drug companies taking huge advantage of the already perverted mind of youth by making abortion pills freely available on shop shelves to all comers regardless of age. CNSNews.com reports (August 1):
Three major drugstore chains … have moved "Plan B," a drug that can induce an abortion, onto the open shelves in their stores, where it is now sold like aspirin or other non-prescription drugs.In April, Judge Edward Korman of the U.S. District Court for the Eastern District of New York ordered the Food and Drug Administration to make the drug available on a non-prescription basis to women "of all ages."On June 20, the fda announced that it had approved the non-prescription sale of Plan B to all women who have "reproductive potential" no matter what their age.
This judgment wrongly categorizes female youths of "reproductive potential" as adults—"women."
It is well known that a fairly high percentage of subteen girls possess "reproductive potential." What they don't possess at their age is the capacity to reason like an adult. They have not yet developed their intellectual capacity to the point that, under adult guidance, they can reason through the end result of certain actions normally reserved for those of mature mind. With their hormones awakening, their decisions are largely based on feelings and emotion rather than on reason and logic.
This is most essentially the case with today's generation of youth.
"Dr. Thomas Sowell, economics professor, economist, writer and sage, encapsulated brilliantly what ails our youth. 'The problem isn't that Johnny can't read. The problem isn't even that Johnny can't think. The problem is that Johnny doesn't know what thinking is; he confuses it with feeling" (Canada Free Press, August 13).
Whether Johnny or Jane, the above observation remains a truism for both sexes.
The author of the article from which the above quote is taken sheets the blame home for this mindset of today's youth thus:
And the culprits are the American public education, an ever growing lack of religious education, and the indifferent parenting that does not question what children learn or do not learn in school.Young people in any generation tend to be naive, idealistic and gullible; it is easy to sell them anything because they confuse feelings with rational thought. They are told so often and so early in life that they are special that they form a distorted view of themselves.
Now, at least three major pharmaceutical chains in the United States have rushed to make a profit out of exploiting "naive, idealistic and gullible" female youth by making abortifant pills freely available for them to purchase.
One does not have to use much of a degree of common sense to extrapolate the outcome of this debacle of a judgment made by Judge Korman. It will set a precedent which other states will follow, and the epidemic of free sex among our youth will accelerate remarkably, in addition to the diseases which follow flagrant free sex in its wake.
When we add to this toxic mix the monthly gains that the aggressive homosexual lobby is making in leaps and bounds to change the laws, negatively impact the mores and morals, fashions—and even the language—of the nation, then it is not hard to see Jesus Christ's prophecy recorded in Luke 17:26-30 accelerating in its fulfillment in our cities and towns today.
Sex, smack and sodomy—that's the perverse cocktail today being dished up to our youth by legislators, judges, teachers, entertainers, and our liberal mass media. It's a cocktail deliberately designed to poison a whole generation to death, and it's highly addictive.
Prophesying the times that we are living through right now, the Prophet Jeremiah wrote of horrific consequences that the descendants of Judah and Joseph—patriarchs of the Jewish, British and American nations—would reap as a result of their rebellion against God and the law He designed for our good.
Writing on this prophecy for our day, our editor in chief, Gerald Flurry, observes (Lamentations—The Point of No Return):
Lamentations was a warning to ancient Judah that it had reached the point of no return. The nation could no longer repent to avoid being taken captive by Babylon.What happened to Judah is only a type of what is prophesied to happen in this end time. It is a prophecy where the Laodicean Church and three nations of Israel (America, Britain and the Jewish nation) have reached the point of no return. They are going to become enslaved by a modern-day Babylon from Europe.
Jesus Christ prophesied of this eventuality in Matthew 24:21: "For then shall be great tribulation, such as was not since the beginning of the world to this time, no, nor ever shall be."
If your mind is not closed to this warning message, then realize that there is a great hope that awaits you: "Only individuals can still repent before the Great Tribulation. And even they have only a tiny span of time to do so" (ibid).
What more can we ask of the open-minded than "Why delay?"
Time is rapidly running out for those who are being drawn by God's goodness to repentance to act on the knowledge He has given them (Romans 2:4).
Jesus Christ is certainly not delaying His return as some imply (Matthew 24:48).
His Father is always on time with His intervention in the affairs of men.
Christ has not left us in ignorance of the signs of His coming. His great prophecy recorded in Matthew 24 is replete with a litany of signs of the end of this age and of His imminent return.
If, indeed, your mind is open to see this, then that is proof that God is drawing you to repentance and membership of His Family.
We live in a time of "no more delay" (Revelation 10:6) in the accelerated fulfillment of end-time, last-hour (1 John 2:18) prophecies!
It's time for you to act NOW!
Read our booklets Lamentations—The Point of No Return and The Last Hour. They will open your eyes even further to the times we are living through right now in the run-up to our Savior's return.
Our prayer is that you will act on this knowledge now, without delay, while yet there is time to do so, and become part of the global family that is backing the delivery of this message embracing the only hope for mankind's survival.
The work in which we at theTrumpet.com are involved is the most rewarding and fulfilling experience imaginable, especially when you see the light of that real and pure hope in the eyes of our youth who are being taught an enlightened way of life with a potential greatly distanced from that of sex, smack and sodomy!
They are the real hope of the future!