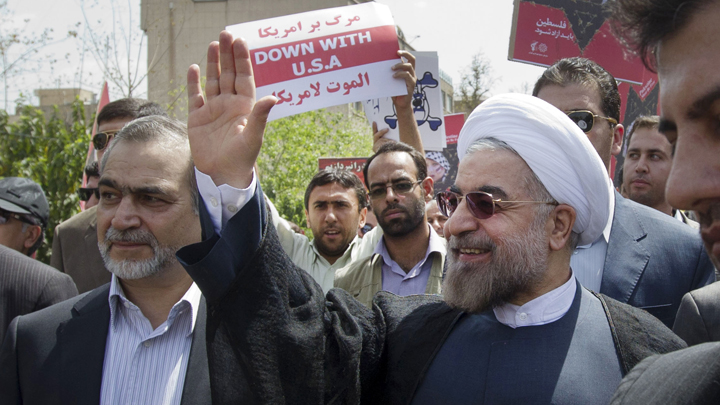 Iranian President Rowhani's Extremist 'Path of Moderation'
Just how 'moderate' is Iran's recently inaugurated president?
Apparently the "path of moderation" that the recently inaugurated Iranian president has vowed to tread is not an easy one. Iran's PR department has been frantically pouring water over the fiery, anti-Zionist statements that the "moderate" Hasan Rowhani made on August 2 on Quds (Jerusalem) Day—a pro-Palestine, and by implication, anti-Israel annual event coinciding with the last Friday of Ramadan.
Rowhani was quoted by Iran's local media two days before his inauguration as saying, "The Zionist regime is a wound inflicted for years on the body of the Muslim world that must be cleansed." Rowhani's incendiary remarks sounded eerily similar to outgoing President Mahmoud Ahmadinejad's unabashed, wolf-in-wolf's-clothing, anti-Semitic rants.
Rowhani is not the "moderate" that some of the Western media still thinks he is. He maintains an Islamist extremist ideology, and his comments imply that fact. But even if he was a reformist or a "moderate," his boss definitely is not. Iran's Supreme Leader Ayatollah Ali Khamenei declared last year that "the Zionist regime is a real cancerous tumor that should be cut and will be cut." Months later, he reaffirmed that Israel was a "cancerous tumor in the heart of the Islamic world."
Rowhani's outspoken predecessor Ahmadinejad was notorious for similarly inflammatory hate statements. Even on the same Quds Day that Rowhani was supposedly grossly misquoted, Ahmadinejad said in his last speech of his term earlier in the day: "I will inform you with God as my witness, a devastating storm is on the way that will uproot the basis of Zionism." He also declared: "You Zionists planted a wind but you will harvest a storm. A destructive storm is on the way and it will destroy Zionism." These are the words of the man whom Rowhani succeeded, whom Khamenei just appointed to his advisory board on August 5, acknowledging the "profuse experience [he] gained during eight years of worthy efforts."
There's no mistaking the path that Iran wants to walk. It is extremist, not moderate. Iran will use Rowhani's "moderate" outlook to buy time, gain legitimacy, and hopefully ease the hurting economic sanctions it's under. Tragically, the West is falling for it. British Prime Minister David Cameron sent a letter to Rowhani on August 7 expressing high hopes that the "moderate" Iranian president will engage with the international community "constructively and seriously" over Iran's disputed nuclear activities.
In the United States, while Congress is pushing for tougher sanctions on Iran, the State Department is arguing that those sanctions would create immovable obstacles to pragmatic nuclear negotiations with Iran.
The Islamic Republic of Iran remains the dangerous state it has always been, if not worse under Rowhani's presidency. Bible prophecy indicates a time soon when Iran will shed its current "moderate" mask and reveal its true nature in a violent manner. That prophecy, howbeit ominous, is a glorious sign of the imminence of the Second Coming of Jesus Christ to establish a peaceful regime—the Kingdom of God. To learn more about the hope behind the electrifying events in the Middle East today, request our free booklets The King of the South and Jerusalem in Prophecy.