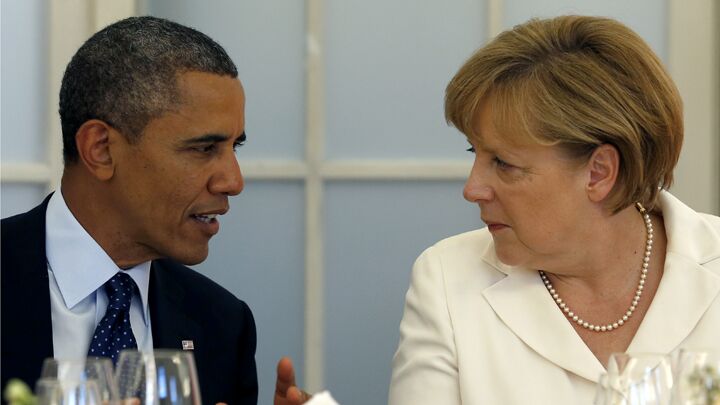 NSA Scandal to Be Exploited by Europe?
The public perception across Europe is that American intelligence agencies are stealing European industrial secrets. Such an atmosphere of transatlantic mistrust could lead to bigger problems.
The latest reports on the nsa snooping scandal show how the Obama administration has gone far beyond just collecting the phone and e-mail records of American citizens. The German magazine Der Spiegel reports that America's National Security Agency has also conducted online surveillance of European citizens and appears to have specifically targeted buildings housing European Union institutions.
This information comes from classified documents obtained by nsa whistle-blower Edward Snowden and seen by Spiegel reporters. The documents detail how U.S. agencies have bugged EU offices in Washington, D.C., and tried to infiltrate the phone/e-mail networks of the Justus Lipsius Building in the EU headquarters in Brussels.
This snooping program has targeted Germany, in particular, with the United States tapping half a billion German phone calls, e-mails and text messages in a typical month. The documents Spiegel cited show that U.S. surveillance is more pervasive in Germany than in any other EU country, similar in extent to China or Iraq.
These wiretapping revelations have outraged some EU and German officials to the point where they are recommending a boycott on Google and other American Internet providers. "Whoever fears their communication is being intercepted in any way should use services that don't go through American servers," Hans-Peter Friedrich, Germany's internal security chief, told reporters last Wednesday.
Neelie Kroes, the European Commission vice president of Digital Affairs, further warned that European businesses are likely to abandon the services of American Internet providers and "cloud services" due to the surveillance scandal.
"If businesses or governments think they might be spied on, they will have less reason to trust cloud, and it will be cloud providers who ultimately miss out," Kroes said. "Why would you pay someone else to hold your commercial or other secrets if you suspect or know they are being shared against your wishes?"
Considering that Europe also spies on the United States, the outrage from European leaders is somewhat hypocritical. It is likely that European leaders are trying to exploit the recent media attention over nsa spying to gain leverage in the trade talks.
Kroes has pointed to "multibillion-euro consequences" facing U.S. Internet companies if this scandal is not contained. "It is often American providers that will miss out, because they are often the leaders in cloud services. If European cloud customers cannot trust the United States government, then maybe they won't trust U.S. cloud providers either. If I am right, there are multibillion-euro consequences for American companies. If I were an American cloud provider, I would be quite frustrated with my government right now."
Eventually, there may be other consequences from this scandal. The leaders of many German companies now fear that the nsa has stolen German industrial secrets. This perception on the part of German business leaders may eventually do more harm to U.S./EU trade relations than even the atmosphere of mistrust that has overtaken the political sector. If European business owners start boycotting American Internet-based companies for fear of nsa surveillance, the American economy will contract even further.
The most important factor in this delicate situation is the perception of the German and the American people. Even if the high-ranking leaders choose to temporarily calm the situation based on the logic that both sides are mutually spying on each other, the middle-rank politicians and the masses at large may still begin to view their neighbors across the Atlantic with bitterness and resentment. If this is the case, such resentment could become a tinder-box for future transatlantic conflicts.
While it is yet to be seen exactly how the details play out, the Trumpet has long predicted (based on Isaiah 23) that a German-led European Empire will make a brief trade alliance with the nations of East Asia and Latin America. The purpose of this alliance will be to economically besiege the United States, isolating it from world trade. For a more detailed explanation of this coming siege, read Chapter Seven of editor in chief Gerald Flurry's booklet Isaiah's End-Time Vision.