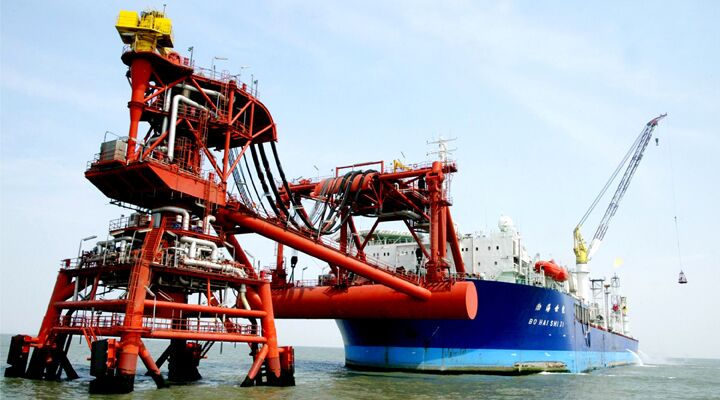 Time to Learn Mandarin?
As the U.S. decline accelerates, Chinese firms are gobbling up the country's real estate, farming, energy resources and more.
U.S. officials considered a Chinese company's $4.7-billion bid this week for Smithfield Foods, which if successful would mark the largest ever takeover of an American company by a Chinese firm. The bid, placed last month by China's Shuanghui International, represents the latest move in Beijing's strategy of venturing into the United States to acquire industry, energy resources, assets, infrastructure, technical expertise and more. And debt-ridden America is growing more eager all the time to embrace these ventures.
China has been making quiet inroads into the U.S. for decades, but in recent years it has become considerably more aggressive. In 2012, China's acquisition of American businesses smashed the previous annual record. This year, it's on course to break that record.
In May last year, China's Dalian Wanda Group bought amc Entertainment for $2.6 billion, which gives the Chinese company control of more movie ticket sales than any other entity in the world. A year earlier, a Chinese firm broke ground on a $100 million factory in Thomasville, Alabama. Meanwhile, dozens of Chinese companies are putting down roots in Detroit as part of Beijing's stealthy push into the U.S. auto industry. Around 100 Chinese-owned firms, mostly auto-related, operate in the Detroit metropolitan area now, and the number is steadily rising.
Unlike the situation in the U.S., the line in China between government and business is gray at best and often totally absent. In 2011, for example, 43 percent of all profits generated by China came from firms that the government had a controlling interest in. Even in cases when there is separation in ownership, Chinese companies and individuals are reluctant to flout Beijing's authority and guidance. For these reasons, most takeovers by Chinese firms equate to a concrete increase in the Chinese government's power.
Fueling the Dragon
The speed at which China's economy is growing is shocking and historically unprecedented. As China wakes from its long slumber and industrializes, it is bent on consumption. In 2009, it overtook the U.S. to become the world's largest energy consumer, which is why energy resources is an American arena China is deeply interested in.
Permitting China to obtain interests in American energy production is a turnaround from the Bush administration's policy. In 2005, on grounds of national security, Washington blocked Beijing from an $18.4 billion purchase of California-based petroleum firm Unocal Corp.
But under the Obama administration, U.S. policy has reversed, and Washington has embraced most Chinese investment. One recent deal saw China's Wanxiang Group pay $257 million for the assets of U.S. battery maker A123 Systems. Some American policymakers criticized the agreement on grounds that A123's technology—developed with U.S. taxpayers' money—could support military operations in China. The Committee on Foreign Investment in the United States approved the deal despite these objections.
Another Chinese firm came under fire in March for using a "mountaintop removal" technique of coal mining in eastern Tennessee. The company spent $616 million to acquire the U.S. coal company—marking the first acquisition of American coal assets by any Chinese company. Beijing's conservation record—perhaps the worst in the world—should have been a red flag to policymakers who were concerned about the preservation of the scenic Appalachian land, but the complaints came only after the Chinese began scalping the mountains.
Since 2010, China's state-owned oil giant cnooc has bought a one-third stake in shale deposits in Colorado and Wyoming for $1.27 billion, a one-third interest in a Texas shale project for $2.16 billion, minority stakes in Statoil asa's Gulf of Mexico leases and six of Nexen's deep-water wells.
During the same time frame, China's state-owned Sinopec paid $2.5 billion for a one-third interest in a Louisiana shale field, $2.5 billion for a one-third stake in a Michigan-based shale field, $2.5 billion for a one-third interest in Devon Energy's Utica Shale and another $2.5 billion for a one-third stake in an Oklahoma-based oil deal. These figures represent astronomical Chinese investment in U.S. energy resources.
Not every deal goes through, however. Last year, China's Ralls Corp. was blocked from operating a wind turbine energy farm in Oregon because it was too close to an American naval base. Ralls is now appealing the Obama administration's decision in court.
Before Shuanghui can complete the buyout of Smithfield Foods, the deal has to undergo examination and be approved by Washington. But analysts believe that under the current administration, the takeover will go through. And, since Smithfield Foods has facilities in 26 U.S. states and employs 46,000 Americans, the buyout would give the Chinese extensive influence in hundreds of U.S. communities.
It's Largely Because of a Bloated Deficit
In 2012, the United States exported around $110 billion in goods to China, and the Chinese sold America over $425 billion worth goods. It was the largest trade deficit one country has ever had with another country in history. The U.S. has run a trade deficit with China over the past 10 years that totals more than $2.3 trillion.
This staggering deficit is at the heart of China's acquisition of Smithfield Foods and other U.S. concerns. Thanks in large part to the U.S.'s grotesquely bloated trade deficit with Beijing, the Chinese have cash to spend—trillions of dollars of it. So they are investing all over the globe, including in America.
Washington wants to keep China economically interested in lending to the U.S. It wants to stay on good terms with Beijing so that it can maintain its borrowing practices. For most U.S. policymakers, the economic "necessities" of Chinese direct investment now trump national security concerns.
China is only just beginning to really flex its economic muscle, yet some Americans are already reminiscing. "I still remember the world where we were buying companies all over the world, and now they are coming to buy ours, and from an economic point of view that concerns me," said Virginia Republican Rep. Randy Forbes.
The bygone age Forbes remembers was before the period called "the times of the Gentiles" in Luke 21:24, which we are swiftly entering. During that age, the United States and United Kingdom were undisputed global leaders in terms of culture, military, industry, technology, education and economy. As the U.S. and Britain (the main players called "Jerusalem" in this passage) continue their decline, three key non-Israelite (or "Gentile") blocs have come to the fore: a united Europe, a radical Islamist movement headed by Iran, and an integrating Asia, led by Russia and China.
We stand on the fulcrum point between the age of Israel and the age of non-Israelite nations. Trends like the Chinese buyout of U.S. assets reveal the shift to be advancing rapidly. Very soon, American influence will be not just frustrated by these three powers, but altogether obliterated from global politics.
This news means the world is spiraling toward a time of suffering unmatched by any in human history. But this suffering will be immediately followed by the most jubilant event in man's history: the Second Coming of Jesus Christ. He will bring about an age of peace and unprecedented prosperity for all nations!
Evidence of the shift in the global balance of powers is in headlines every day. But recognition of it is only the first step. There is specific action you can take to have a chance at avoiding the carnage on the horizon. To understand, read Character in Crisis and The United States and Britain in Prophecy.