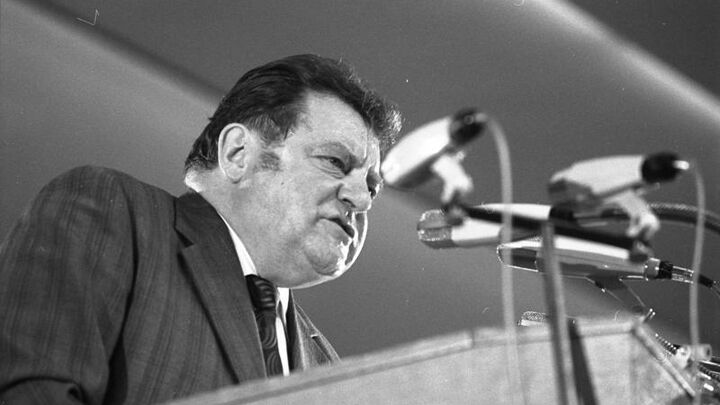 Franz Josef Strauss Honored Herbert W. Armstrong
'We need an Ambassador College in Germany,' Strauss said.
What has been the happiest day of your life? Famed German politician and beloved son of Bavaria Franz Josef Strauss declared to Herbert W. Armstrong that the happiest day of his life was on the grounds of the Ambassador College campus.
Strauss was a member of the Roman Catholic youth movement, studied at the University of Munich, and was called up to active military duty in World War ii, during which he was captured by U.S. forces and released in 1945.
That same year, he was an original framer of the Christian Social Union (csu), embarking on a long and successful political career dominated by the defense, strengthening and expansion of his native Bavaria.
Strauss served in the Bavarian Ministry of the Interior before being elected to the Bundestag in 1949. He would continue to influence not only local, but national and international policy, while serving in the areas of Atomic Affairs and Defense Council, which ultimately led to his appointment as minister of defense by Konrad Adenauer in 1956. While in this post he guided the rearmament of West Germany, buttressing the military capacity of the Bundeswehr.
During the early 1960s, Strauss faced the political drama of the Spiegel Affair, which resulted in his resignation from the government. However, he remained as chairman of the csu, and it wasn't long before he returned to cabinet office as minister of finance.
In 1968, while serving at this post, he gave a videotaped interview from his office to The World Tomorrow. During this meeting he expressed his strong desire for a united Germany and Europe. "We should not forget such a division of Germany is a faction of the division of Europe, and that both problems, the reconciliation of Europe and the reunification of Germany, cannot be separated from each other."
He went on to note, "A few years ago, and repeatedly in the past months, I have made a fantastic statement—an hypothesis, which I would like to repeat now. Assume that the Federal Republic of Germany would make a proposal toward the Russians. This proposal would horrify our allies; would shock them. It's purely an hypothesis, but let us go through it in our thoughts.
"The Federal Republic of Germany would abandon all European ties; the Common Market, the Coal and Steel Pool, Euratom; would leave nato; would dismantle the Bundeswehr down to a police force of a hundred thousand men with police weapons; would commit herself to undergo full-scale neutralization and disarmament for a hundred years; would forget about the German problem, and would tell the Russians: 'We shall not come back to that problem before the year 2000 has come.' …
"What would the Russian answer be?
"The Russians would answer, 'Those are very good ideas you have proposed. … You should do all that you have proposed. And when you have done that … we shall be in a better atmosphere to negotiate with you about your point.'
"The Russians would not, under foreseeable conditions, permit reunification of a real German democratic state ….
"Therefore I see as the only chance, in a long-run historical process, that of building up a Europe—integrating the Federal Republic of Germany into that Europe and building bridges from an attractive, economically powerful, political and influential Europe which can defend herself—including a nuclear potential—to add to the power of the Europeans."
Toward the end of the interview he maintained, "We need a new architecture of Europe in order to overcome the period of a catastrophic degeneration of Europe. That requires that we are ready to abandon German sovereignty in favor of a European central government in which the Germans will represent a certain element but will not dominate Europe" (Plain Truth, October 1968).
Two years later, in April 1970, Strauss made a two-day visit of the Pasadena, California, campus of Ambassador College. He spoke to a formal assembly of the student body and was later interviewed again for television broadcast by The World Tomorrow. During that April 2 studio interview, he stated, "A united Europe is more essential now for the free world than it would have been anytime before. … Big powers have been established, the United States of America, Russia, Japan. I think that small and medium-sized European states are no longer able to face what the future demands from all of us.
"Therefore my political friends and I have been pleading for years and years now for a united Europe. … We need a strong Europe, a Europe with an attractiveness, a Europe with a fascinating cultural, economic, financial power, and a Europe which is also ready and prepared and capable of taking a greater share of the burden in Atlantic defense" (ibid, September 1979).
Before departing the campus, Strauss was guest of honor at a special banquet hosted by Mr. Armstrong at his home. "At the close of the first day, he commented that he had just spent the happiest day of his life. The peace and happiness here are contagious," recalled his host, the unofficial ambassador for world peace. "Dr. Strauss drank it in. Herr Strauss said, 'We need an Ambassador College in Germany'" (ibid).
Strauss was elected premier of Bavaria in 1978, and a year later he was chosen as the csu-cdu candidate for the 1980 election for chancellor. Despite losing the vote, he remained an outspoken critic of spd policy, particularly the improving of West German ties with Soviet-controlled Eastern Europe.
By the next decade, Strauss had softened his view, calling for expanded economic relations between East and West. His popularity as chairman of the csu and premier of Bavaria continued till his death in 1988, barely a year before the fall of the Berlin Wall. His legacy endures in Germany, most notably in Bavaria, where he engineered policies which positioned it as a shining light of prosperity.
Our regular readers know Mr. Armstrong long warned of the short-term fulfillment of Strauss's dream of a united Germany and Europe. Today, our editor in chief Gerald Flurry warns that these events are already prophetically center stage (Daniel 2 and 8; Revelation 13 and 17), and Strauss's concern about the return of the German problem to dominate Europe has been realized, destined to result in great suffering for the United States, Britain and the Jews (Isaiah 10:5-7; Hosea 5:5, 13). From this forthcoming time of tribulation results the spectacular return of Christ, and establishment of divine royal rule and authority (Matthew 24:30; Revelation 11:15; Isaiah 9:6-7).
One day, Dr. Strauss will be thrilled to know that the Bible prophesied of his very desire of the establishment of an Ambassador College in Germany (Isaiah 11:9; Isaiah 30:20; Malachi 1:11). Its current-day successor, Herbert W. Armstrong College, remains an undimmed light in a darkening world, continuing the work and legacy of its namesake.
All nations, including Germany, will soon flock to Jerusalem for annual education and instruction, in the wonderful World Tomorrow (Zechariah 14:16). To learn more of this spectacular prophecy, request Gerald Flurry's visionary book The God Family Vision.