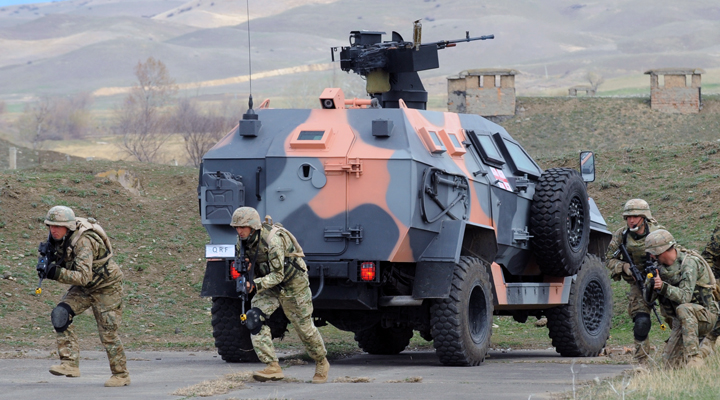 Moscow Fuming Over U.S.-Georgia Military Drill
What will come of the rising tensions in the Black Sea region?
More than 350 U.S. marines and several hundred Georgian Army troops angered Moscow by holding a month-long military drill in the former Soviet republic that ended on April 5. The U.S.-Georgia war exercise, code named "Agile Spirit 2013," prompted the Russians to stage large-scale, unscheduled drills of their own.
"These annual events, which our American partners explain as 'preparation for the Afghan operations,' cause concern," Russian Foreign Ministry spokesman Alexander Lukashevich said about Agile Spirit 2013. "Any foreign military assistance to Tbilisi, no matter what the motives are, complicates prospects for strengthening peace and stability in the region."
The Russians' reaction did not end with words.
In a snap response to the war drills, Russia held large-scale military exercises of its own in the Black Sea, causing great alarm in Georgia. "The current drills are unscheduled, unusual and go beyond the usual location of the armed forces in the spirit of the 2011 Vienna Document on Confidence and Security-Building Measures," Georgia's Foreign Ministry said on March 29. "Georgia is alarmed by the unexpected, provocative activity of the Russian troops, as well as by the potential use of the facilities, weaponry and/or personnel of the occupation forces of the Russian Federation within Georgia's internationally recognized borders in Abkhazia, Georgia and the Tskhinvali region, Georgia."
Recent history shows that Georgians have good reason to be alarmed.
In 2008, Moscow launched a separatist movement in those same two Georgian regions, which triggered an all-out war between Georgian soldiers and Moscow-backed separatists. Russia ended up invading Georgia and wresting the region of South Ossetia from its control, a move which Trumpet editor in chief Gerald Flurry said marked "the beginning of adangerous new era in history."
Lukashevich said Georgia's military drills with the U.S. show that the former Soviet republic is "refusing to come to terms with new political realities"—a clear reference to Russia's 2008 invasion and conquest.
The Georgian defense minister said Moscow's military exercises in the Black Sea are causing Georgia to "intensify its vigilance."
The U.S. values its alliance with Georgia, not only due to Russia's alarming 2008 invasion, but also because U.S. and nato troops are scheduled to leave Afghanistan within a year, and are struggling to retain influence in that resource-rich nation. World powers view Georgia as a key staging locale and transport hub for any future operations in Afghanistan, so they are vying for influence there.
Moscow's displeasure at the U.S.-Georgia military drills, and its decision to hold provocative, large-scale drills of its own so near to the Georgian border, show that the dangers of the new era are intensifying. Russia will continue to assert itself in Georgia, the Caucasus, and elsewhere in the former Soviet Union region, as its desire to resurrect the Russian sphere of influence grows stronger. President Vladimir Putin has more power than any Russian since the collapse of communism, and the stage is set for him to take on a more assertive and dictatorial role, both domestically and in neighboring nations.
To understand more about Russia's strategy and why it should matter to you, read Mr. Flurry's article "Russia's Attack Signals Dangerous New Era."