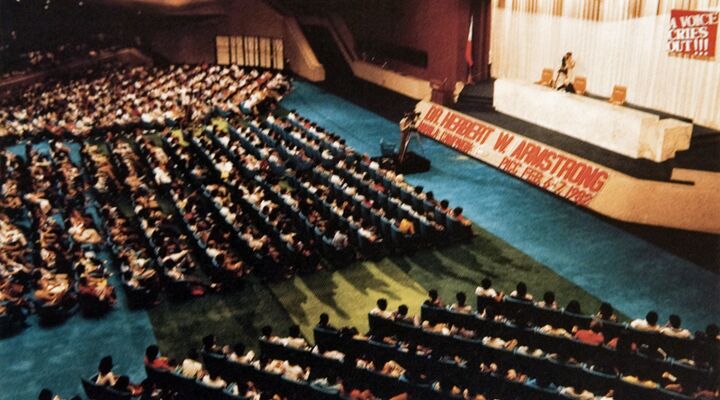 Herbert W. Armstrong Visited the Philippines Weeks Before Pope John Paul II
Mr. Armstrong met with President Marcos, spoke to university students, Rotary Clubs and government officials, and conducted large campaigns in Manila.
In mid-February 1981, the papal plane touched down in Manila. The trip took Pope John Paul ii to a large refugee camp. He also conducted mass in various locations, most notably Cebu City on February 19. John Paul's message focused primarily upon the importance of family.
Preceding the pope was the internationally recognized ambassador for world peace, who had just concluded a spectacularly powerful and effective trip to the country.
He began by speaking at the Manila campus of Adamson University. Founded in 1932 as a one-classroom school by Greek chemist Dr. George Lucas Adamson, it was designed to be a training location for men and women in the field of industrial chemistry. An engineering program was added four years later, and it was officially recognized as a university in 1941.
Over time, pharmacy, science, education, law, business, architecture and theology curricula were added. It may come as a surprise to readers to learn that Adamson University transitioned from a secular academic institution to a Catholic one during the 1960s to be overseen by its friar presidents.
It was into this atmosphere that Herbert W. Armstrong stepped on stage, and for an hour the standing-room-only audience heard a message "on the spiritual values that alone would give to university students everywhere the opportunity to live happy and abundant lives" (Worldwide News, Feb. 9, 1981).
Then, 750 in attendance at a special meeting of the Philippine Constitution Association listened to Mr. Armstrong's presentation as keynote speaker. The association was founded in 1961, and has focused on the preservation and defense of the national constitution. Over the past 50 years, the association has remained a source of legal guidance, sharing its research and findings. The chief justice of the national court, along with various governmental cabinet ministers, attended the event and heard the guest speaker proclaim the way to world peace.
The next day, the combined Rotary Clubs of Manila hosted Mr. Armstrong, and for an hour witnessed the declaration that "only the intervention of Jesus Christ, who will return soon to rule, as a King and High Priest, will prevent mankind from destroying itself" (ibid).
Later that evening, Minister for Labor Blas Ople hosted a dinner in Mr. Armstrong's honor attended by ministers of agrarian reform, justice, and budget, along with directors of other government departments and select assemblymen. So moved by Mr. Armstrong's comments that night, Conrado Estella, the minister for agrarian reform, invited Mr. Armstrong to speak to 450 of his employees, asking him to deliver a "spiritual message."
Mr. Ople was installed as a senator in 1992, then senate president. It was during this time that President Gloria Macapagal-Arroyo appointed him to the high post of foreign minister. He died in 2003 and was given the the Order of Lakandula, the highest presidential award, along with the honored designation as "hero" or in Philippine, "bayani."
Mr. Estrella was a key architect of the National Electrification Administration as well as serving as an assemblyman, mayor, governor and congressman. He died in 2011 and was well-known for his interaction with Gen. Douglas MacArthur during the early 1960s when he returned to the Philippines.
On January 23, Mr. Armstrong was received by Philippine President Ferdinand Marcos for a special televised 45-minute interview. He later was received for a short meeting with the first lady, Imelda Marcos.
The next morning, across the front page of all newspapers in Manila, ran the photo of the honored ambassador for peace meeting with the president. Later that day, and again the next day, he spoke at the International Convention Center, delivering the gospel message of Matthew 24:14 to capacity crowds. In Manila, billboards appeared promoting his campaign lectures to motorists and featuring his picture accompanied by the words, "A Voice Cries Out! Herbert W. Armstrong Speaks on the Plain Truth about the World Tomorrow."
Throughout Mr. Armstrong's visit, national media covered his travels, while the Cultural Ministry hosted an essay contest tasking high school students to express in their own words the meaning of Mr. Armstrong's message, receiving over 1,000 entries.
To learn more of the meaning and message delivered to the Philippine people, read Gerald Flurry's booklet The Way of Peace Restored Momentarily, along with The God Family Vision.