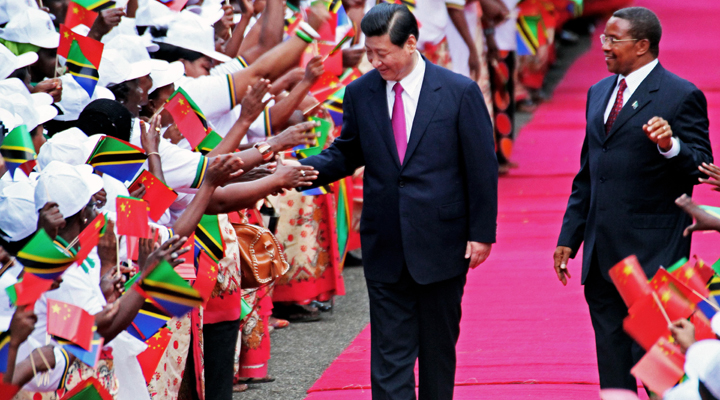 Africa Feeds the Chinese Dragon
Days after being elected, Chinese President Xi Jinping travels to Africa.
Chinese President Xi Jinping's first visit to Africa on March 24 highlights China's increasing influence over African resources. Over the past decade, China has worked to strengthen ties across Africa through trade and infrastructure deals. And considering that Xi was officially sworn in as president a mere 10 days prior to the visit, the trip also shows where China's economic focus lies.
Xi's tour will send him from Tanzania to South Africa, then on to the Republic of Congo. The choice of nations is not coincidental. All three nations are serving to further China's trade dominance of the African continent and thereby propel the Chinese economy to new levels.
Some African nations will advocate China's actions as an effort to foster mutual economic growth and encourage independent and sustainable development for their growing nations. However, examining China's involvement to this point will show that it is the one getting the better end of the deal. Any benefits to the Africans are coming as a side benefit to China's purposes.
The first stop on the president's tour was Tanzania. Xi spoke before Tanzanian President Jakaya Kikwete at a conference center in Dar es Salaam. The center was built with Chinese money and served as the perfect platform for Xi's comments. Paying for conference centers is one of many generous "gifts" of the Chinese to the Tanzanians. Since the African country's departure from British rule in 1961, China has invested in over 100 vital economic initiatives, many of which have been agriculture-based.
These initiatives have helped Tanzania build a more solid economic foundation. Why the acts of generosity from China? The truth is, Sino-Tanzania relations benefit Tanzania short-term, China long-term.
As far as infrastructure is concerned, China plays the "good Samaritan" card. It sees that Tanzania is poor and lacking in basic transportation needs, so the Chinese build roads and railways across the nation. This benefits Tanzania. But what do these roads and rails carry? The tracks are laid so that raw goods can flow straight to the docks, onto a ship, and off to China. "Today, China is reviving [a] partnership with Tanzania by investing heavily in its infrastructure," said Jonathan Holslag, head of research at the Brussels Institute of Contemporary China Studies. These railways may then provide a link to Chinese-run mines in the Democratic Republic of Congo.
China is Tanzania's largest trading partner and second-largest source of investment. Bilateral trade reached us$2.47 billion in 2012, up 15.2 percent from the year before. China has exploited Tanzania's lack of basic consumer goods. China exports vehicles, machinery and the light industrial goods necessary for Tanzania's day-to-day functioning in exchange for the nation's valuable minerals.
Tanzania has reserves of coal, gold, iron, steel, phosphate and crude oil. So long as China can keep Tanzania reliant on the basic consumer goods and infrastructure it supplies, it can ensure itself access to the raw materials it wants.
"China will continue to offer, as always, necessary assistance to Africa with no political strings attached …. We get on well and treat each others as equals," said Xi in his address on Monday. The statement was met with thunderous applause. Of course they really can't be called equals. China's aggressive consumption of African minerals has brought colonization back to Tanzania.
The African people were quick to throw off the "shackles" of European and British colonialism, and China was more than willing to lend a helping hand. China assisted many African nations in their transitions, which earned it its current "hero status" among the poor nations. China was, at the time, a small economic power itself. It was embraced as a friend, a nation that could replace the European influence. Most African nations have not awakened to the fact that China is no longer that small friend it once appeared to be. It is now the second-largest economy on Earth, capable of throwing its weight around and making demands.
One outspoken critic of the Chinese influence in Africa is the governor of Nigeria's central bank, Lamido Sanusi. "This African love of China is founded on a vision of the country as a savior, a partner, a model. But working as governor of Nigeria's central bank has given me pause for thought," he said. "We cannot blame the Chinese, or any other foreign power, for our country's problems. We must blame ourselves …. That said, it is a critical precondition for development in Nigeria and the rest of Africa that we remove the rose-tinted glasses through which we view China."
Another Chinese economic policy also comes into play with regard to Africa. Many nations that assist with development projects in African nations do so under certain prerequisites. There must be assurances of proper administration by the ruling powers. Aid is withheld when conditions are broken. All the while, China undermines such policies by turning a blind eye to things like government corruption. The Chinese are far less scrupulous about who they deal with.
The second nation the Chinese president will visit is South Africa, meeting with President Jacob Zuma. Last year, trade between the two was some $59.9 billion. That equates to nearly a third of all Sino-African trade. It is not a partnership China wants to see dissolve any time soon.
While there has been a great degree of trade going on between China and South Africa, there has been resistance to Chinese advancements into the nation. According to the South African Institute of Internal Affairs, "Chinese investment in S.A. is smaller than S.A.'s into China. Despite the strong Chinese appetite for S.A. mining resources and the attractiveness of its open market, S.A.'s significantly more complex socio-economic structure … has largely constrained the expansion of Chinese interests in Africa's largest economy" (Aug. 29, 2010). Xi's arrival may be a sign that China has plans to increase its presence in the nation.
One nation that will undoubtedly be seeing more of China in the coming months is the Republic of Congo. The third and last stop on Xi's African trip is one of the most underdeveloped nations in Africa. Many regions of the nation lack a proper road network.
China imported 5.4 billion tons of oil from the Republic of Congo last year. While this is a comparatively small amount—only 2 percent of China's imports—there is room for expansion. The Republic of Congo has one of the largest and deepest ports in West Africa. Combine that with the fact that one of the nation's two natural oil basins has never been tapped before, and the opportunity for growth in trade is obvious. All the underdeveloped nation needs is capital.
Xi may have alluded to a new-found interest in the Congo when he said, "China sincerely hopes to see faster development in African countries and a better life for African people." If China steps up its work in the Republic of Congo, watch for it to employ the same tactics it used in Tanzania. Infrastructure and cheap goods will be exchanged for the raw materials that China is gobbling up across the continent.
The recently elected Chinese president's visit to these three nations sheds light on the booming economic power's broader strategy for Africa. Chinese imports from Africa are skyrocketing. 2012 saw China import an immense $113 billion worth of materials from Africa. It holds the title of Africa's largest trading partner. According to Chinese Commerce Minister Chen Deming, 2011 saw trade between Africa and China reach $166 billion. China had invested $45 billion by June 2012 and $15 billion of that was direct investment.
China is growing. It consumes more raw materials than ever because of its industrial and economic boom. It is gazing hungrily at resource-rich Africa and planning its future expansion. But there's more to the situation than just tapping African resources. China has an important role to play in the fulfillment of prophecy in the latter days. Read Russia and China in Prophecy and see for yourself what China is planning to do with the resources it is devouring.