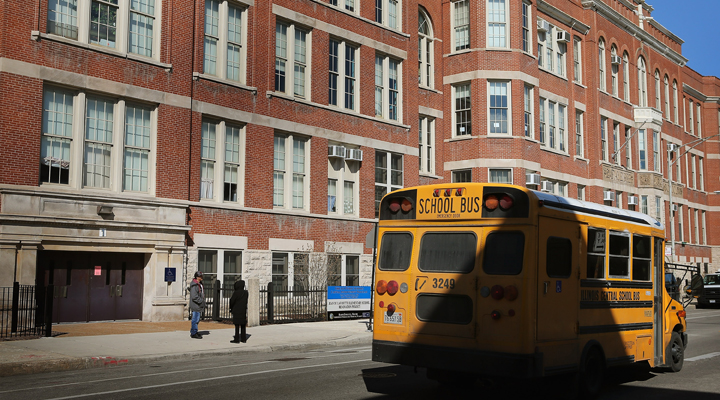 Chicago Schools Face Shutdown
Chicago plans massive cutbacks in the number of schools for 2014.
Chicago officials announced plans to close 54 schools, which include a total of 61 school buildings. The schools are set to close by August according to the announcement that came on March 21. The decision will go to a vote on May 22.
If the decision is passed, it will be the largest single closure of school buildings in the history of the United States. In the past, the district has never closed more than 11 schools in a single year. According to Chicago Public Schools, the closure will amount to 10 percent of all elementary school facilities.
Teachers, parents and unions have attacked Chicago Mayor Rahm Emanuel's decision to close the schools. The officials insist the cuts must be made to help close the $1 billion budget deficit. Each school closing is expected to save $500,000 to $800,000. "Consolidating schools is the best way to make sure all of our city's students get the resources they need to succeed in the classroom," said the mayor.
Administrators previously warned that up to 129 schools were at risk of closure due to lack of students. Enrollment has plummeted an astonishing 20 percent over the past 10 years.
Aside from closing schools, Mayor Emanuel could cut the excessive wages of unionized teachers that is sucking school budgets dry. According to the Washington Post, the median salary of teachers in Chicago is $71,017. The median household income in the city is only $46,877. "Chicago teachers make significantly more than average, no matter their education or experience level," reports the Washington Post.
Despite excessive compensation, in September last year Chicago teachers staged protests against unfair wages. Upset with the offered 16 percent pay increase, they demanded a 35 percent hike—even with the nation struggling to emerge from recession, and with national unemployment above 14 percent (U6 measure).
Teacher financing doesn't stop with pay rates. Over the years, unions have worked to secure sweetheart retirement deals for teachers—at taxpayers' expense.
In 2011, a teacher retiring after 30 years of work could expect an annual pension payment of $77,496. For every dollar of salary that is paid to a Chicago teacher, it costs the city 46 cents for the future pension benefit.
Nearly 50 percent of education dollars from the state will go to teacher pensions by 2014.
In years past Chicago made deals with teachers' unions that are now haunting taxpayers and city employees. Record numbers of teachers are retiring. According to radio station wbez, the Chicago Teachers Pension Fund estimated that 2,000 teachers plan to retire by the end of summer break. That is a 40 percent jump over 2011. All these teachers will be drawing on their generous pension plans.
Meanwhile, sky-high teacher compensation has done little for students. In 2012, Chicago public schools' graduation rate was a mere 60 percent!
School closures cause side effects beyond budget battles.
"There is no way people of conscience will stand by and allow these people to shut down nearly a third of our school district without putting up a fight," said Karen Lewis, president of the Chicago Teachers Union, in a news conference just before the closures were publicized. "Most of these campuses are in the black community."
Poorer districts will be hit hard. The population levels in poor neighborhoods have declined due to factors such as "white flight." To overcome this, officials consolidate schools and bus students in to them.
"These actions unnecessarily expose our students to gang violence, turf wars and peer-to-peer conflict," Lewis went on to say. "Some of our students have been seriously injured as a result of school closings."
As the third-largest city in the United States, Chicago serves as a barometer for many of America's sprawling cities.
Budget problems are weighing on school districts across the country. Taxpayers are beginning to pick up the tab for excessive pay packages agreed to by corrupt politicians and extorted by greedy unions.
America's education system is in shambles and needs a complete overhaul. For a look at what the foundation of education should be, read Education With Vision.