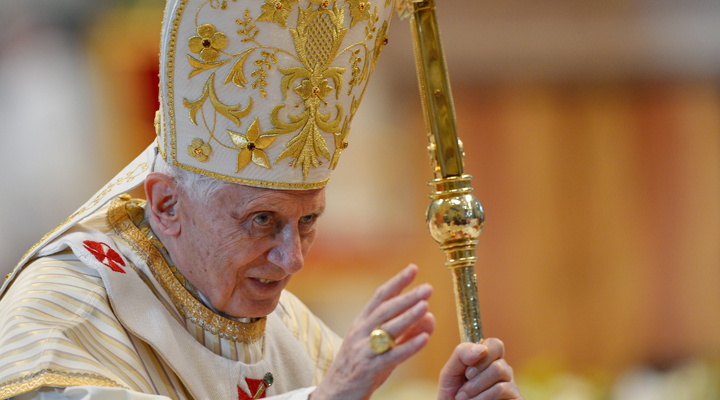 Mystery of Benedict's Resignation
Why did the pope resign, and why now?
It has shocked the world. The reason for it is unclear. Reuters reported that the reason was not because of illness nor to external pressures that Pope Benedict xvi suddenly decided to resign. The pope gave February 28, four days following the Italian elections, as the operative date for stepping down from office.
"Pope Benedict has no specific illness and his decision to resign was taken with no outside pressure, the Vatican spokesman said on Monday after the pontiff's shock announcement that he would step down at the end of this month. Father Federico Lombardi said the 85-year-old pope's decision was not due to an illness, but to a progressive decline in his strength, which was normal in a man of his age" (Reuters, February 11).
Yet, previous popes have ruled from their deathbed, as was the case with his predecessor, John Paul ii.
The very suddenness and the timing, within days of the Italian elections, and only months away from federal elections in his home country, Germany, is most intriguing. Also, coming so early within his launching the Vatican's great crusading Year of Faith, adds to the apparent illogic of the timing.
So what is really behind Josef Ratzinger's resignation?
As Stratfor opined, "The selection of the next pope, especially at a time when the power of the Catholic Church has stalled in Europe but has increased elsewhere, will determine the geopolitical relevance of Benedict xvi's resignation" (February 11).
Reviewing the 21st century geopolitical relevance of the Vatican, it is most evident that, as Herbert Armstrong declared, John Paul ii prepared the way for the final unification of Europe—East and West. His work in office prepared for Rome's final act of ideologically fusing its fractious member states into the 10-nation combine at the peak of the prophesied seventh and final resurrection of the Holy Roman Empire.
It did seem that the ascendancy of a Bavarian pope to the throne in the wake of John Paul's death would bring that final act of Rome to fruition. That, it now appears, is not the case.
So what role did Pope Benedict xvi play in the grand scheme of rapidly unfolding events prophesied for Europe and the world, in these end times?
We shall have to wait till the mystery of Benedict's resignation is exposed and his successor appointed to comment more on that. In the meantime, rest assured that Bible prophecy marches on to its inevitable consummation with the return of the Savior of all mankind!