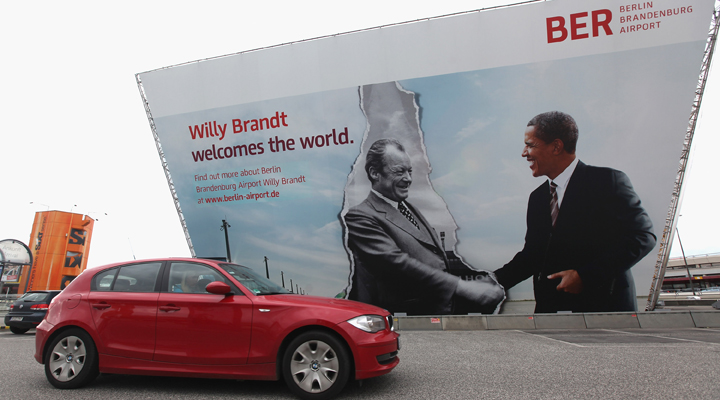 Willy Brandt Airport: Harbinger of German National Socialism?
Scandalous delays recall Guillaume Stasi spy affair, fall of the chancellor and rise of a strong man.
Has Europe's most modern airport become a symbol of German pride and prejudice?
The national transport minister's recent admission that he cannot rule out additional delays of the opening of Berlin's new airport is adding insult to injury for one of the country's highest-profile projects.
Delays have gone beyond a predicted grand opening in 2011-2012 with construction costs doubling to €4.4 billion, putting the city in the position of proposing opening day somewhere in late October this year.
The new airport will substitute for the cramped, aging Tegel in the west and Schoenefeld in the east, which facilitated air travel during the split of the country during the Cold War.
After unification, robust economic growth, and the subsequent cementing of Germany as undisputed leader of European fortunes, the fact that the name of Willy Brandt now adorns this most spectacular and modern airport invites a historical review.
Herbert Ernst Karl Frahm was born on Dec. 18, 1913, in Lübeck, Germany. In 1929 he joined the Socialist Youth and a year later the Social Democratic Party (sdp). He fled Germany for the safety of Norway in 1933 amid the surge to power of the National Socialist Party. There he changed his name to Willy Brandt. His fear of the Nazis continued as he assumed the name Gunnar Gaasland in 1936, posing as a Norwegian student for a trip to Germany. Under his new identity, he worked in Spain as a member of the press, and by 1938 was applying for full citizenship in Norway, thus completing his disguise. After German occupation of the country, he was eventually taken into custody. However, his altered identity prevailed, and he soon was on the run again fleeing to Sweden.
After the war, in 1946, following the death of many of those who had remained to oppose Hitler, he returned to Germany as an employee of the Norwegian administration. Two years later he re-naturalized himself as a citizen of the country he had fled 15 years earlier.
Within a decade, and by the time of construction of the wall, he had risen to become mayor of West Berlin. He remained at that post from 1957 to 1966, during which time he was appointed head of the sdp.
During his time as mayor, he said, "It was as inevitable as the sunrise that the German people would seek their national identity …. We say 20 years is enough" (Plain Truth, June 1966).
Brandt also said, "None of the democratic parties in the Federal Republic can shirk the responsibility. If they fail to meet it, if they fail to grasp and respond to the spirit of national identity, if they abandon the cause of self-determination, then, and only then, will it be possible for someone to pick up the banner they have dropped and use a national sense of frustration and disappointment to brew the poison of radicalism" (Look, Dec. 14, 1965).
Brandt's design for power went beyond Berlin. He twice ran for the chancellery, coming up short against the Christian Democratic Union's (cdu's) Konrad Adenauer and Ludwig Erhard. He didn't have to wait long for an official post, though, as the government faltered and what was known as a "grand coalition" formed in 1966 between the sdp and Christian Social Union. Brandt was handed the elite posts of foreign minister and vice chancellor.
As his popularity grew, the elections of three years later swung his way under a coalition government of the sdp and the Free Democratic Party (fdp), with Brandt as chancellor effective October 1969. That December, Herbert W. Armstrong directed that Brandt's image appear on the cover of the Plain Truth, which contained a feature article titled "The Power Switch in Bonn."
"One false step and Herr Brandt could be catapulted out of the chancellor's chair," the Plain Truth wrote. "There are those in German politics today who cannot stand the thought of seeing a German chancellor possessed of a 'lack of toughness and decisiveness.'" This reporting would prove to be an insightful appraisal of Brandt's political fortunes.
Brandt was credited with the creation of Ostpolitik, which was an effort to open the doors of trade and relations with the Soviet-controlled East. For these efforts he was awarded the Nobel Peace Prize in 1971.
As the Plain Truth foresaw, Ostpolitik was seen as weakness and not well received by many in Germany's West. In 1972, with Brandt's support fraying, the Bundestag's very first no-confidence vote ensued in an effort to elect a new chancellor. Brandt's miraculous political survival was later revealed to be due to corruption, with revelations that two members of the cdu were bribed by the Socialist East's security ministry, the Stasi, in an effort to keep him in power.
Within a year, the political walls were closing in on Brandt. In 1973, West German security was told that one of his personal assistants, Günter Guillaume, was a Stasi spy. In late April 1974, Guillaume was arrested. The chancellor resigned in May.
Brandt remained head of the sdp, a role he would not relinquish for 23 years—until 1987. He went on to lead Socialist International from 1976 to 1992 in a program of enlargement. He was an active member of the European Parliament from 1979 to 1983, notably supporting the democratic independence of both Portugal and Spain. From 1987 to 1992 he was honorary chairman of the sdp. In early October 1992, at the age of 78, Willy Brandt—and Herbert Ernst Karl Frahm and Gunnar Gaasland—died.
It is ironic that Angela Merkel's rise to power necessitated a grand coalition of her cdu with the sdp in 2005 and yet another in 2009 with the fdp. The controversy over construction of Germany's new airport is reminiscent of its namesake's tenure in office. The same fears that existed then amid weakness in the chancellery—possibly precipitating a strong nationalist leader arising to lead the country—are once again front and center.
Merkel's party base has been decimated in regional elections ahead of the general election later this year. The intervening period of her grand coalitions have enabled Germany to consolidate and dominate Europe.
As Brandt noted while mayor, "It was as inevitable as the sunrise that the German people would seek their national identity." Yet again, after two world wars that it initiated, Germany has risen again to master of continental fortune.
By the time Willy Brandt Airport officially opens, will we see his fear become reality: that someone would enter the political scene and "use a national sense of frustration and disappointment to brew the poison of radicalism"?
In Daniel 8, a leader is prophesied to flatter his way to the chancellery. The ancient prophet described this leader as fierce in physical appearance and devious in dark political lobbying. He appears one way to German and Europe's citizens, only to be just the opposite: a crafty wolf in sheep's clothing, leaving devastation in his wake via a deceptively crafted policy of peace to which the political left, center and right will look.
Trumpet editor in chief Gerald Flurry has long warned readers, "The Daniel 8 man is going to change the German landscape—economically, politically and militarily. Germany needs a man for emergencies. What we see developing now is just such an emergency, and Germany is about to bring that man to power. This is what's just ahead of us!"
Again, we remind you as Herbert W. Armstrong did in the first issue of the Plain Truth,a world dictator is about to appear! A strong man in Europe is about to arise!