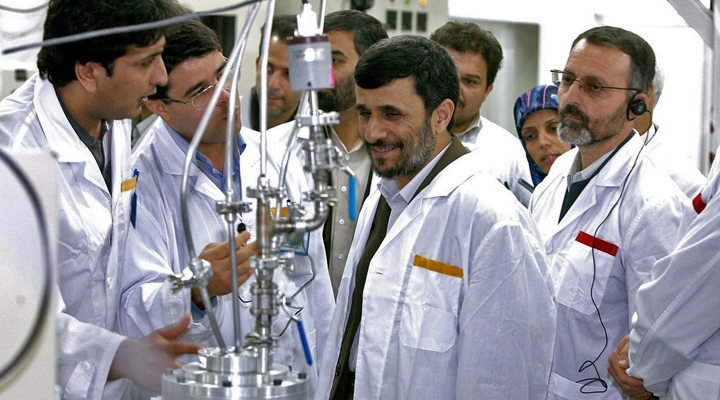 Iran Accelerates Nuclear Program
Iran will speed up its controversial nuclear weapons program at its Natanz facility by installing more advanced nuclear enrichment centrifuges, it announced January 23. Iran informed the International Atomic Energy Agency that it would install approximately 3,000 new-generation IR2m centrifuge machines, which are three to five times faster than current models.
This new development could be "a most unfortunate game changer," said Mark Fitzpatrick, a nuclear expert at the International Institute for Strategic Studies. The 3,000 centrifuge machines may take up to a year to install and operate, but after that, Tehran will be much closer to developing a nuclear weapon. "Once installed and in operation, the centrifuges could give Iran the capability to make a dash for the bomb faster than the U.S. and its allies could react," wrote cbs News.
Israeli officials estimate a time frame even shorter than that. Former head of Israel's military intelligence and now head of the Institute for National Security Studies, Amos Yadlin, said on Monday that Iran has all it needs to build a nuclear bomb in a matter of four to six months.
The blatant announcement came amid on-going wrangling between Iran and the group of six world powers—the United States, France, Germany, Britain, Russia and China—over when and where they may resume stalled negotiations aimed at curbing Iran's enrichment activities and submitting the Islamic Republic to stricter United Nations nuclear inspections.
But, as a senior official from the Israeli prime minister's office said, "While the world is discussing where and when the next meeting with Iran will be, Iran is rapidly advancing towards obtaining a nuclear bomb."
Iran is a state sponsor of terrorism, and is hasting to enhance its weapons arsenal with weapons of mass destruction. It has masterfully used deception to avoid too much confrontation while still maintaining its belligerence. Little wonder that White House spokesman Jay Carney told reporters that Iran's "provocative step" did not come as a surprise. The economic sanctions on Iran, while debilitating, have not deterred its mullahs from speeding up nuclear enrichment, and from doing so well beyond the level necessary for mere civilian purposes.
The six world powers still expect to engage Iran in fruitful talks this month. But a decade of history shows that Iran will not surrender its nuclear weapons ambitions. Moreover, Bible prophecy indicates that Iran will increase its pushy belligerence to a point where Europe—not America—will retaliate. To understand more about this development and what is prophesied to happen beyond that, request our free booklet The King of the South.