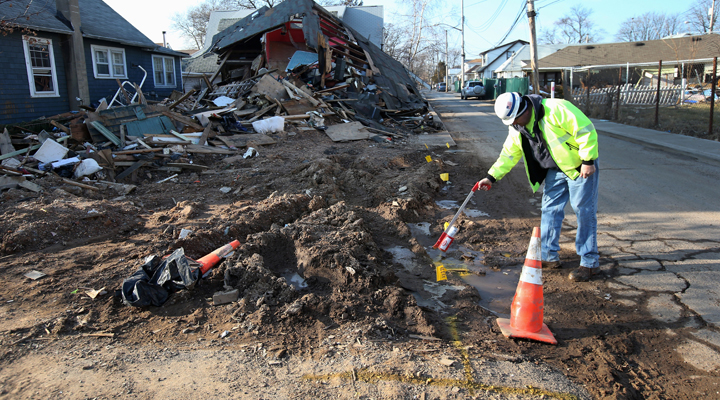 Hurricane Sandy Swamps President Obama's Budget
The $50 billion President Obama planned on saving is wiped out with one 'act of God.'
Congress approved a plan to save America from the fiscal cliff on January 1. Everyone breathed a sigh of relief. Yet, only one month later, the Hurricane Sandy relief bill has blown away any supposed savings that would have come from the plan.
The plan to avoid the fiscal cliff shielded millions of Americans from tax increases that would have come into effect at the end of January. It also raised tax rates on households making more than $450,000 per year. The plan also delayed the automatic spending cuts to the Pentagon and other government agencies that were scheduled to hit in March.
All told, President Obama hoped to bring in $40 billion for the government this fiscal year.
However, the Hurricane Sandy aid package passed on Monday was $50 billion. Since the government is already borrowing to finance current spending, that $50 billion will go straight to the deficit. All the money gained from those additional taxes will be completely negated.
The January 1 tax deal was supposed to give the government time to come up with another way of financing its agencies, and supporting the unemployed of America. Now the government will have to find an additional way of coming up with $50 billion.
More taxes anyone? Or is there a better solution?
When Hurricane Sandy ravaged the East Coast, killing more than 130 people, Americans should have asked themselves why this happened. It wasn't due to global warming.
God could have protected America, but He didn't. Why was that?
God is cursing America because of its disobedience to His law. Regardless of what man does—regardless of how many surge walls and wind barriers are erected—these powerful acts of God will continue. And the economy- and budget-crushing costs will keep flooding in.
For more on the reasons why America is torn by natural disasters, order a free copy of Why 'Natural' Disasters? today.