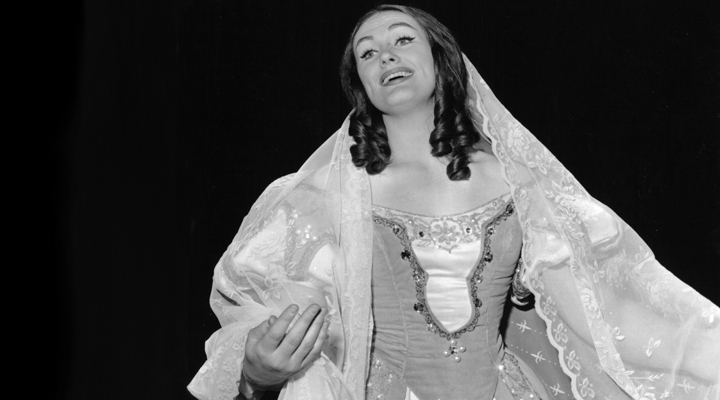 Dame Joan Sutherland and Richard Bonynge Performed for Herbert W. Armstrong
Sellout audience honored them with standing ovation, and in response received three encores.
"What does a concert series, out to make a name for itself, offer the public after bringing the reigning Italian tenor (Luciano Pavarotti) to its stage? Reigning soprano of course, and her redoubtable musician husband," wrote Donna Perlmutter of the Los Angeles Herald-Examiner.
She concluded, "In the case of Sunday night it was Joan Sutherland and Richard Bonynge who honored Pasadena's new Ambassador Auditorium in a recital of lightweight fare and heavy-weight talent."
On the evening of Oct. 5, 1975, the Australian duo, who played together as far back as their student days in their native Australia, delivered one of their most acclaimed performances.
"The program, featuring the works of Bellini, Donizetti, Rossini, Massenet, Gounod, Tosti and others, was given a standing ovation from the capacity crowd (50 people were turned away at the door). Miss Sutherland sang three encores" (Worldwide News, Oct. 13, 1975).
Richard Stiles of the Pasadena Star News noted, "Both artists expressed admiration for the beauty of Ambassador's new hall and the piano. The acoustics flattered Miss Sutherland …."
After the performance, the duo enjoyed a special reception, during which they met with Mr. Armstrong, unofficial ambassador for world peace, founder of Ambassador College and president of the Ambassador Foundation, which sponsored the annual concert series hosted at the Pasadena auditorium.
Sutherland's appearance here was preceded by a blossoming musical career that began in Australia as far back as 1947, moving her to England with performances at the Royal Opera House and into a recording career during the 1950s, which saw her claim a Grammy award at the start of the 1960s for best classical performance during a foray onto the stage of the Metropolitan Opera in New York.
In 1973, two years before this performance, she sang at the historic opening of the famed Sydney Opera House, which has since been renamed in her honor. Four years after her recital at ambassador, she was appointed dame by Queen Elizabeth on her New Year's Honors list.
Joan Sutherland had met Richard Bonynge back in the 1950s, and went on to not only marry but collaborate with him in one of the most notable classical cooperative relationships in modern history. Throughout the decades of the 1980s they continued to wow crowds across the globe. Dame Joan's final performance brought her full circle from her first, both of which occurred in Sydney. It came in 1990 at its venerable opera house, conducted by her husband and accompanied by none other than her friend and famed tenor who had preceded her at Ambassador Auditorium, Luciano Pavarotti.
Twenty years later, amid the seclusion and splendor of her home in Switzerland, Dame Joan breathed her last on Oct. 11, 2010. The voice of the soprano, dubbed by the Italian music world as La Stupenda (the stupendous one), would sing no more. Now in his 83rd year, her husband continues his musical pursuits as a conductor and pianist.
Perhaps in his quieter moments at home or abroad, Mr. Bonynge may recall that special Sunday evening of Oct. 5, 1975, performing alongside his wife at Ambassador Auditorium, after which he was honored to meet the internationally recognized ambassador for world peace.
Today, as the successor to Ambassador, located north of Oklahoma City in Edmond, Armstrong Auditorium is the country's newest hall for performing arts.
Should Mr. Bonynge visit, he will find performing arts program founder and president of its sponsoring foundation, Gerald Flurry, has followed in Mr. Armstrong's footsteps, having taken the time to review the exterior, interior and acoustical blueprints of Ambassador Auditorium to use as a model for construction of its $25 million successor.
Increasingly, performers from around the globe are gracing its stage and enjoying the peaceful environs and one-of-a-kind hospitality. This polished jewel, lifting the human spirit, is adorned with Swarovski-trimmed crystal chandeliers, Baccarat crystal candelabra, American cherry wood veneers, Spanish marble and Azerbaijani onyx. The hall's superb internal acoustics and the soaring Swans in Flight sculpture, designed by Sir David Wynn, whose sculptured Egrets fronted Ambassador Auditorium, combine to set Armstrong Auditorium apart in a class all of its own.
Whether concert-goer, cultural buff, or admirer of humanitarianism, we encourage you to visit this performing arts jewel at the heart of the United States.