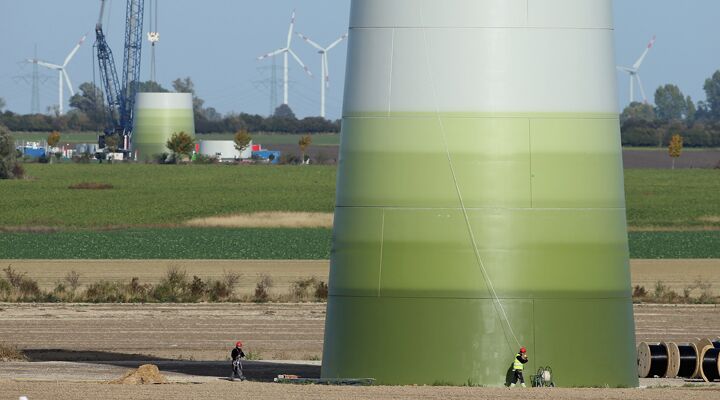 Germany: Dominating Renewable Energy
Announces 'world's largest power-to-gas plant opened in Stuttgart'
German trade, investment and renewable energy industry experts attended ires 2012 in Berlin November 12-14 in a hunt for greater market share. During the conference, the government stole the show with its announced claim that the "world's largest power-to-gas plant opened in Stuttgart."
Over 600 attendees from some 40 countries passed through the doors of the capital's Congress Center during the seventh International Renewable Energy Storage Conference and Exhibition (ires).
The Stuttgart plant, which has received historic federal financial favor, handles power demands of 250kw, with a peak daily output of 300 cubic meters of methane. As the biggest factory of its type, it is intended to be savior and master of renewable energy utilization and storage.
"The German Energy Agency is working jointly with expert stakeholders from business and research to unleash the benefits of using natural gas grids in order to effectively promote renewable energy sources," asserted renewable energy expert Thomas Grigoleit.
Collaboration between the European Association for Renewable Energy, the World Council for Renewable Energy and EnergyAgency.NRW ensured yet again that the continental energy conference was dominated by Europe's most powerful country.
nrw acts on behalf of the provincial government of North Rhine-Westphalia in all things energy. Despite the claim of impartiality, nrw influences fields of consultancy, research, technical education, demonstrations and market leadership. As such, it claims contribution to energy saving and renewable advancements for corporations, local authorities and private individuals.
"On behalf of the nrw Climate Protection Ministry, the EnergyAgency.NRW with EnergyRegion.NRW is responsible for a powerful economic cluster for climate protection incorporating the eight networks for biomass, fuel cells and hydrogen, energy-efficient and solar construction, geothermics, fuels and drives of the future, power plant technology, photovoltaics and wind energy. In the spotlight: highly competitive cooperations to initiate innovative projects and products, speed up their market readiness and exhaust all economic potentials. This also includes providing support for companies from nrw in the domain of foreign trade."
Germany sees itself as lead actor of what it claims to be "the energy revolution." Chancellor Angela Merkel, speaking at the energy summit, assured enhanced cooperation regarding renewable initiatives in an effort to maintain the country's elite status for ongoing advancements in renewable energies.
"Although all wealth comes from the ground, prosperity and affluence on a national scale always have come also by industry and commerce," wrote Herbert W. Armstrong in his acclaimed book The United States and Britain in Prophecy.
It is such "prosperity and affluence on a national scale" that Germany continues to procure through its policy, led by its corporate elites, of leadership through domination of industry and commerce as the fiscal gatekeeper of EU fortunes.
The pinnacle publication on the subject of renewable energy, the Holy Bible, prophesies of these very events, identifying Europe's economic powerhouse as most venerated by the "merchants of the earth" (Nahum 3:16; Revelation 18:3, 11, 15, 23).
As a prime example of this policy of power projection, request Trumpet founder and editor in chief Gerald Flurry's illuminating booklet Germany's Conquest of the Balkans.