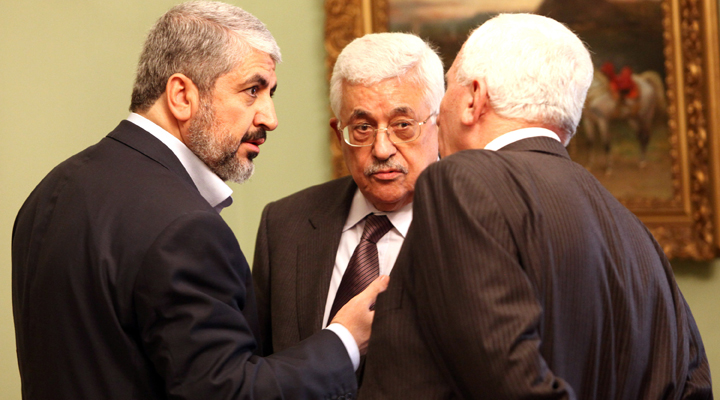 Fatah and Hamas Set to Reconcile
Is a 'Hamastan' government about to be formed?
Delegations from Hamas and Fatah met in Cairo to discuss forming a unity government on January 17. The meeting saw the implementation of agreements signed between the two parties that set a timetable for Palestinian unity. They expressed a wish to have the unity government idea revived by the end of January. The groundwork was laid for reconciliation back in 2011, but negotiations broke down.
There has been friction between the two parties ever since Hamas ousted the ruling Fatah faction from Gaza in 2007. As the dust from the fighting began to settle, Hamas was throwing Fatah members off rooftops, and Fatah was carrying out reprisals in the West Bank. So when talks of unity between the two factions began, much of the world reacted with doubt.
However, since 2007, things have changed. On November 29 last year, the Palestinian Authority managed to secure its "observer status" in its ongoing quest for statehood. The end of 2012 also saw international sympathy for Gaza spike dramatically during Israel's Operation Pillar of Defense.
Now the conditions for an alliance appear to be in place. Mahmoud Abbas, Fatah leader and Palestinian National Authority president, may hope to glean some of that international sympathy in forming a transitional government with Hamas. And since Hamas has been significantly crippled by the Israeli strikes on its government and military infrastructure, an alliance with the Palestinian Authority would bolster its ailing government. A shared hatred of Israel also lends itself to the formation of a unified government.
During the Cairo talks, there were agreements made to discuss the release of prisoners, resume registering voters in Gaza, and stop attacking one another through the media. These are all significant first steps in mending the relationship between the divided factions.
If Hamas and Fatah resolve their differences, Israel will feel the Islamic noose around its neck tighten. This threat is something Israel can't afford to ignore. Whether a Palestinian unity government forms in the immediate future or not, the unifying of the two factions is one more step toward the fall of East Jerusalem to the Palestinians. To understand this impending conflict between Israel and the Palestinians, read Jerusalem in Prophecy.