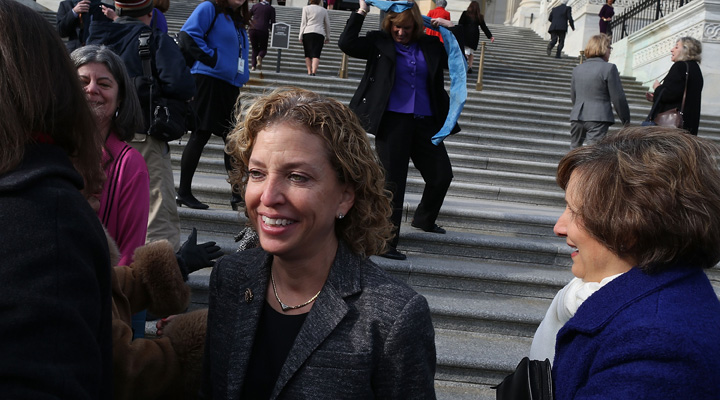 Women Storm the Senate
The fight for women's equality is over with women storming the Senate, the Pink Revolution ignited, and more and more women becoming state representatives.
The war for women's equality, in many ways, has already been won. Women now dominate men in most of the fields they have battled for—from elementary schools to universities, in sheer numbers in the workforce, within hundreds of formerly male-dominated careers.
Most people applaud and celebrate this mass unleashing of woman power. Many say it hasn't been radical enough. They say the Pink Revolution has only begun.
One area they particularly want to target is the tippy top of the leadership pyramid. Currently the vast majority of heads of state, politicians and corporate leaders are still men. But women are making determined efforts to change that, and a number of factors suggest that it's only a matter of time. "Within a generation, Britain will not hear any more concerns about too few women being on the boards of public companies. There may be quotas for men," predicts Liza Mundy in the Spectator (Sept. 7, 2012).
In politics, women are definitely taking strides. In America's last election, women won big. The new Congress has a record number of women, including 20 senators and 82 representatives—28 of whom are non-white women. New Hampshire became the first state to elect an all-woman congressional delegation, with two women representatives to go along with two women senators. The state also elected a woman as its governor.
"There is no longer an all-male state legislature anywhere in the country," observed Democratic National Committee chair Debbie Wasserman-Schultz. "Forty percent of the U.S. population now has at least one woman senator."
And she sees this as just a start. "We have to double down in 2014. We've got to make sure we recruit more women for office," she told a pro-choice political group after the election, "because it's not just a slogan that when women run, women win. They do, and when women run, Democrats win."
In a recent interview with abc News, the newly sworn-in women senators exulted in their electoral victories with a healthy measure of condescension toward their male colleagues.
"We're less on testosterone," Sen. Dianne Feinstein explained. "We don't have that need to always be confrontational." Sen. Maria Cantwell praised women for being uniquely able to "leave their ego at the door." Sen. Patty Murray described her view of the superiority of women in government: "Every man wakes up in the morning and looks in the mirror and says, I could be president. I think every woman looks in the mirror and says, What can I get done for my country today?"
If Washington is ever to be fixed, Sen. Kirsten Gillibrand believes, "It's women who are going to lead the way." Sen. Barbara Boxer says that with only 20 senators, women are still "underrepresented" in the Senate. "I think that until we get to 50, we still have to fight, because it's still a problem," she said.
Do you suppose that they would actually stop "the fight" upon reaching 50, considering how much better women senators supposedly are?
Last November, Supreme Court Justice Ruth Bader Ginsburg was asked how many women on the court it would take before she would consider it enough. She said nine.
The party line is that this is a fight for women's equality. The truth, though, is that these women seek to rule. They believe they are more qualified, more responsible, more grown-up, more capable. In their view, men have had their turn and failed. Now they want to step in and take over.
God, though, says they've already taken over. He prophesies of our day in Isaiah 3:12: "As for my people, children are their oppressors, and women rule over them."
Look for more information on this revolutionary trend in a coming issue of the Philadelphia Trumpet.