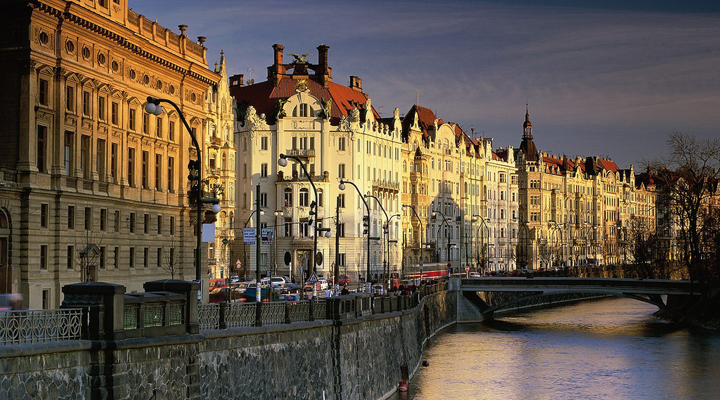 Czechoslovakia Respected Herbert W. Armstrong
CEDOK's Vaclav Pleskot and Jaroslav Gebert wanted the Feast of Tabernacles in Brno.
Herbert W. Armstrong's first visit to Czechoslovakia occurred midway through 1985, about six months before his death. Located in Central Europe, the country has its modern origins dating back to late 1918 after its declaration of independence from the Austro-Hungarian Empire. During World War ii, Adolf Hitler, eager for lebensraum, split the country and ordered its inclusion as part of Nazi Germany. Then, during the mid-1940s, its land was seized by the Soviets. It remained a Communist state through the late 1980s.
The unofficial ambassador for world peace took a short flight from Paris to Prague, initiated at the request of Jaroslav Gebert, a representative of the Czech government adjunct responsible for travel of foreigners, events and conventions.
Mr. Gebert was manager of the state tourist agencycedok, which was founded in 1920, and later expanded throughout Europe. After World War ii and subsequent Soviet occupation, Czechoslovakia, as a red state satellite, directed the adjunct to be managed by various government departments. The 1980s saw the era of the agency's rapid modernization, constructing new hotel properties tallying over 200, with more than 20,000 employees spanning across its assets of restaurants, ski resort services, railways, entertainment venues, more than 150 travel agencies and almost two dozen international offices.
"In Prague Mr . Armstrong was given a private boat trip on the Vltava River (Moldau) and an extensive sightseeing tour of the city. Mr. Armstrong also visited Konopiste Castle, about 40 kilometers outside of Prague. The last residents of Konopiste were Francis Ferdinand and his wife Sophia of the Habsburg line. It was Francis Ferdinand and his wife who were assassinated at Sarajevo in 1914, triggering World War i.
"During his stay, Mr. Armstrong met with Vaclav Pleskot, president of cedok, who gave a dinner for Mr. Armstrong and his party. Mr. Pleskot was formerly ambassador to France and Algeria, and is active in sports and environmental affairs. He was mainly responsible for making volleyball an official Olympic sport. Mr. Pleskot thoroughly enjoyed looking through the Envoy and asked for permission to visit our festival in Brno this autumn. Mr. Gebert remarked that he felt this was only the beginning of many such visits by Mr. Armstrong to Czechoslovakia" (Pastor General's Report, June 7, 1985).
The Feast of Tabernacles, which was the largest convention on Earth at the time, had enjoyed four of its festivals in Brno. Within a few months of Mr. Armstrong's visit, 290 people, traveling from nine nations and speaking five languages, would gather at the Hotel Voronez to attend the festival in Czechoslovakia. As a special honor to their foreign guests, an imperial dinner was hosted at the famed Zidlochovice hunting lodge (Worldwide News, Nov. 4 1985).
It came as no surprise that upon Mr. Armstrong's death, Vaclav Pleskot, as president of cedok, on behalf of the Czech government, wrote, "We were very much grieved to hear of the death of Mr. Herbert W. Armstrong, president of the Ambassador Foundation and chancellor of Ambassador College. We shall always remember the last visit of Mr. Armstrong in Prague. Please accept our sincerest sympathy in your sad bereavement" (ibid, Feb. 10, 1986).
Mr. Armstrong didn't live to see the 1989 fall of the Berlin Wall heralding the end of the Cold War, and ensuring the collapse of the Soviet Union and the 1993 dissolution of Czechoslovakia into the Czech Republic and Slovakia.
Mr. Pleskot did live to see the fulfillment of these climactic biblically prophesied events, and died in September 2012. He served his country as a national sports official, foreign ambassador, secretary of state in the Ministry of Foreign Affairs and, latterly, managing director of cedok.
Citizens of Czechoslovakia were privileged to hear a voice crying out over the airwaves of Europe via the World Tomorrow broadcast and in the Plain Truth magazine the gospel of the coming Kingdom of God (Matthew 24:14).
Just as the Czechs savored the memory of the visit from the internationally recognized ambassador for world peace to help finalize preparations for the Feast of Tabernacles, viewers of the Key of David program and readers of the Trumpet magazine recognize that same gospel message, going out with intensified urgency through the voice and pen of editor in chief Gerald Flurry as he prophesies again to "many peoples, and nations, and tongues, and kings" (Revelation 10:11).
Each year, members of the Philadelphia Church of God gather around the world in perpetuation of God's scriptural command to continue the world's longest-running conference on world peace (Leviticus 23:33-36; Deuteronomy 14:22-27). As with Mr. Armstrong, Mr. Flurry speaks in person and via satellite to attendees in all corners of the globe declaring the way of peace and the message of the soon-coming return of Christ and establishment of God's family government—peace enforcement for all mankind. Together we memorialize a prophesied soon-coming time of peace and prosperity ushered in by God Himself, where Czechs and all human beings (Zechariah 14:16) will be attending a conference discussing the proliferation of plowshares and pruning hooks (Micah 4:2-3).
To understand more about the Feast of Tabernacles, request your free copies of Mr. Armstrong's booklets Pagan Holidays or God's Holy Days—Which? and The Wonderful World Tomorrow—What It Will Be Like.