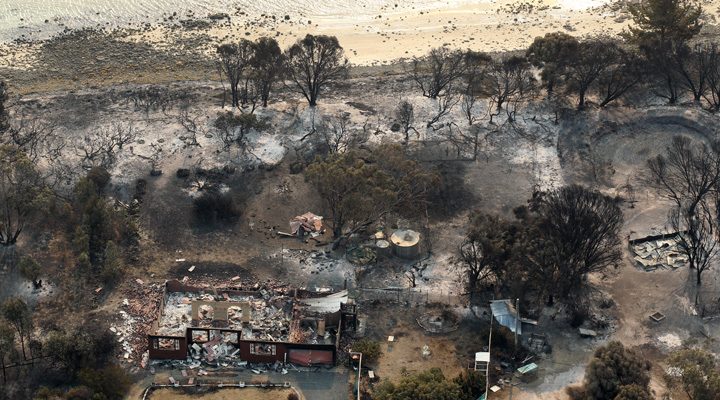 Wildfires Raze Homes in Australia
Uncontrollable wildfires have streaked across Tasmania and New South Wales. The weather is getting worse and more extreme for Australia.
Record heat, strong winds, and abundant grass and vegetation from the previous rainy season have left Australia battling raging wildfires since last Friday. Authorities are warning that the worst is yet to come.
The out-of-control fires that have hit five of Australia's six states have been particularly devastating in Tasmania and New South Wales.
Over 100 homes and other buildings have been destroyed in Tasmania over the weekend, and about 100 residents are unaccounted for. Fifty thousand acres of forest and farmland have been destroyed.
In New South Wales—the nation's most populous state—over 100 different fires are raging, and more than 1,500 firefighters are struggling to extinguish the ravaging flames. Tuesday's temperatures are expected to hit a high of 113 degrees Fahrenheit (45 degrees Celsius), with winds as strong as 50 miles per hour (80 kilometers per hour). "Having had record rain … we are about to have record dangers," said New South Wales Premier Barry O'Farrell as he bleakly explained how much worse the devastation could get. "Tomorrow [Tuesday] is not going to be just another ordinary day," he said. "Tomorrow will be perhaps the worst fire danger day this state has ever faced."
Regions south of Sydney in New South Wales have been given a "catastrophic" rating, meaning the fires will be uncontrollable, unpredictable and very fast-moving, with evacuation as the only safe option. New South Wales Rural Fire Service Commissioner Shane Fitzsimmons said conditions would be unlike any seen in "many, many years." Fire danger is "right off the conventional chart."
After touring ravaged Tasmanian townships, Australian Prime Minister Julia Gillard warned of "more extreme weather events and conditions" as a result of "climate change."
Extreme weather conditions, drought and wildfires are not new to Australia. But they are not normal either. As was written in "Australia the Blessed … Australia the Cursed," God-bestowed the blessings Australia enjoys and could enjoy. "It is rich in sheep, cattle, cotton, sugar, minerals, ores, oil, and wine, and is the envy of Asia. … [But] Australia's great need is water and rain in due season. … Australia's [former] Prime Minister John Howard said we can't drought-proof Australia. He is right. But God can."
In his Key of David program titled "Why Natural Disasters," Trumpet editor in chief Gerald Flurry gave the Bible's explanation of today's weather catastrophes. For more, read our booklets Australia—Where to Now? and Why 'Natural' Disasters?