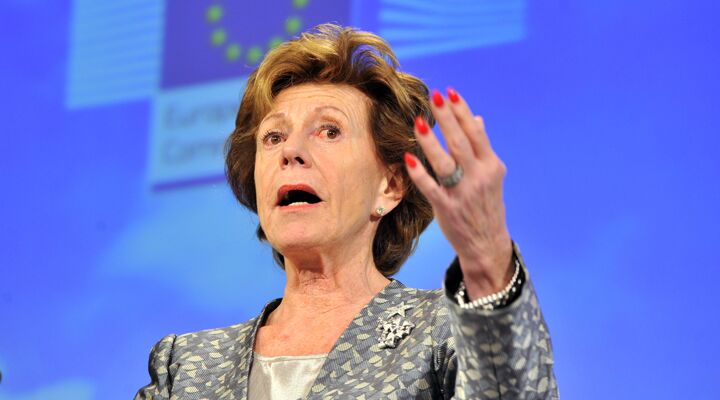 Neelie Kroes, Karl Theodor zu Guttenberg and Europe's Digital Battle Plan
How 70 percent of households were so quickly connected with broadband technology
On December 18, the European Commission unveiled its agenda for digital expansion through 2014. The goal is to breathe fresh air into the Continent's sagging economy with job prospects in the millions.
The Commission is inviting greater venture capital in broadband and cloud technologies, redefining far-reaching perimeters in fields of e-governance, security and copyright.
"Today I am presenting a 'to-do' list for 2013 and 2014," said the EC's vice president, Neelie Kroes. "It is for some a wake-up call, for others this is just a confirmation and for other this is just a dream. Broadband and jobs are the topics. But the message is that we need to take risks, and please just skip the word 'risk avoiding'; we should push ourselves."
In a press briefing, Kroes recounted seven key action items planned to jolt the finances of the European Union, with their impact reaching through to 2020, then went on to add the future roll-out of 10 more pending broadband-only items, revealing the size and scope of the Commission's digital task list.
Brussels calculates the Union's collective digital wealth is outpacing all other sectors by "seven times." Kroes went on to claim the current structure renders the Continent unable to attain its "full digital potential," and that these announced priorities will save over a million employment vacancies over the next three years.
Formally approved two years ago, the EU's "Digital Agenda" established a 10-year plan using information and communication technologies to enlarge the Union's economic clout, and also identified and addressed social objectives.
The Union abacus agency, Eurostat, unveiled data mid-month claiming a four-fold increase from just over six years ago in high-speed Internet access, positioning the Continent a mere 30 percentage points from reaching 100 percent coverage of households.
Of Dutch descent, Kroes has succeeded in substantially fining both Microsoft and Intel for billions and apportioning €7 billion toward broadband expansion throughout member states.
On November 13, in an exclusive survey conducted by Burson-Marsteller and EurActiv, over half of those polled said the Commission was failing, but said Kroes "received the best score overall—six—and was also judged to be the most improved commissioner and best communicator." She is the EU's digital iron butterfly.
However, some of our readers may remember her name for a rather different reason. An EU press release dated Dec. 12, 2011, recounted, "European Commission Vice President Neelie Kroes has invited Karl Theodor zu Guttenberg, a former federal minister of defense, and of economics and technology, in Germany, to advise on how to provide ongoing support to Internet users, bloggers and cyber-activists living under authoritarian regimes. This appointment forms a key element of a new 'No Disconnect Strategy' to uphold the EU's commitment to ensure human rights and fundamental freedoms are respected both online and off-line, and that Internet and other information and communication technology (ict) can remain a driver of political freedom, democratic development and economic growth."
Our February 2010 Trumpet print edition featured his image on its cover and headlined, "Why You Should Watch Him." Editor in chief Gerald Flurry answered the question, Who is Baron Guttenberg? Events thereafter, and particularly the media coverage that followed, painted a picture of this rising star of German and Euro politics being cast into the shadows and governmental isolation. However, he in fact has refined, retooled, reorganized and reenergized himself into an invited adviser of the European Commission's most popular personality, its vice president, Neelie Kroes.
On October 21 this year, theTrumpet.com reported, "Having voluntarily resigned from politics in the wake of a left-wing attack on his academic credibility, Guttenberg moved to Connecticut, accepting a post with Neelie Kroes, EU commissioner for Digital Agenda, in addition to joining a U.S.-based international think tank, the Center for Strategic and International Studies, under the title of 'distinguished statesman.'"
Continue to watch moves of the Digital Agenda, Kroes and Guttenberg as Europe rises from its fiscal malaise into a biblically prophesied 10-nation combine of church and state in the spirit of Charlemagne and the tradition of the medieval Holy Roman Empire.