The Truth Revealed in the Benghazi Attack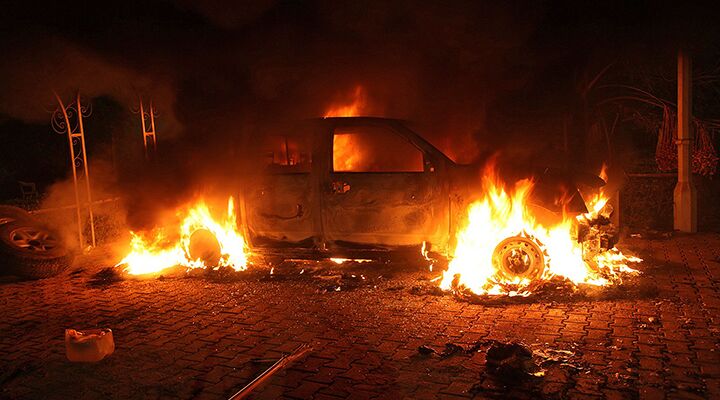 The Truth Revealed in the Benghazi Attack
On September 11, Americans were honoring the death of almost 3,000 victims who were murdered by al Qaeda terrorists 11 years ago. That date borders on sacred to most Americans. Yet on that very day, Egyptians attacked the American Embassy in Cairo. They ripped the American flag to shreds and hoisted a black Islamist flag.
The same day, terrorists attacked the United States Consulate in Benghazi, Libya. They murdered four Americans, including the ambassador to Libya, Christopher Stevens.
The United States provided the military power to overthrow Libya's dictator, Muammar Qadhafi, last October. Ambassador Stevens was personally involved. He risked his life to help ensure the Libyans would have a more democratic government. Because of his efforts to promote democracy, Stevens became the target of a terrorist group affiliated with al Qaeda. He knew about it and told Washington that his life was under threat. The last day of his life, he was pleading with the American government to send more help to protect him. There is evidence that the consulate staff was appealing for help while shots were being fired—and help was denied.
Why didn't the U.S. fulfill that request? Why not send help to a man so dedicated, so willing to risk his life for his country? That is a maddening question, and is currently under investigation.
But the main message from Sept. 11, 2012, doesn't need an investigation—it is obvious. This attack sent a clear signal that Libya is following Egypt into the Iranian terrorist camp.
Getting Control of Libya
Many American leaders don't want to acknowledge it, but there is a rising tide of Islamism in Libya. The radicals have a particularly strong hold in the east of the country.
Even fewer will admit that these radicals are getting a lot of their support from Iran. The Iranians are funneling aid to Libyan extremists through Egypt, which lies along Libya's eastern border.
We prophesied that this would be the case. The Trumpet has said for almost 20 years that Egypt would come into Iran's camp. Now that prophecy is fulfilled. And before there was any trouble in Libya, we prophesied that it too would ally with Iran. This past summer I said Egypt would lead Libya into that alliance with Iran. Now we see Libya following Egypt into an alliance with Iran.
Libya's radicals are gaining control. Look what they did to America's consulate—and the Libyan government has done almost nothing about it! The "democratic" Libyans don't have a chance. How can they stand up to the heavy armaments that have poured from Egypt into the hands of Libyan Islamists?
What does it all mean? It means the "king of the south" is getting control of Libya!
What we've seen happen in Egypt and Libya was prophesied in Daniel 11:40-43. This passage speaks of a European power, "the king of the north," attacking a Middle Eastern alliance led by Iran. That European "king" "shall stretch forth his hand also upon the countries: and the land of Egypt shall not escape." The focus is mainly on Egypt here. Verse 43 adds that "the Libyans and the Ethiopians shall be at his steps." The Libyans and Ethiopians will also be allied with Iran, and Egypt is going to swing them into that camp.
In the October 2011 issue of this magazine, I wrote an article called "Egypt and Libya to Join Terror Network." How could I have known that? Only through Bible prophecy. The Benghazi attack is prophecy being fulfilled. This is one of the most specific prophecies in the Bible.
Fulfilled prophecy is the greatest proof of the existence of God! And fulfilled prophecies are flooding world news today!
Where Is America's Response?
This tragedy also illustrates another prophecy being fulfilled.
The Libyan terrorists killed America's ambassador and three others on the most painful date possible—yet months later, America still hasn't figured out how to respond! This is a massive insult to our country and our dead. But it doesn't infuriate our people the way it should.
This is far more dangerous than it is insulting—because America's pathetic response to this attack shows the entire world how weak America is! It is a spectacle of American weakness.
God says He has broken the pride of our power (Leviticus 26:19). Benghazi perfectly shows that though America has tremendous power, we fear to use it. It is a sign that America has receded into the background and is declining fast.
Being weak causes violence and wars! The fact that America will not respond will only allow evils like this to increase. As we get weaker, people will attack us more and more violently.
And why is America so weak? Study Leviticus 26. It is because of our sins. That is why God brought this curse upon us.
America can bomb Qadhafi out of power, yet is afraid to put boots on the ground to finish the job. (In this case, it is afraid to do so even to save an ambassador and his men!) The nation's terrorist enemies are happy to finish the job themselves, and we just hand it over to them.
Just like we handed Egypt to the Muslim Brotherhood. Now Israel and Egypt are very close to war. The Jews are surrounded by terrorists who want to kill them.
The curses on America are plain to see. Prophecy is being fulfilled—in Benghazi and all over the globe! You would think that as times get worse and worse, people would look to the Bible to see what God has to say. Conditions are intensifying and getting so bad that anybody can recognize something is terribly wrong.
Why is everything going wrong for America? I strongly encourage you to request a free copy of our book The United States and Britain Prophecy to understand!