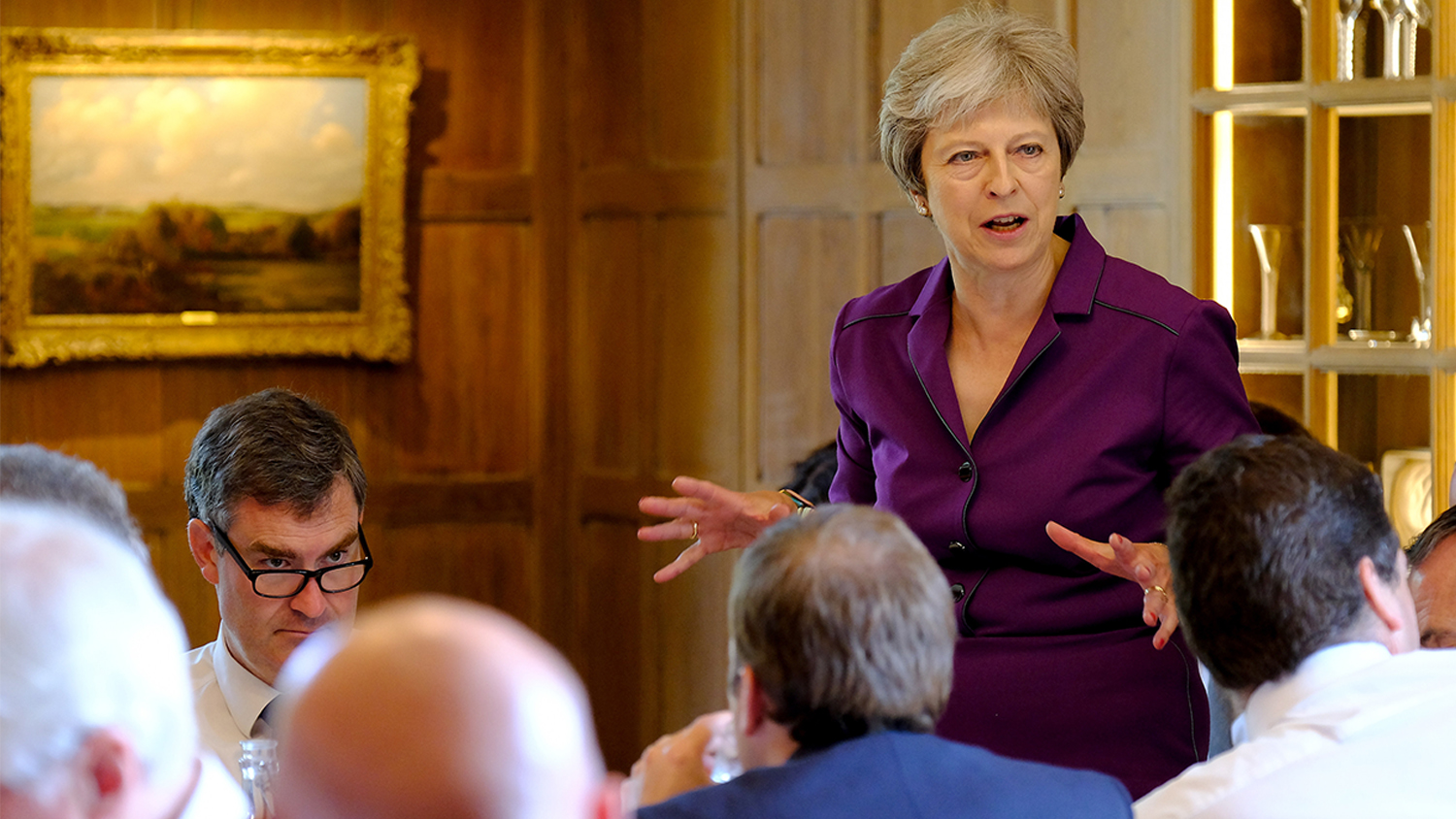 This Week Proves That Brexit Can't Fix Britain
"You're just too … fat. Your fatness offends me!" It was the oddest end to an argument I'd ever heard outside of a playground.
But this was an argument after a Bruges Group meeting—a think tank that says it "spearheads the intellectual battle" against the European Union.
Those at these meetings were united in their desire to get Britain out of the EU. But they are bitterly divided when it comes to the next step. At the last one I attended in 2016, Bruges participants accused each other of being traitors or soft-minded, depending on which type of post-Brexit relationship they wanted Britain to have with the EU.
These same divisions are now threatening to bring down the British government.
The controversy is generally described as "hard Brexit" vs. "soft Brexit." A hard Brexit would see Britain make a greater break from the EU and accept more barriers to trade with Europe. Soft Brexit would accept some EU rules and greater trade access.
On Friday, British Prime Minister Theresa May laid out her latest Brexit plan. Brexit Secretary David Davis quit on Sunday, followed by Foreign Secretary Boris Johnson the next day. May's Brexit plan was too "soft" for them.
May has lost two key members of her cabinet and could lose the support of the Conservative Party. This could cost her the prime ministership.
But there are more divisions within the Conservatives. A substantial number of Conservative members of Parliament are pro-EU and anti-Brexit. The party is split between hard, soft and anti-Brexit factions, and it is hard for it to do anything, let alone replace May.
Even those I usually turn to for insight into these political matters are split. To one side (Melanie Phillips in the Times yesterday), Ms. May has "betrayed her country" by favoring a softer Brexit. To the other (Edward Spalton, chairman of the Campaign for an Independent Britain, writing in April), hard Brexit ministers are "deluding themselves, their more credulous colleagues, supporters and euroskeptic media that we could 'have our cake and eat it.'"
Both sides agree on one thing: Brexit negotiations have been conducted badly. Britain has been talking to the EU about its post-Brexit relationship for two years, and has very little to show for it.
Now Britain appears to be leaving the EU with no real plan. This planning and negotiating could leave the country vulnerable to economic pressure or an outright economic attack by the EU. The Conservative government is divided. And "across the aisle" waiting for his chance to run the country is a Communist Labour leader.
As dire as this is, this isn't even the worst of it.
Britain's EU membership was not the root cause of the country's problems.
"Britain is going to look back on Monday, Jan. 1, 1973, in all probability, as a most tragically historic date—a date fraught with ominous potentialities!" wrote Herbert W. Armstrong that same year. "For that date marked the United Kingdom's entry into the European Community."
He went on to describe how the EU would unite politically. For Britain this would be a "tragic situation" because it would be no part of this kind of superstate. (You can read more about Britain's entry into the EU and how it was bad for the country in "Britain Was Warned!" from our He Was Right booklet.)
But why join such a bad relationship in the first place? Many of Britain's top leaders deceived the public about the EU's true nature to get them to agree to enter the union. They insisted it was merely a trade relationship—even though they knew it also involved more and more financial, political and even military unity.
Britain went in because we lacked self-confidence. We lacked leadership. We lacked a vision of what the nation's role should be. We lacked will power and imagination. Charting your own course in the world is hard. Following the rest of the Continent is easy.
Those same weaknesses still exist. Brexit hasn't magically transformed the nation into a strong united people. The nation lacks leaders, direction and purpose—so even the Brexit negotiations have been rudderless, directionless and divided.
The Bible forecast that Britain would be in this condition. In the wake of the Brexit vote, theTrumpet.com managing editor Brad Macdonald summed up several of these prophecies, writing:
Let's consider just two of Hosea's descriptions of Ephraim, or Britain, in the end time. In Hosea 5:11-12, the prophet says that "Ephraim is oppressed and broken in judgment, because he willingly walked after the commandment. Therefore will I be unto Ephraim as a moth …." Here, God compares end-time Britain with a moth-eaten garment. Have you ever gone to your drawer and dug out a shirt that you assumed was ready to be worn, but the moment you went to put it on, you realized that it had been devoured by a moth and was full of holes? That is Britain's current state, and Brexit is revealing that the UK is ridden with holes!

"Ephraim, he hath mixed himself among the people …" (Hosea 7:8). This is a prophecy that end-time Britain would intertwine itself with foreign people, foreign customs, foreign religions and foreign entities—like the European Union. Verse 9 shows that this leads to devastation: "Strangers have devoured his strength, and he knoweth it not …." Britain today, as Amos prophesied, has no "strength," which means "might, power, substance, wealth and force." Britain is sick—very, very sick—and a major part of the cause is its embrace of foreigners and foreign institutions, like the European Union. This isn't a politically correct message, but it is a truth backed by reality. (It isn't biblical justification of racism and bigotry either!)

There is a lot of talk among Leavers right now that the time has come for the resurrection of the British lion. Hosea says that Ephraim's personality and behavior in the end time is closer to that of a silly dove! Hosea 7:11 says that "Ephraim also is like a silly dove without heart …." There's no strength, no clarity of vision and leadership, no force or vigor—just weakness, from top to bottom.

Other prophecies also describe the state of Ephraim in the end time. Isaiah 1:5-7 say that "the whole head is sick, and the whole heart faint. From the sole of the foot even unto the head there is no soundness in it; but wounds, and bruises, and putrifying sores: they have not been closed, neither bound up, neither mollified with ointment. Your country is desolate, your cities are burned with fire: your land, strangers devour it in your presence, and it is desolate, as overthrown by strangers."

That's a hard truth to accept—and deliver—but what an apt description.
Brexit didn't fix these terminal sicknesses—instead these sicknesses are breaking Brexit.
You can read more about these sicknesses in our free book The United States and Britain in Prophecy, by Herbert W. Armstrong. More importantly, it will tell you why Britain is experiencing these sicknesses and how you can avoid them in your own life.