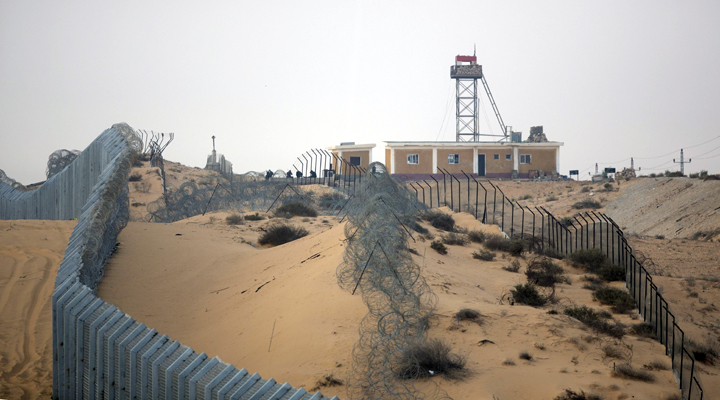 Border Skirmish Raises Questions Over Camp David Accord
Egypt announces plans to revise peace treaty with Israel.
An Israeli soldier was killed and another wounded last Friday when terrorists launched a surprise attack on a group of Israel Defense Forces (idf) soldiers aiding refugees on the Israeli-Egyptian border. A 20-year-old idf corporal was killed as he approached the border fence to provide water for a group of African migrants. Taking advantage of the distraction, nearby militants opened fire. Three militants were killed in the fight that ensued.
The Sinai Peninsula has become a hotbed of contention over the last few months as Egypt has stepped up its military presence to combat the increased activity of rebel insurgents. This increase of Egyptian troops in the region has raised many concerns regarding Egypt's commitment to the Camp David Accord that has ensured peace between Israel and Egypt over the past three decades. The accord limits the number of troops the two nations are allowed to have in the de-militarized zone of the Sinai Peninsula. However, Egypt has used the current chaotic situation to justify deploying additional troops to the region.
Last week's incident was the second fatal terrorist attack along the border in recent weeks, and has prompted Israeli criticism of Egypt's ability to handle the situation. Some are calling for Israeli military action in the peninsula to eradicate the increasing terrorist threat.
In response, Egyptian Member of Parliament Mohammed Abd al-Haleem told Al Arabiya, "It is impossible under any circumstances that Israel would conduct strikes against Egyptians in Sinai." This week a member of Egypt's Higher Military Council stated that Egypt would "cut off the arm of any foreign or domestic aggressor."
Stating that the current treaty prevents Egypt from gaining complete control over the terrorists, an Egyptian presidential adviser announced yesterday he would be submitting a proposal for amending the 1979 peace treaty within the next few days. This prompted Israeli Foreign Minister Avigdor Lieberman to reply that "there is no chance that Israel will agree to any kind of change" to the accord.
With tension building throughout the Middle East, watch for the rift between Israel and Egypt to widen as Egypt continues drawing closer to Iran. To understand what is about to happen in the Sinai, read "Egypt: Morsi Sheds His Moderate Cloak."