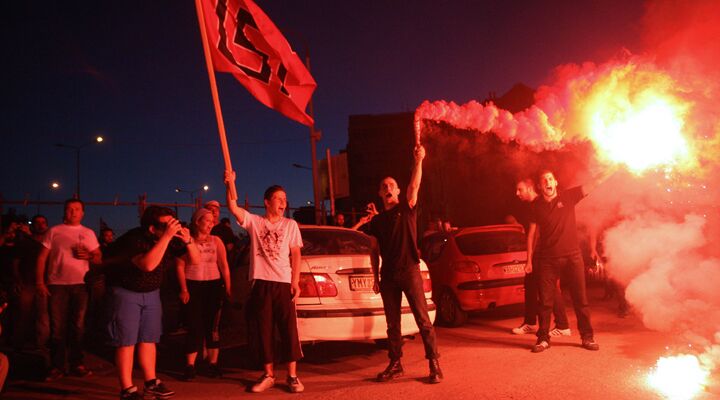 Neo-Nazis Now Third Most Popular Party in Greece
It took just three years of economic collapse to revolutionize Greek politics.
The neo-Nazi Golden Dawn party is now the third most popular party in Greece, according to a survey by Pulse RC published in To Pontiki weekly September 6. Golden Dawn has the support of 10.5 percent of the population.
The New Democracy party is in first place, with support from 25 percent of those polled, followed by the radical left-wing Syriza. pasok, which used to be a major party, received the support of only 8 percent.
The poll shows a stunning change in Greek politics. In elections three years ago, pasok won with 44 percent of the vote. Golden Dawn received 0.29 percent.
Golden Dawn and its supporters have been implicated in brutal attacks on Greek immigrants, though the party insists it is not behind these attacks. Yet its popularity has continued to rise.
The situation in Greece is a shocking example of how quickly and radically a nation can change once its economy falls apart. Just three years ago, this level of support for Golden Dawn would have been unthinkable.
All immigrants in Greece are not innocent victims. One Greek reporter described an "escalating crime wave," with "daily accounts in the Greek press of illegal immigrants robbing, raping and attacking Greeks."
This is the kind of breakdown in society that happens when economies collapse. Crime increases, and the once trendy multiculturalism is swiftly rejected as many struggle against poverty.
Continue to watch Greece. As economies around the world fail, other nations will come under the same pressure. Greece is a preview of the political change that will soon sweep Europe.