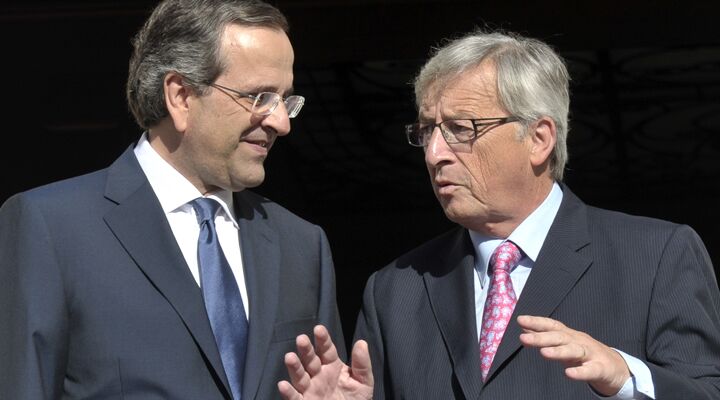 Flashback: German Paper: Banks Getting Ready for Greece to Leave Euro
Banks are preparing staff to deal with riots after Greece switches back to the drachma.
Banks are quietly preparing for Greece to leave the EU, Süddeutsche Zeitung warned August 22. "An army of management consultants and lawyers" have spent weeks on "the infinite number of things to do," it wrote (translation from Presseurop throughout).
Not only have officials been getting their computer systems ready to handle drachmas, but they're also preparing for the social fallout from an exit. They're preparing their banks and staff to handle riots and violent customers.
The paper says that Lloyds Banking Group in Britain has created a "Euro Instability Committee." It is rumored that Goldman Sachs has set up a "War Room" at its London offices called "Room 17"—named after the 17 members of the eurozone.
hsbc is taking the practical step of confirming that its atm can distribute drachma notes. Banks are also testing infrastructure, making sure they can get hotlines for investors up and running, the article said.
One banking executive told the paper that European central banks were making similar preparations.
Greek Prime Minister Antonis Samaras is currently traveling around Europe to persuade key EU officials to give Greece an extra couple of years to complete its bailout package. So far, he has been unsuccessful.
Head of the eurogroup Jean-Claude Juncker said that the eurozone would have to wait another month until the troika that oversees the bailout package had finished its investigation. Juncker said he supported Greece, but that this was the country's "last chance" to avoid going bankrupt. German Chancellor Angela Merkel and other German leaders have also indicated they have little patience for Greece.
Now banks are spending their money and resources to make plans in case of an exit. This is just another sign that the eurocrisis is about to explode. Watch it closely: That explosion will change Europe, and the world.