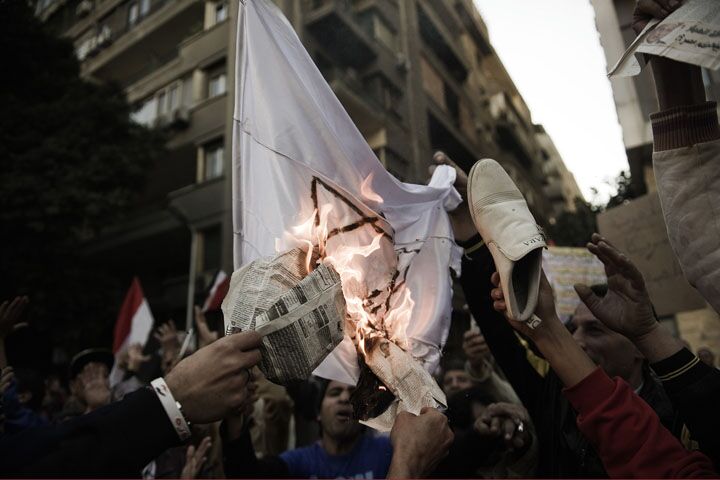 Egypt Shifting Away From Israel, Toward Iran
Iran gains a "diplomatic coup" in Egypt as relations with Israel flounder.
Egypt's actions following an attack on an Egyptian army base in the Sinai, August 5, don't bode well for Egyptian-Israeli relations. Egypt's Muslim Brotherhood, the largest party in its Parliament, blamed the attack on Israel. The attack, it wrote on its website, "can be attributed to Mossad," Israel's counterterrorism and intelligence agency. At the same time, Egyptian President Mohamed Morsi is taking important steps toward Iran. Iranian Vice President Hamid Baghaei visited Egypt and met with President Morsi on August 8 in what the L.A. Times called "a diplomatic coup."
The Muslim Brotherhood wrote that Israel's intelligence agency "has been seeking to abort the revolution since its inception and the proof of this is that it gave instructions to its Zionist citizens in Sinai to depart immediately a few days ago."
That is, of course, untrue. Israeli intelligence got wind of the attack, raised the alert along its border, and warned its citizens to leave. They passed this warning on to the Egyptian military who, apparently, ignored it.
"In short, the new Egypt is so unwilling to cooperate with Israel that it wouldn't even act on Israeli intelligence about a threat to its own security," wrote Evelyn Gordon in Commentary.
Even Egyptian President Mohamed Morsi responded to the attack in a worrying way. He quickly fired several high ranking army officers, including head of intelligence General Murad Muwafi.
Muwafi was a scapegoat. He'd warned for months that Egypt needed to crack down on militants in the Sinai. But Muwafi was also on very good terms with Israel, America and Europe. Morsi got rid of one of the few people in the government whom Israel and America felt they could trust.
It is also telling that the army could not or would not oppose Morsi in these firings. It suggests the Islamists, not the military, have the upper hand in Egypt.
This comes after a fiasco last month where Israel published a friendly letter from Morsi to Israeli President Shimon Peres, thanking Peres for his congratulations on the arrival of Ramadan. In his letter, Morsi said he was "looking forward to exerting our best efforts to get the Middle east [sic] Peace Process back to its right track in order to achieve security and stability for all people of the region, including that [sic] Israeli people." But Morsi denied that he sent such a letter and said that Israel was slandering him by claiming he had.
Apparently saying that Morsi wants stability and security in the region is slander.
In the aftermath of the attack, Israel has allowed Egypt the greatest military presence in the Sinai since the 1979 peace treaty. Associate Press reports that Egypt sent two attack helicopters, 20 armored vehicles, 40 light tanks, 20 other vehicles and elite counterterrorism police into the border region. Israel has already allowed the deployment of 750 military border guards and 3,500 troops with armored vehicles. AP notes that most believe Egypt hasn't deployed more than half of the allowed 3,500.
The Sinai violence puts the Israelis in a Catch-22 situation. If they refuse to allow Egyptian troops into the area, terrorists will use it to plan attacks on Israel. But if they do, they erode the 1979 peace treaty and allow an increasingly hostile Egypt to put more soldiers on the border.
Then came Morsi's meeting with the Iranian vice president. The L.A. Times wrote that the meeting was "signaling a new era in Egypt's diplomacy," calling it "the highest-level official contact between the two strategic nations in decades."
"Morsi's visit with Hamid Baghaei gave Iran a diplomatic coup amid sharpening international pressure over its nuclear program and links to Syria," it wrote.
Baghaei invited Morsi to attend the summit of the Non-Aligned Movement (nam) in Tehran later this month. Spokesman for the nam Mohammad Reza Forqani announced that Morsi is willing to attend, according to Iran's Mehr news agency.
Bible Prophecy shows us that this alliance is coming.
If true, that would be another diplomatic coup for Iran: Morsi would be the first Egyptian head of state to visit the country since the Iranian Revolution. However, Iranian news media reported earlier that Morsi said he would attend, only to be contradicted by Egypt's president. Until it is confirmed by Egypt, it is too early to say if Morsi really is going.
Egyptian newspaper Al-Ahram reported that the summit's tentative schedule had Morsi hand over presidency of the nam from Egypt to Iran, before holding talks with Iranian President Mahmoud Ahmadinejad on the sidelines of the summit.
Egypt hasn't yet fully embraced Iran, nor has it completely cut off Israel. But this week's events show it moving in that direction.
An Iranian-Egypt alliance would be terrible for Israel. It would place hostile forces right on its southern border. Israel would have to go from worrying about terrorist attacks to worrying about a full scale invasion from a modern army, built up with American money and weapons.
Events in Syria have put Iran on the back foot. Rapprochement with Egypt would show the world that Iran is still dangerous. The repercussions would shake Europe as well as Egypt, as the new alliance would threaten vital trade roots.
Watch Egypt's relationship with Iran and Israel closely. The Trumpet has predicted for years that Egypt would make a radical shift to Iran. This appears to be on the cusp of happening. Once again, you can witness Bible prophecy happen before your eyes.
For more information on the vital prophecy behind this alliance, see our article "Egypt and Libya to Join Iran's Terror Network."