The Last Peacemaker
In a neighborhood full of bullies, Jordan's King Hussein seemed always to maintain an air of dignity and honor in the Middle East. Holding an office in Jordan which allotted him absolute power, the King was not known for abusing it. To the contrary, he will be remembered for his kindness and charisma, whether in the presence of dignitaries or commoners.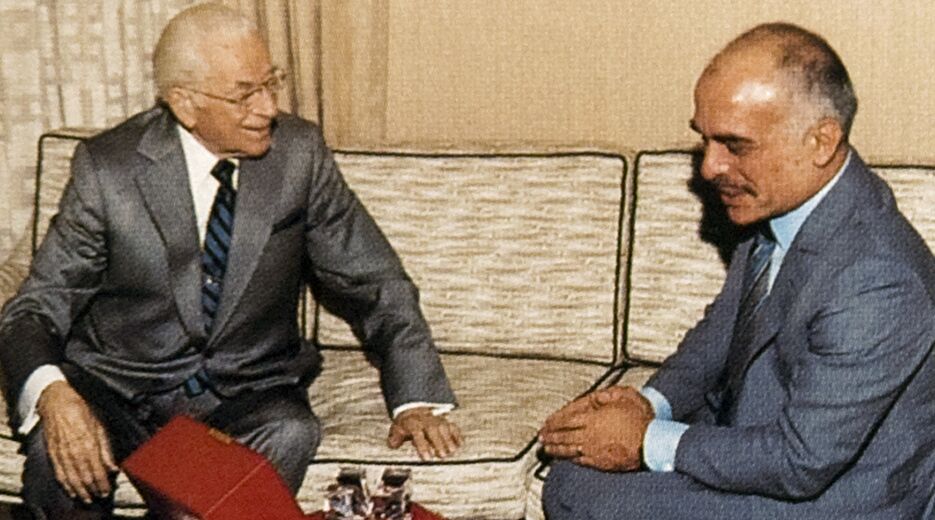 The Last Peacemaker
In a neighborhood full of bullies, Jordan's King Hussein seemed always to maintain an air of dignity and honor in the Middle East. Holding an office in Jordan which allotted him absolute power, the King was not known for abusing it. To the contrary, he will be remembered for his kindness and charisma, whether in the presence of dignitaries or commoners.
Herbert Armstrong, who visited the King several times over the course of his ministry as pastor general of the Worldwide Church of God, was struck by this unusually humble monarch. "Kings never, or almost never, address any common citizen with the title of respect, 'Sir.' Yet, His Majesty continually addressed me as 'Sir,'—a truly unusual honor according me respect." As a religious leader and unofficial ambassador for peace, Mr. Armstrong held no political office or distinguished title. Yet the King treated him like royalty.
Other stories like that abound, shedding further light on the King's uniqueness. Once, after an army officer tried to lead a coup against him, the King squashed the revolt and exiled the rebel to four years at Oxford. Try to envision the other Hussein's response to such a rebellion.
John Simpson, BBC's World Affairs editor, remembers the King's kindness and good humor. "Some years ago," he writes, "I was invited to a dinner at the palace in Amman. The King was an hour late, and spent much of the next 20 minutes apologizing. At the table he was self-deprecating, funny and frank in turn. He spoke about Saddam Hussein in a way that had everyone roaring with unobsequious laughter. And when someone asked about himself he said, 'You know, the British call me the plucky little king. Plucky is fine; I just don't like the little.'"
Dignified, humble, respectful, jovial—these best describe King Hussein, the man. But he may be remembered more for what he did—make peace.
Hussein became king in 1953 at age 17. Two years earlier, as a 15-year-old, he witnessed his grandfather's assassination. Abdullah, Jordan's first king, was gunned down at the Al Aqsa Mosque in Jerusalem. Hussein might have died himself were it not for a medal on his uniform that his grandfather asked him to wear. A bullet had ricocheted off the medal.
In 1958, Hussein was shaken by another family tragedy when his close friend and cousin, Iraqi ruler Faisal, was assassinated in Baghdad. Hussein learned from these tragedies. In his memoirs he said he learned of death's unimportance—"When you die, you have to die." In a 1993 interview, he said that from these early experiences he learned that "rulers cannot depend on their advisors to save or guide them, that they must make their own decisions and go their own way."
Early on, it was clear there was something different about this man's ability to make peace. One story was related in the Sunday Times of London: "Facing an attempted military coup in 1957, he drove straight up to the Zerqa military headquarters, the center of the revolt, and personally persuaded the troops to support him."
Hussein's tact and diplomacy—whether in dealing with military men, heads of state or poor Hashemite Bedouins—earned him much of the prestige and honor he received late in life. As one commentator noted, he was aloof around no one.
That's not to say that the King's reign was without flaw. He deeply regretted joining Syria and Egypt in their 1967 attack on Israel. Not only did it add to the region's instability, Jordan also lost East Jerusalem and all of the West Bank to the Jews. Israeli occupation in the West Bank fueled a mass Palestinian exodus into Jordan. (Unlike other Arab leaders, Hussein has offered immigrants Jordanian citizenship and passports. Today, over 65 percent of Jordan's population is Palestinian.)
Jordan's rising Palestinian population proved a greater threat to its existence than the 1967 war. Yasser Arafat and his Palestinian Liberation Organization (PLO) moved its base of operations from the Israeli-occupied West Bank to the eastern side of the Jordan River and challenged the King's rule. In what became known as Black September, the King and his Bedouin troops declared war on the PLO guerrillas in 1970. They killed 4,000 Palestinians and forced the terrorist organization to move its base to West Beirut.
In 1973, having learned a lesson from 1967, Hussein disguised himself and went to Tel Aviv to warn Israeli Prime Minister Golda Meir that the Syrians were about to attack. She ignored the warning, and hours later Syria and Egypt ignited the Yom Kippur war against Israel. Hussein, for the most part, remained neutral.
After squelching the PLO's rebellion in 1970 and remaining on the sidelines in the 1973 war, the King fast acquired more than a handful of enemies within his own Arab community. Yet he survived each potentially dangerous situation—the last known assassination plot occurring in 1980.
Late in life, as an elder statesmen, Hussein devoted much of his time to peace initiatives. His first cancer diagnosis in 1992 only prodded him to finally solidify peaceful relations with Israel, which he did in 1994. He considered Jordan's peace treaty with Israel in 1994 his proudest moment as King.
After Israeli Prime Minister Rabin was assassinated in 1995, Hussein said, "It is peace that has been assassinated." At Rabin's funeral, a tearful Hussein gave a speech that moved even the most cynical observers.
In 1997, after a Jordanian soldier shot and killed seven Israeli schoolgirls, Hussein felt obliged to visit the families of each victim in their homes—an extraordinarily kind act for anyone, let alone a king.
In July of 1998, the King checked into the Mayo Clinic in Minnesota to undergo chemotherapy treatments for cancer in the lymph nodes. He responded well to early treatments and showed signs of an early recovery.
In October, the King appeared in public for the first time since his treatments began. It came as a complete shock to many. Before TV cameras at the Wye Plantation peace talks, he was bald, skinny and pale. Some Jordanians took this as a signal from their ailing monarch that he was on death's door. Rumors surfaced that the King was headed back to Jordan in November to enjoy his final days on his native soil.
But reports were wrong. The King stayed in the States, received further treatment, and news of his "miraculous" recovery again made headlines. By January, news spread that the King was healed completely and preparing to return home.
Once again, reports were wrong. He did return home, but not healed. And what he returned home to do shocked nearly everyone.
He arrived in Jordan on January 19 after spending two weeks in Britain. British, French, Italian, Israeli and finally the Jordanian air forces escorted his plane home. Upon disembarking the aircraft, despite the cold, rainy weather, he knelt to kiss the ground he had missed for six months. Then, as his motorcade drove through Amman's streets—packed with hundreds of thousands of cheering well-wishers—the King poked his head outside the car's sunroof to acknowledge the thronging masses. Later, commenting on the inclement weather, he said, "It was so cold, and I did not have adequate clothing…but the warmth I felt everywhere was more than enough."
He was only to be home for a week, as it turned out. But what a week it was. He had come home to finalize his last will and testament. In so doing, he removed his brother, Crown Prince Hassan, as his successor, replacing him with his 37-year-old son, Prince Abdullah.
Hours after juggling successors, the King returned to the United States for further treatment and, finally, to die. His comatose body was rushed home on February 6, pronounced dead in Jordan on the 7th and buried on the 8th. His funeral guest list read like Who's Who in 20th Century Politics. President Clinton attended with three other former U.S. presidents. Other attendees included King Juan Carlos of Spain, French President Jacques Chirac, British Prime Minister Tony Blair, Prince Charles, German Chancellor Gerhard Schroeder, Russian President Boris Yeltsin and UN Secretary-General Kofi Annan, among many others. That list alone speaks volumes of the impact King Hussein had on world affairs, despite the fact that he ruled a small, barren country of only 41/2 million subjects.
In many ways, the last six months of King Hussein's life mirrored the the last 50 years of Middle East affairs: unpredictable. To this point, peace in the Middle East has been, at best, tenuous. What will happen now that the Middle East's most noted and distinguished peacemaker is absent? The Bible prophesies that despite the genuine efforts toward peace in the Middle East, there is a great crisis on the horizon.
What might surprise many, however, is that the greatest threat to peace in the Middle East will come from outside the region. Regular Trumpet readers know that prophecies in Daniel 2 and Revelation 17 describe a soon-coming, ten-nation, European conglomerate that will interfere in Middle East affairs. The Bible calls this group of nations the "beast."
In the book of Daniel, this beast power is called the "king of the north." Notice Daniel 11:40: "And at the time of the end shall the king of the south push at him: and the king of the north shall come against him like a whirlwind, with chariots, and with horsemen, and with many ships; and he shall enter into the countries, and shall overflow and pass over." First, we should note that the "time of the end" refers to our time today. Elsewhere in Daniel, you read that the prophet didn't even understand this vision (Dan. 8:26; 10:14; 12:4, 9). That's because it wasn't for his day. It's for ours.
The king of the south in Daniel 11:40 refers to a great Islamic power in the Middle East. Write for our free booklet, History and Prophecy in the Middle East, for full details.
The word "push" means to "war against." So the king of the south, Islam, will aggressively war against the European beast power. That prompts the beast power to come against the Islamic king of the south in full force, like a whirlwind. The king of the north will overwhelm its Islamic enemy.
Verse 41: "He [the king of the north] shall enter also into the glorious land [Jerusalem], and many countries shall be overthrown…." This is no small skirmish. Verse 42 says Egypt will not escape this Euro-force. The Middle East's most powerful Arab nations will be occupied by this beast power.
But not Jordan! Notice the last half of verse 41: "…but these shall escape out of his [the beast's] hand, even Edom, and Moab, and the chief of the children of Ammon." These references unmistakably refer to the land of Jordan today. (Ammon is merely a variation of Amman, Jordan's present capital.) Jordan will escape European occupation. Other verses indicate that God spares them because of the kindness and respect they show His people. (Remember how the King treated Herbert Armstrong?)
Sad to say, however, the Jordanians do not retain this spirit of humility and kindness. Prophecies in Jeremiah and Ezekiel reveal that the Hashemite people will rejoice in Jerusalem's occupation. God has said, "Rejoice not when thine enemy falleth…lest the Lord see it, and it displease him, and he turn away his wrath from him" (Prov. 24:17-18). This very spirit—their rejoicing—will bring to fulfillment Ezekiel 25:3-11.
Toward the end of the Tribulation, the European king of the north will worry over a dangerous enemy lurking to the north and east of Jerusalem—a great federation of Asian nations. These communist hordes will descend upon the holy mountain (Dan. 11:44-45), gathering 55 miles north of Jerusalem in a place called Armageddon (Rev. 16:16). This confrontation leads right into the return of Jesus Christ upon the Mount of Olives.
As Prince of peace, Jesus Christ will return to carry out the dreams of King Hussein. He will finally put an end to war and strife, bringing peace to all peoples, in every nation.
King Hussein knew there was only so much he could do. Widely credited for being the savior at Wye Plantation, bringing Israel and the PLO together, the dying monarch later admitted, "It didn't work. It worked at the time," he said, "but it was temporary relief."
That, it seems, is what King Hussein provided for this "bad neighborhood." Temporary relief. In the end, we have found that the only thing permanent in this volatile region is instability.
Speaking of some of the lessons which stood out over his near half-century reign, he said two weeks before he died, "The worst part was that there were many crises that passed through this area that I could see coming and I warned and did whatever I could to prevent them from happening. But no one listened. Lots of things could have been different from the way they are right now. But, anyway, we have to keep struggling. Let's hope for a better future; for peace and harmony."
In the short run, the King's death will only hasten the inevitable clash the Bible prophesies for the Middle East. But in the long run—once everyone listens and heeds the warning, once things are different, once peace and harmony are established for all peoples in all nations—we'll find that King Hussein was not the last great peacemaker.