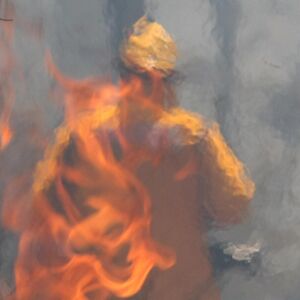 What Did Jesus Say About 'Natural' Disasters?
All of this is just the beginning of sorrows.
Mark this down as yet another record-breaking year for "natural" disasters. Over the past 12 months, the United States has been smashed by the deadliest tornado season in decades, an unprecedented wave of triple-digit heat, devastating droughts and billion-dollar blizzards, hurricanes and floods.
All totaled, twelvebillion-dollar disasters pounded the United States in 2011—three more than the previous record set in 2008. These catastrophic events were responsible for killing 1,000 Americans and causing $52 billion in damages.
As the Associated Press reported on December 7, "With an almost biblical onslaught of twisters, floods, snow, drought, heat and wildfire, the U.S. in 2011 has seen more weather catastrophes that caused at least $1 billion in damage than it did in all of the 1980s, even after the dollar figures from back then are adjusted for inflation" (emphasis added throughout).
Breaking it down further, AP revealed this alarming trend: During the 1980s, the United States averaged just one billion-dollar disaster per year. In the 1990s, it jumped to 3.8 per year—then 4.6 during the first decade of the new millennium.
So far in this decade—after just two years—we have averaged 7½ billion-dollar disasters per year.
Something is frighteningly wrong with the weather. Some experts say we've just had a run of bad luck—that it's purely a matter of happenstance. Others attribute the cause to "global warming."
God, however, says it is a sign that we are living in the very last days. Weather disasters, as they increase in frequency and intensity, are actually fulfilling Bible prophecy. They are among the signs that Christ gave pointing to the end of this present evil age.
In His Olivet prophecy in Matthew 24, Jesus Christ gave His disciples a chronological overview of events to occur in the lead-up to His return. In verses 21-22, Christ said there is a time coming when no flesh would be saved alive if He didn't return and prevent it. This is speaking of World War iii—a 3½-year bloodbath that will culminate in the "battle of that great day of God Almighty."
But before the battle of mankind against Christ—before the European beast power and the Asiatic kings of the east square off—before Europe lashes out at the modern-day descendants of Israel—before it surrounds Jerusalem with armies—before the European king of the north comes against the Islamic king of the south like a whirlwind—before radical Islam captures East Jerusalem—just before all of this happens, Jesus said weather patterns and other natural phenomena would take a violent turn for the worse!
"For nation shall rise against nation, and kingdom against kingdom: and there shall be famines, and pestilences, and earthquakes, in [different] places" (verse 7). The return of Jesus Christ, in other words, will be preceded by a sharp upsurge in "natural" disasters.
Jesus also said that famine—a shortage of food and water—and then pestilences (or disease epidemics) would accompany these weather-related disasters.
In May of this year, in a television program, my father told Key of David viewers that the word famines needs to be seen not only in the context of war—which certainly causes famine—but also in the context of extreme weather. These epic disasters, in other words, are prophesied to have a profoundly negative impact on food production—a reality that is now making headlines nearly every day.
In like manner, Christ's reference to pestilences can also refer to the diseases that often follow in the wake of such disasters. And if you examine how the Greek word is used in Acts 24:5, another dimension is added to Christ's prophecy—the social breakdown that comes as a result of famine and pestilence.
These are the days we are living in right now! Weather disasters, as they increase in frequency and intensity, are actually fulfilling Bible prophecy. We are experiencing the outer edge of a storm that is about to inflict the worst suffering mankind has ever known.
Jesus Himself said it: "All these are the beginning of sorrows" (verse 8). This is where we are right now in Bible prophecy! Sad to say, the ever intensifying disasters we are seeing right now are only the beginning. It is prophesied to get much worse.
But Jesus did not leave us without hope! The Anchor Bible compares the "beginning of sorrows" to the beginning of birth pangs: "It's almost a technical term for the sufferings which would immediately precede a new age, the age of the Messiah's reign."
What a beautiful picture! Right now, this world is being violently shaken by a rapid succession of agonizing birth pangs. But Jesus tells us that these catastrophic events will soon "give birth" to a new age of world peace and prosperity—a utopian paradise that will be totally free of weather extremities and other unnatural phenomena!
To learn more about the many physical signs Jesus gave about the end of the world as we now know it—and the beginning of a wonderful new age to be set up by Jesus Christ, request our free booklet Why 'Natural' Disasters?