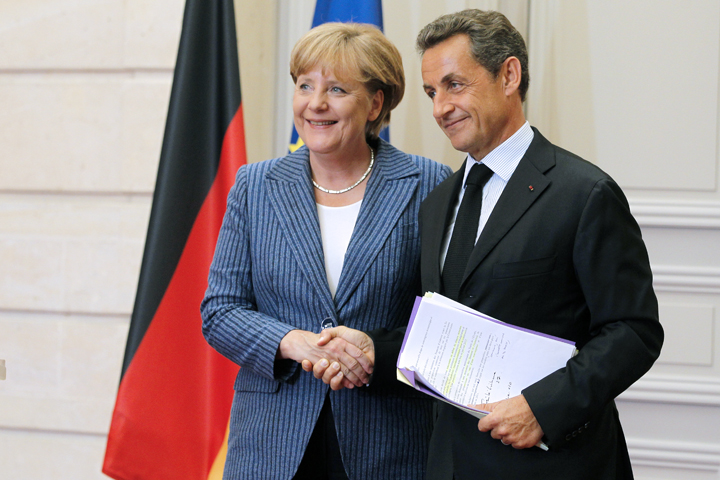 France and Germany Announce 'True European Economic Government'
They may not have appeased the markets, but they brought Europe closer to becoming a superstate.
German Chancellor Angela Merkel and French President Nicolas Sarkozy announced proposals for a common European economic government after they met on August 16.
On Wednesday, they sent plans to European Council President Herman Van Rompuy for eurozone leaders to meet twice a year, with a president being elected to chair the meetings. They said they would support Van Rompuy as the first president.
The two leaders also announced they would put forward proposals for a common EU financial transaction tax in September. "This is a priority for us," said Sarkozy.
Germany and France agreed to take this tax harmonization a step further, promising to create a common corporate tax rate between the two by 2013.
They also said they wanted eurozone members to change their constitutions, adding a rule that requires governments to aim for balanced budgets.
The meeting failed to calm financial markets, but that doesn't make it insignificant. The two leaders took few steps toward solving Europe's short-term problems, but their decisions are important in the longer term.
Germany is telling other eurozone nations that they must change their constitutions. If they want more German help, they will have to obey. Think of the power Germany now has—the ability to dictate constitutional changes to eurozone nations.
The financial transaction tax would be a major stride toward a superstate. The ability to raise its own funds through taxation is a major part of a state's power. As usual, the European Union will start small, before expanding its powers.
The Franco-German cooperate tax harmonization is a step in the same direction. Other nations could be added to this agreement, and it could easily grow to encompass the whole eurozone.
Europe's leaders don't hide where this is leading. "Eurobonds can be imagined one day, but at the end of the European integration process not at the beginning," said Sarkozy. So he admits that Europe is on the road to becoming a superstate, "at the end of the European integration."
The Franco-German agreements also marginalize Britain. The UK is a staunch opponent of the financial transaction tax. On August 16, the leader of Britain's Conservative members of the European Parliament called for the British government to clearly state that it will veto any plans for a transaction tax.
The proposed eurozone meetings will create an official, regular meeting of EU leaders that does not include Britain. As the eurozone tries to become a superstate, Britain is pushed to the sidelines.