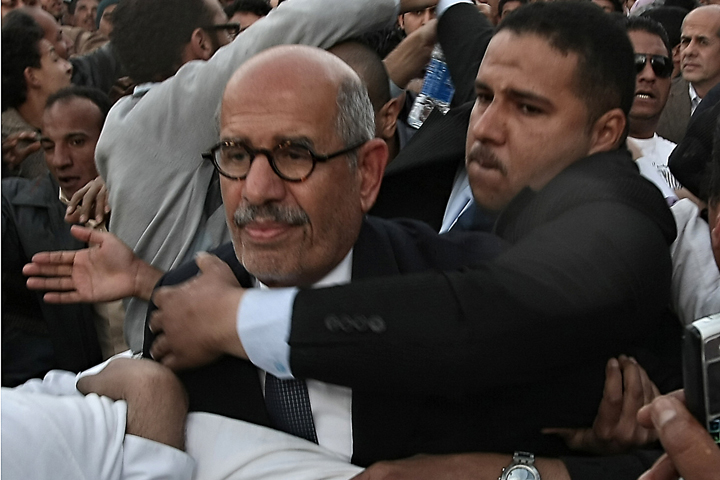 Egypt: Referendum Is Another Victory for Islamists
Hundreds of Islamists threw stones at Mohamed ElBaradei on Saturday as the secular contender for the Egyptian presidency attempted to vote in a referendum to accelerate Egypt's elections. The incident and the results of the referendum reveal the radical direction Egypt is heading in.
"We don't want you," the throng shouted when Elbaradei first arrived at a polling station in South Cairo, and the people began throwing stones and other items at the Nobel Peace laureate and former UN nuclear watchdog chief.
Although ElBaradei was struck in the back by a rock hurled from the mob of hundreds, he escaped the incident unharmed, but without having cast his ballot.
The referendum concerned a package of constitutional changes intended to accelerate Egypt's upcoming parliamentary and presidential elections, and ElBaradei was an outspoken opponent of the planned amendments, saying that, after years of repression, Egypt's burgeoning political parties should be given ample time to organize and prepare for upcoming elections.
The well-organized Muslim Brotherhood, on the other hand, is the country's primary advocate of the proposed changes, and stood to gain the most from them. The Brotherhood, which was outlawed under former President Hosni Mubarak, sought to persuade undecided Egyptian voters with signs saying: "If you vote no you are a follower of America and Baradei, and if you vote yes, you are a follower of God."
Although evidence suggests that some vote-rigging occurred, the referendum's results were overwhelmingly in favor of the rapid election process, with 77.2 percent of Egyptians in favor of the amendments. The outcome equates to a massive victory for the Muslim Brotherhood.
Members of the mob who threw stones at ElBaradei and prevented him from voting identified themselves only as Islamists, without revealing any specific affiliation.
"He lives in the United States and wants to rule us. It's out of the question," one of the assailants said.
"We don't want an American agent," said another.
ElBaradei later tweeted about the incident, calling the assailants "organized thugs," and labeling it "irresponsible" to hold the referendum "in absence of law and order."
Only a few weeks back, ElBaradei was celebrated as a hero of Egypt's new direction. Now he's being attacked by Islamists as he attempts to vote for a secular Egypt. As the Trumpet has predicted would happen all along, hard-line Islamists are seizing the day in Egypt.