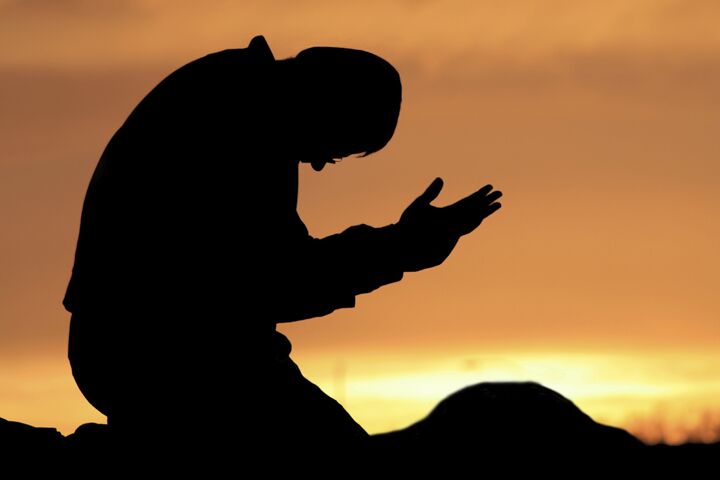 Our Example of Emotional Maturity
Are you ready to follow?
Have you grown up emotionally? So many in our society have not.
Education has not taught us how. Education exalts the rational mind usually at the expense of putting to death the emotions.
Religion doesn't advocate it. It promulgates emotional fervor as the basis of any legitimate "religious" experience. Therefore, God becomes a nebulous sentiment and repentance a hazy feeling. This is particularly the case in modern Christianity. Yet neither Jesus Christ nor His disciples ever set such an example.
What kind of example did Christ set? If Christ wasn't some overly sentimental, fanatical preacher, was He—as some religions portray—emotionally detached, in a catatonic state of nirvana like a drug "high"?
Study the life of God in the flesh, and you discover an individual completely in control of Himself. However, neither did He squelch His emotions. The Gospels are full of accounts detailing the intense emotions Jesus experienced at certain moments.
In our quest for greater emotional maturity, let us examine His life. He can teach us appropriate display of emotion. Through His example, we learn why such emotions are appropriate. We learn how God intended emotion to be a valid part of and even an aid to the religious experience.
"Jesus Christ is our example," wrote Herbert W. Armstrong in an article titled "Emotional Maturity," in the February 1964 Plain Truth. "Can you comprehend what extreme deep feeling Jesus experienced when He looked out over the city of Jerusalem, whose deceived, erring, wrong-doing people He loved, and cried out: 'O Jerusalem, Jerusalem, thou that killest the prophets, and stonest them which are sent unto thee, how often would I have gathered thy children together, even as a hen gathereth her chickens under her wings, and ye would not!' (Matthew 23:37). Here was emotion expressed. But it was intelligent expression of feeling—not unthinking, unguided sensual impulse. It was filled with deep meaning!"
We see another account of Christ's reaction over Jerusalem in Luke 19: "And when he was come near, he beheld the city, and wept over it" (verse 41).
Jesus saw what was to happen to Jerusalem, and He just wept. The Greek word here implies bewailing, as in mourning for the dead. This account is only one of dozens of verses in the Gospels that comment not just on Christ's words or actions, but the emotions He experienced.
'Moved With Compassion'
A common expression regarding Jesus Christ's emotions can be found in Matthew 9:36. During His ministry in Galilee, Jesus saw the multitudes and was "moved with compassion on them, because they fainted, and were scattered abroad, as sheep having no shepherd."
That three-word expression in the English comes from one Greek word meaning to be moved as to one's bowels, which the Greeks viewed as the seat of the more intense passions. So this was not some superficial reaction from the Son of God. He was moved deep within Himself.
Then came Christ's famous words: "The harvest truly is plenteous, but the labourers are few" (verse 37).
Jesus was moved because there was still so much that could be done! This passion to send the good news to these spiritually bankrupt people drove Christ to stop at nothing to teach them.
We see this in Mark 6, where Christ was about to get away with His disciples for some much-needed rest (verses 30-31). They tried to get away privately, but the multitudes still followed after them.
Jesus Christ reacted emotionally to this, but not the way you or I might. Christ's emotions were completely outflowing and serving: "And Jesus, when he came out, saw much people, and was moved with compassion toward them, because they were as a sheep not having a shepherd: and he began to teach them many things" (verse 34). Then, as it turns out, He did not want them to go away hungry, so He performed a miracle so they could all be fed!
Matthew 15 contains another account of Christ trying to get away privately, the multitudes finding Him, and His subsequent reaction. Among them "were lame, blind, dumb, maimed, and many others," and Christ healed them (verse 30). "Then Jesus called his disciples unto him, and said, I have compassion on the multitude, because they continue with me now three days, and have nothing to eat: and I will not send them away fasting, lest they faint in the way" (verse 32).
Some men may think it is not masculine to show emotion! But here Jesus Christ was not only feeling these strong, deep emotions toward these people, but He even expressed how He was feeling to this group of men. What's more, He was probably teaching them a lot about the passion and emotion they would need to do the work of God. (See also Matthew 14:14; 20:34; Mark 1:41 and Luke 7:13. Intense emotions often accompanied Christ's great miraculous acts.)
'He Sighed'
In Mark 7:31-34, Jesus healed a deaf man with a speech impediment. Verse 34 reads, "And looking up to heaven, he sighed, and saith unto him … Be opened."
"Sighed" is the same term used in Romans 8:23 in talking about how we as God's people "groan within ourselves." Christ's prayers for healing weren't unfeeling, robotic exercises.
In the next chapter of Mark's account, Jesus was confronted with antagonistic Pharisees. Christ's reaction to their questioning was this: "And he sighed deeply in his spirit, and saith, Why doth this generation seek after a sign?" (Mark 8:12). The Greek expression for sighing means to draw deep sighs from the bottom of the breast.
Jesus Christ did not put His emotions to death. He controlled them, expressed them, and used them to serve God's work.
Imagine if you were privileged to witness these moments—from seeing how Jesus would utter a prayer of healing to seeing how He handled the frustrations of dealing with the Pharisees. He would have exuded so much personality, enthusiasm, joy, compassion, vigor, energy, grief and empathy. You would have seen Him smile a lot, laugh heartily, weep heavily, sigh in frustration.
He would not have been a soft-spoken figure: "In the last day, that great day of the feast, Jesus stood and cried, saying, If any man thirst, let him come unto me, and drink" (John 7:37).
The word "cried" means what it looks like: He cried aloud. He was a powerful and dynamic speaker, full of vigor and enthusiasm for His message.
'The Zeal'
In fact, when it came to the temple, we see an abundance of emotions from the Son of God in the flesh.
"And the Jews' Passover was at hand, and Jesus went up to Jerusalem, And found in the temple those that sold oxen and sheep and doves, and the changers of the money sitting" (John 2:13-14). How did Christ react? Verse 15 reads: "And when he had made a scourge of small cords …." So He planned His reaction deliberately. Continuing in the same verse, "… he drove them all out of the temple, and the sheep, and the oxen; and poured out the changers' money, and overthrew the tables."
This was not some violent tantrum, but rather the righteous emotions of God the Father expressed through His Son.
When the disciples saw this, it brought to mind a specific prophecy from the Old Testament: "And his disciples remembered that it was written, The zeal of thine house hath eaten me up" (verse 17).
The disciples saw that the Messiah was prophesied to be a passionate, zealous man. The zeal of God's house consumed Him.
The Greek for zeal means excitement of mind, fervor of spirit, ardor in embracing, pursuing, defending anything. It comes from a root word meaning to boil with heat.
The more Christ comes in our flesh (see 1 John 4:2), the more we will take on His nature—His zeal. We must boil with it to where we will do whatever God requires of us—from pursuing His truth to defending the state of His house.
'Anger'
On one occasion Christ entered a synagogue on the Sabbath and there found a man with a withered hand. The Pharisees watched to see whether He would heal him on the Sabbath (Mark 3:2).
Christ said: "Is it lawful to do good on the sabbath days, or to do evil? to save life, or to kill? But they held their peace" (verse 4).
The grief Christ felt was outflowing—it wasn't grief at some personal offense. It was not a selfish grief.
We find a similar reaction from Christ in Mark 10, when parents brought their children to Jesus and His disciples rebuked those who brought them. Verse 14 states: "But when Jesus saw it, he was much displeased, and said unto them, Suffer the little children to come unto me, and forbid them not: for of such is the kingdom of God."
The phrase "much displeased" does not do justice to Christ's emotional state here. That phrase in the Greek means to be moved with indignation, and its root word means to ache.
Christ was indignant against what His disciples were doing. He ached. He was passionate even about the little children.
'Jesus Wept'
After Lazarus died, Mary, sister of Lazarus, came out to meet Jesus. "When Jesus therefore saw her weeping, and the Jews also weeping which came with her, he groaned in the spirit, and was troubled" (John 11:33).
The root word here for "groaned" in the Greek means to snort with anger. Christ was visibly and vehemently moved and "troubled"—a word used here and also on the night of His last Passover, when He faced betrayal and crucifixion. That's how poignantly these Jews' lack of faith affected Him.
They were going to take Jesus to where Lazarus was buried, and John interjects this: "Jesus wept" (verse 35). The Son of God shed tears over this.
Then, in verse 37: "And some of them said, Could not this man, which opened the eyes of the blind, have caused that even this man should not have died?"
Jesus overheard this question and was moved even more so by the lack of faith: "Jesus therefore again groaning in himself cometh to the grave" (verse 38).
Jesus then reminded Martha that she would see a fantastic miracle. He proceeded to pray to His Father. Finally, verse 43: "And when he thus had spoken, he cried with a loud voice, Lazarus, come forth." Again, here was the Son of God in the flesh crying out. He was not a soft-spoken, effeminate weakling!
Last Passover
Several days later, Christ's last Passover in the flesh commenced—a night full of emotion for the Messiah.
Luke 22:15 reads, "And he said unto them, With desire I have desired to eat this Passover with you before I suffer." The word for desire implies craving or longing. This was a chief, intense desire of His—to celebrate Passover with His disciples. This is what He craved. This is what He was passionate about.
On that night, Christ spoke a lot about joy, despite the suffering He was about to go through. "These things have I spoken unto you, that my joy might remain in you, and that your joy might be full" (John 15:11).
These are the words of a man who was about to be slaughtered. He not only focuses on their joy, but says His joy should be in them—to the full! He was full of deep, godly joy even just before His brutal murder.
Even though Isaiah 53:3 says Christ would be a "man of sorrows" and "acquainted with grief," we know that the joy in His life could not have been fuller. You would have seen that joy in Him.
To the carnal mind, someone fraught with grief and sorrows is not one whose joy is usually overflowing. How did Christ do it? The answer lies in the motivation behind His emotions.
The Motivation Behind His Emotions
Mr. Armstrong wrote in his Autobiography: "I know why Jesus was a man of sorrows. It was not because of persecution against Him, or personal suffering, but the anguish of seeing those He loved reject the truth and be willing to turn the wrong way to their own perdition! It hurts, deeply, to see people drop by the wayside!" (Volume 1).
Christ's emotions always were outflowing. They were directed toward others.
If you re-examine all those passages where Christ got "emotional," you will see that He was "moved with compassion" for the work—what potential there was if there were only more laborers. He was "moved" because of the religious poverty of His day—because the people were like sheep without a shepherd. He was "moved" because He knew they would get hungry following Him around all the time.
He was "moved with compassion" because they needed physical healing. The Gospel writers show that seeing those sick people just moved Him too much to stand idly by.
He was angered because of what the Pharisees were doing to people's religion. He was outraged because of His Father's house being trashed. He was grieved that little children were being turned away from true religion. He wept bitterly over Jerusalem's fate and over the lack of faith of the Jews and some of His own disciples.
He cried out with a loud voice at the temple because of the vision of God's plan for all mankind. He craved and longed to share that final Passover with His disciples. He was joyful because His life was totally selfless.
This is at the heart of emotional maturity. Mr. Armstrong wrote, "One author defines emotional maturity as development from the state of taking to the state of giving" (Good News, March 1985). That is what Christ's emotions demonstrated: the give way. Mr. Armstrong continued: "Humans must be taught to give. Giving is something that has to be learned. … [T]raining of the emotions involves control and right direction of feelings, tempers, impulses. … And since the right direction is the way of God's law—and since that is the way of love, and love is the principle of giving instead of taking—it means the teaching of your children to use their own minds to understand their mood and guiding them in the direction of giving—of love toward others, equal with love toward self."
Final Emotional Struggle
When He came to the end of His life, Christ had quite an emotional struggle on His hands. He began to react to the gravity of what was about to befall Him.
"And he taketh with him [to Gethsemane] Peter and James and John, and began to be sore amazed, and to be very heavy" (Mark 14:33). Christ was terrified, the Greek implies, and "very heavy"—a phrase that blueletterbible.org says is "the strongest of the three Greek words … in the New Testament for depression."
Christ said, in verse 34: "My soul is exceeding sorrowful unto death …." Again, He shared His feelings with these three disciples. These emotions fulfilled a prophecy in Psalm 69:20, which says He would be "full of heaviness."
These emotions were coming at Him because He was human. The emotions were not wrong or sinful. The sin would have come if Christ acted only on those emotions. So what did Christ do about it?
He immediately began to pray about it—to refocus on His Father's will (Mark 14:35). It was a fervent prayer that eventually caused Him to sweat blood. It was a prayer of "striving against sin" (Hebrews 12:4). One of those sins He was striving against was not to let His emotions control Him.
He strove against those tendencies through prayer! That is where emotional maturity begins: in the prayer closet.
Emotions in Prayer
"God says we should turn to Him in dead earnest—fasting, rending our hearts—in deepest real feeling," Herbert W. Armstrong wrote. "This is no thoughtless giving way to uncontrolled emotion. This is full mental realization of purpose—of need—and, with deepest intense feeling, seeking God with all our strength and might" (Plain Truth, August 1978).
Mr. Armstrong then quoted Hosea 7:14: "And they have not cried unto me with their heart, when they howled upon their beds …." Apparently these people God is correcting showed some superficial emotion ("howling upon their beds"), but not the kind that the God who would later became Jesus Christ wanted.
The Moffatt version translates the first phrase of that verse: "they never put their heart into their prayers."
Can you show God proper, thought-driven and earnest emotion? Do you simply howl on your bed? Do you go to God with your feelings tied up tightly somewhere else? Do you go to God with absolutely no personality or enthusiasm whatsoever?
Mr. Armstrong continued in his article, referring to prayers of King David and the Prophet Daniel: "Can you imagine these men of God praying in this manner dry eyed? I can't. Surely tears were streaming down their faces. These were intense prayers—prayers of surrendered, yielded men to the great God!"
Hebrews 5:7 said that Christ "in the days of his flesh … offered up prayers and supplications with strong crying and tears …." These were His prayers throughout His human life—not just on His last night.
Mr. Armstrong related: "God has graciously granted, by astonishing miracles, many answers to my prayers. But never have I received an answer from God except when I prayed earnestly from the heart. I have never known of a real answer coming from God of a casual routine prayer. Yet do not most people pray casually, perhaps as a matter of duty, and without feeling or emotion? Perhaps this makes plain the reason most people have never received an answer to their prayers."
In Matthew 9, where Christ was moved by the vast amount of work that lay ahead, He commanded, "Pray ye therefore the Lord of the harvest, that he will send forth labourers into his harvest" (verse 38).
Because He was "moved with compassion," He charged us to pray specifically about there being more laborers in this work. This begs the questions: Do we pray about that enough? Do we pray about it with the same motivation and emotional connection that Jesus Christ had? The more we allow Him to come in our flesh, the more that same passion, enthusiasm and compassion for others will fill our prayer life.
Religion for many is often only emotion. Emotion is not spirituality. But it has a key place in spirituality.
"The emotionally grown-up do express enthusiasm, joy," Mr. Armstrong wrote in the March 1985 Good News. "They do feel and express gratitude, reverence, adoration in their worship of God. They do feel and express compassion, mercy, sympathy. … [T]his kind of worship is not devoid of feeling and resultant emotional expression. Even though the emotion is physical reaction, it does truly accompany or react from true spiritual experience. But it is not a substitute for it."
Christ Still Experiencing Emotion
In Hebrews 4, we find perhaps one of the most encouraging and inspiring verses about prayer—and about Jesus Christ's emotions.
Verse 16 states: "Let us therefore come boldly unto the throne of grace, that we may obtain mercy, and find grace to help in time of need." How encouraging that we can go boldly—with fearless confidence and cheerful courage—before God our Father. And why?
Verse 15: "For we have not an high priest which cannot be touched with the feeling of our infirmities; but was in all points tempted like as we are, yet without sin." Christ—as our High Priest—is still experiencing those emotions! Though glorified in spiritual splendor and sitting at God's right hand, He can still be touched by our feelings.
Let us allow this magnificent Being, with His perfect emotions, to live in us!