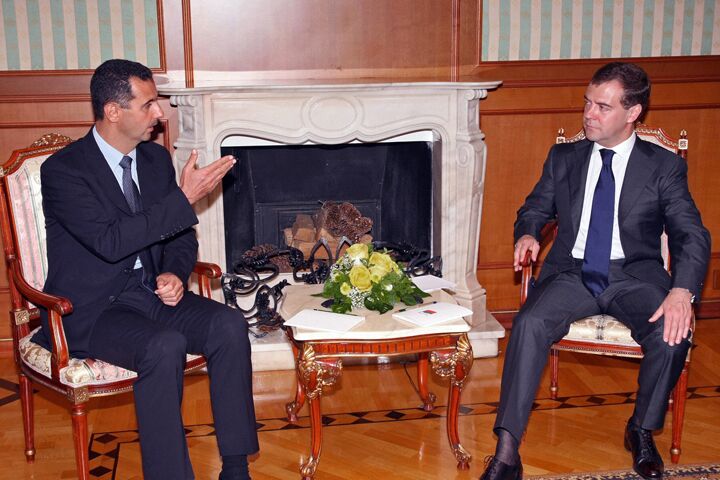 Jerusalem Watch: Syria Seeks Missiles From Russia
Plus, if Israel liberates terrorists, why shouldn't Jordan?
JERUSALEM—Israeli policymakers in Jerusalem were rocked this week by the news that their newest "peace" partner might be seeking advanced weaponry from Russia. Syrian President Bashar Assad met with Russia President Dmitry Medvedev on Thursday to discuss the possibility of a weapons agreement. The timing of the visit, writes the Los Angeles Times, is very important.
Moscow remains upset by the nearly universal condemnation it has received for its recent military campaign against Georgia in support of two breakaway regions. Israel helped supply weapons to Georgia, and Assad made a point of defending Moscow's actions during his meeting with Medvedev in the Russian Black Sea resort of Sochi.
According to Ynetnews.com, Syria offered Russia a base for deploying armaments as a way to counter America's missile defense agreement with Poland last week.
Jonathan Spyer analyzes the regional implications of Assad's meeting with Medvedev here. The New York Times writes about the wider impact of these negotiations here—particularly the impact they might have on America's foreign policy.
Impact of Israel's Prisoner Releases Spreading
Earlier this week, Israel's cabinet approved the release of 199 more terrorists, two of them having blood on their hands, as a gesture of goodwill toward Palestinian Authority President Mahmoud Abbas. In return for the prisoners, Israel gains nothing and instead loses more of its already weakened deterrence in the war against terror. Israelis are not the only ones impacted by the mistakes of Israel's current government, Caroline Glick wrote today.
Just after the government announced its decision, Jordan announced that it was releasing four jihadist murderers from its prisons. The four terrorists, who killed two Israeli soldiers in 1990, had been sentenced to life in prison in Israel. Last summer, in a "confidence-building measure" toward King Abdullah, Israel transferred them to Jordan to complete their prison terms.
Jordan, Glick wrote, can't be seen in the Arab world as being harsher with terrorist prisoners than Israel.
Final Thought
Hamas leader Ismail Haniyeh said Thursday that "Jerusalem will be retrieved to the Palestinians not through negotiations or by hugging and kissing the enemy, but by way of jihad, blood, shahids and resistance. With Allah's help, Jerusalem will be returned."