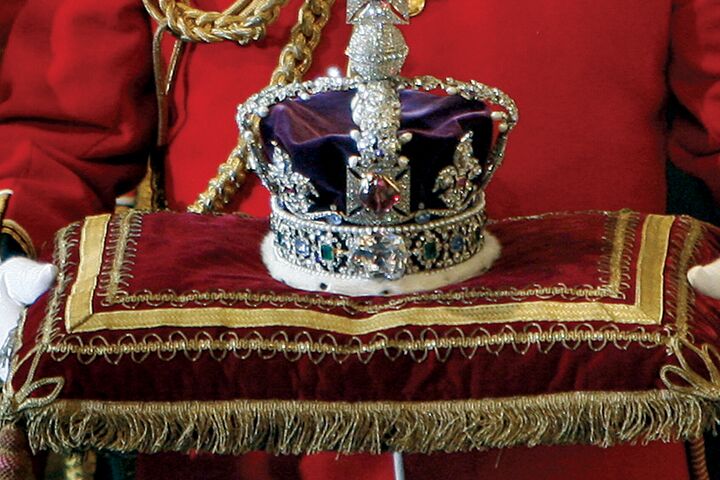 Crowning the King of Kings
The day of Trumpets pictures the most exciting change in world leadership to happen in history!
The day of Trumpets celebrates the return of Jesus Christ to Earth. It is probably the day in God's holy day plan that true Christians look forward to more than any other.
Every king is crowned in a coronation ceremony. Jesus Christ is no exception! He too will be crowned as supreme Ruler—as King of kings.
Born to Be King
God planned for Christ to be born a King. He knew only His Son could overcome the present king of this world, Satan the devil. "And, behold, thou shalt conceive in thy womb, and bring forth a son, and shalt call his name Jesus. He shall be great, and shall be called the Son of the Highest: and the Lord God shall give unto him the throne of his father David: And he shall reign over the house of Jacob for ever; and of his kingdom there shall be no end" (Luke 1:31-33). Jesus Christ was born to reign over the nations of the Earth.
Jesus Christ understood His office. Just before His crucifixion, He was brought before Pontius Pilate, who asked Him, "Art thou a king then?" (John 18:37). Christ's reply: "Thou sayest that I am a king. To this end was I born, and for this cause came I into the world, that I should bear witness unto the truth. Every one that is of the truth heareth my voice."
However, though Christ was born to be king over all, He is not crowned yet!
Not Yet Crowned
Like any heir to the throne, Christ prepared during the entirety of His life. He first had to qualify and prove Himself worthy of that tremendous office. How? By overcoming Satan and the evil world around Him, and by maintaining mastery over His own human spirit.
Notice that after Jesus Christ overcame Satan's temptation, the devil departed from Him—but only for a season (Luke 4:13). Satan will always come back to see if he can undo our overcoming!
Christ did not, at His first coming over 19 centuries ago, replace Satan. He was not crowned King at that time. No—He was crucified! He recognized that His Kingdom was not to be set up at that time. "Jesus answered, My kingdom is not of this world: if my kingdom were of this world, then would my servants fight, that I should not be delivered to the Jews: but now is my kingdom not from hence" (John 18:36).
It was not then time to assume the responsibility of that office. Jesus Christ is coming again, as is pictured every year on the Feast of Trumpets—this time as King of kings, to bring the world peace and prosperity.
Yet when, where and by whom will Jesus Christ be crowned? Almost no one understands!
Does any man have the authority to grant Jesus the right to rule the world? Will He run for office, like a presidential candidate? Will there be an election? Will He be accountable to the people—or will they be accountable to Him? Would any man be able to impeach Jesus Christ?
There is only one Authority who can put Christ into office! The Father, the Creator God Almighty! God possesses all power and authority (Romans 13:1). And there is no power but that which has been ordained of God.
Jesus Christ must return to this world as King of kings to establish God's world government.
A New World Government
Jesus Christ's message was to preach the Kingdom of God. This is the gospel He brought: the good news of the wonderful World Tomorrow.
Mankind sees no need for change of government. People believe that having the liberty to do what they want means they are truly free. Nothing could be further from the truth.
This world is held hostage by Satan and by those in positions of power that he controls. Only an entirely new world government can free this world!
What will this new government be like? First, it will possess the wisdom to plan for the good of all. There will be no more suppression of the weak. No respect of persons. This is a quality that can only be achieved by Spirit-born beings who will be leaders within God's Kingdom (Ephesians 1:13-14, 17).
Second, it will have the power to enforce God's law. We live in a society where the "law is slacked" (Habakkuk 1:4). Even human law is largely unenforced. Many people make a living out of finding loopholes in the law. But it won't be that way in God's Kingdom. That Kingdom will come with power (Mark 9:1). At the same time, God's government will display true, outgoing concern for the good and well-being of its subjects.
The Coronation
When the people wanted to make Jesus their king over 19 centuries ago, He gave them a parable to explain when the Kingdom of God would rule the world: "A certain nobleman went into a far country to receive for himself a kingdom, and to return" (Luke 19:12). This is speaking of when Christ ascended to His heavenly Father to receive the authority to rule the nations. God has all power, yet He wants to share it with Jesus Christ and His saints.
In granting Jesus Christ authority, God demonstrates that He Himself rules supreme. The Father will always be the one in ultimate charge!
Satan mocked this glorious upcoming event by inspiring men to "crown" Jesus in a fake ceremony (John 19:2-5). Yet Christ was never crowned King of kings while He walked this Earth.
About 60 years after His death and ascension, Christ revealed Himself to the Apostle John in the book of Revelation. Read John's description of Christ in His glorified state in Revelation 1:12-18, and you will see that He does not have a crown on His head. We can deduce that He was not crowned immediately upon His arrival in heaven. Christ's current office is that of High Priest (Hebrews 3:1), not King of kings.
But notice Revelation 14:14: "And I looked, and behold a white cloud, and upon the cloud one sat like unto the Son of man, having on his head a golden crown, and in his hand a sharp sickle." Thus we see that when Christ returns to this Earth, He will have been crowned in heaven.
But where in the Bible do we find the coronation of Jesus Christ described?
This was revealed even before Christ's first coming: "I saw in the night visions, and, behold, one like the Son of man came with the clouds of heaven, and came to the Ancient of days, and they brought him near before him. And there was given him dominion, and glory, and a kingdom, that all people, nations, and languages, should serve him: his dominion is an everlasting dominion, which shall not pass away, and his kingdom that which shall not be destroyed" (Daniel 7:13-14).
The Prophet Daniel saw this vision, but do we know when Christ will be crowned? Verses 9-14 tell us it will take place after the last resurrection of the Holy Roman Empire. More specifically, we see in Revelation 11:14-18 that this will take place after the "second woe." Daniel 7:10 tells us it will occur when the judgment begins.
So Christ's coronation will take place immediately before the righteous dead are resurrected and judged—at the sounding of the seventh trumpet—as pictured by the day of Trumpets!
The coronation of Jesus Christ will occur immediately before He returns the second time to rule the nations! In fact, Jesus will return to fulfill His office as"King of kings." Once given that office, He must—and will—carry it out!
Crowned 'King of Kings'
We saw in Revelation 14:14 that Christ will have a golden crown on His head. This symbol will designate Him as supreme King over all nations.
But what about Revelation 19:12, which says that "on his head were many crowns"? Translated from the Greek diadema, these diadems symbolize the lesser royal offices that Jesus will hold.
Jesus Christ will sit on the throne of David to execute the law of God over the people, the way of life that we know as the way of give.
King David will be in direct control of the model city and the nation that will be set up as a pattern for the world (Jeremiah 30:7-9). David will rule over both Israel and Judah (Jacob's descendants), both of which will have returned to the land once given to their fathers (verse 3).
Each of the original 12 apostles will be placed over one of the 12 tribes of Israel (Matthew 19:28) and be given a throne (Luke 22:29-30).
Other saints raised immortal in the "first resurrection" will also "reign with [Christ] a thousand years" (see Revelation 20:4-6).
When God really sets His hand to save mankind, it will be done under the strongest possible kind of government. Human beings, influenced by their carnal minds, must be held under rigid rule until they become conscious of a better way of living. The great central government of the Earth in the Millennium will be composed of powerful, divine spirit beings!
If we are true followers of God, and overcome as Jesus Christ overcame, we will inherit incorruptibility. "He that overcometh shall inherit all things; and I will be his God, and he shall be my son" (Revelation 21:7). We are to become very members of the God Family, ruling as kings under the King of kings.
This is part of the beautiful, scintillating picture celebrated on the day of Trumpets!