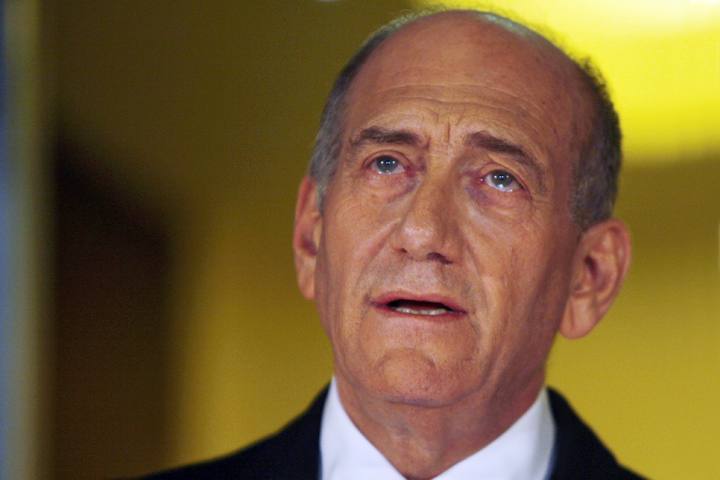 This Week in Jerusalem
Olmert decides to step down, the list of proponents for dividing Jerusalem grows, and protests turn deadly near security fence.
JERUSALEM—The big news coming out of Jerusalem this week was Prime Minister Ehud Olmert's announcement on Wednesday night that he would not participate in Kadima's upcoming primaries and that he would resign as soon as his party picks a new leader in September. Olmert will leave office under the dark cloud of numerous criminal investigations. During his speech, he admitted to making mistakes, but he characterized the four different police probes as being "out of control." Law enforcement officials, on the other hand, believe Olmert is stepping down because he knows the evidence against him is "serious and solid."
After Kadima chooses Olmert's successor on September 17—the front-runners are Foreign Minister Tzipi Livni and Transportation Minister Sha'ul Mofaz—the winner will then have 42 days to form a government. If a coalition cannot be formed, general elections must be held three months later.
If general elections were held today, polls show that the opposition leader, Likud head Benjamin Netanyahu, would be the public's preferred choice. In a recent survey conducted by Haaretz, 36 percent of the respondents favored Netanyahu, as opposed to 25 percent for Livni.
"This is a government that has come to the end of its road," Netanyahu said on Thursday. "It doesn't make any difference who heads Kadima, they are all part to a string of failures by this government." The right course of action, he said, is for the Israeli people to decide who will be the next prime minister.
Get Rid of East Jerusalem
At the prime minister's weekly cabinet meeting on Sunday, Shin Bet chief Yuval Diskin urged the government to demolish the terrorists' East Jerusalem homes in hopes of deterring further attacks. Thirty Israelis have died in attacks this year, Diskin told the cabinet, compared to just 13 in all of 2007. And half this year's casualties have been instigated by East Jerusalem residents.
During the same cabinet meeting, Vice Premier Haim Ramon argued against the demolitions, saying that what Israel needed to do is rid itself entirely of East Jerusalem. "Whoever thinks the problem of Jerusalem and terror are specific, and that destroying one house or another will help, is burying his head in the sand. The main question is, does the government want Jebl Mukaber or Sur Bahir as part of Israel or not," Ramon said, referring to the East Jerusalem neighborhoods of two terrorists. "It is in Israel's interest to rid itself of these neighborhoods and villages, that were never Jerusalem, and that endanger the Jewish and Zionist nature of the city," he said.
On Tuesday, Israeli President Shimon Peres joined the list of high-profile Israelis who see dividing Jerusalem as inevitable. According to IsraelNationalNews.com, "Peres said that there must be a separation between the Arabs of Jerusalem and the Jews, and that it must be in the form of a wall."
Even Prime Minister Olmert hinted at possibly dividing Jerusalem in a speech given to the Knesset Foreign Affairs and Defense Committee on Tuesday. "Whoever thinks it's possible to live with 270,000 Arabs in Jerusalem must take into account that there will be more bulldozers, more trucks and the carrying out of [terror] attacks," Olmert said.
If it's not possible to live with Arabs in a city that Israel controls, one wonders what it would be like if Israel lost control of half the city. Once Israel moves out, who will move in?
Of course, our regular readers know that for several years now, we have been saying that Jerusalem will be divided in half. But Zechariah 14 says that split will not come via negotiation, but because of violence. We are actually witnessing the earliest stages of violence that will result in half of Jerusalem falling into the hands of terrorists.
Two Palestinian Youths Killed
On Tuesday night, Israel's Border Police apparently shot and killed an 11-year-old Palestinian boy in the village of Ni'lin, near Ramallah, north of Jerusalem. Details of the incident are still sketchy, but Ni'lin residents have been protesting the construction of a security fence near the village. It is unclear how involved the boy was during the protest, but Palestinian authorities say he was just sitting under an olive tree with friends. Israel admitted to using live fire during the protest.
On Wednesday, hundreds of villagers turned out for the boy's funeral. According to the Jerusalem Post, there were posters of the boy throughout the town declaring him a "martyr" who resisted the "racist separation wall." Green Hamas flags were also spotted in parts of the village.
That night, rioting broke out in the town, causing three Israeli policemen to be injured and prompting yet another deadly shooting. This time, an 18-year-old, who was apparently related to the 11-year-old, was shot by a rubber-coated bullet and later died at a Ramallah hospital.
Palestinian reprisals are sure to follow.
Final Thought
During a dinner with a group of international reporters and Israelis at the Golan Heights on Monday, the topic of conversation turned to Israel's security. "Where is the most dangerous place in Israel right now?" one of the journalists asked a local.
Without hesitation, he responded, "Jerusalem."