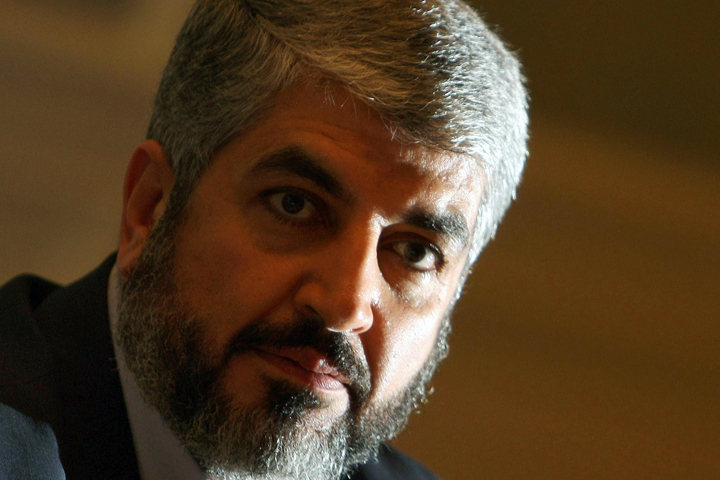 Hamas Leader Admits Cease-fire Only a "Tactic"
Even terrorist chief Khaled Mashaal will tell you that cease-fires are about more murder, not less.
Hamas's leader, Khaled Mashaal, said Saturday that the terrorist organization's involvement in a cease-fire was "a tactic in conducting the struggle," the New York Timesreported. Mashaal's remarks came in an interview with Al Jazeera television.
"It is normal for any resistance … to sometimes escalate, other times retreat a bit," Mashaal said, adding, "Hamas is known for that. In 2003, there was a cease-fire and then the operations were resumed."
Mashaal's statement shows that even terrorists themselves admit that their cease-fires are actually strategies—more a part of conspiracy to commit murder at a later date than part of an honest pursuit of peace.
On the heels of Mashaal's visit with former U.S. President Jimmy Carter, where he made the appropriate noises about considering peace with Israel, Hamas is seeking an Egyptian-brokered cease-fire in which it would promise to stop its terrorist attacks and Israel would be required to halt all counterterrorism operations.
"Nothing would prevent Hamas from continuing to import and manufacture weapons and train terrorists," Arutz Sheva reports.
Hamas has also offered the promise of a 10-year pause in their attacks, if Israel would agree to relinquish all of Judea, Samaria, and eastern Jerusalem, including the Old City, and to grant citizenship to millions of foreign Arabs. If Israel were to meet those conditions, Hamas leaders say, they would agree to a 10-year cease-fire, after which they would resume their efforts to destroy the Jewish state.
Israel has recently intensified operations against Hamas, which violently seized control of Gaza last June, in an effort to stop its ongoing rocket attacks against Israeli civilians.
In other terrorist "tactics," Hamas has responded by threatening Gaza gas station owners and employees with death in an effort to shut down the stations and aggravate the crisis. It is also machine-gunning fuel trucks headed for the UN Relief and Works Agency, forcing them to turn back in some cases and in others, stealing the fuel outright.
The fuel was supplied by Israel, and was supposed to be used by the United Nations to supply aid to Palestinians living under Hamas rule.
Eyewitnesses reported Hamas is stealing the humanitarian-intended fuel for the vehicles of its gunmen and leaders. "Because of Hamas's actions, some hospitals have been forced to stop the work of ambulances and generators" (Jerusalem Post, April 27).
"PA officials in Ramallah said Hamas's measures were aimed at creating a crisis in the Gaza Strip with the hope that the international community would intervene and force Israel to reopen the border crossings" (ibid.).
Hamas has also blown up border crossings, forcing their closure, blocking fuel and supplies for Palestinians and blaming the Hamas-created humanitarian crisis on the Israeli "blockade."
"As far as we know, there is enough fuel reaching the Gaza Strip," Palestinian Authority officials said. "But Hamas's measures are aimed at creating a crisis. Hamas is either stealing or blocking most of the fuel supplies."
For the real ramifications of Hamas's Gaza tactics, read "Iran's Victory in the Gaza Strip" and "Iran's Strategy in Gaza: What It Is and Why It Will Fail."